By John Pint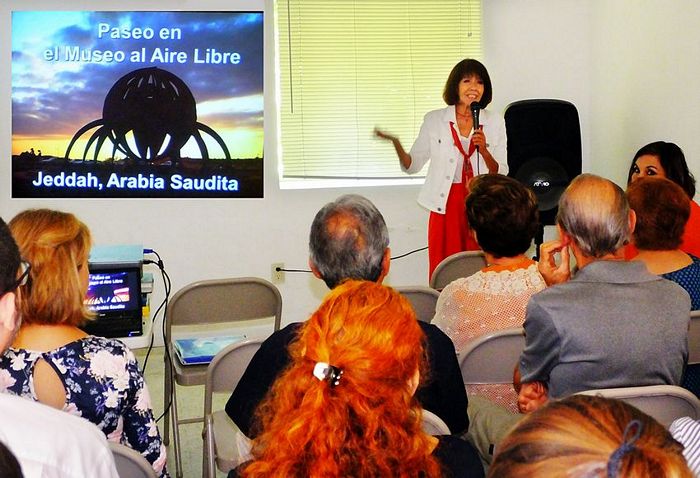 Western Mexico's Abstract Art Center (CIANF), located just outside the city of Guadalajara,
holds monthly presentations and talks by art connoisseurs. One such connoisseuse is my wife Susy, who fell in love with the outdoor sculptures of the city of Jeddah during the 13 years that we lived in Saudi Arabia.

Although she insists that she knows "muy poco" (very little) about the art and architecture of Jeddah, Susy Pint has written numerous articles on this and related subjects, so it is no wonder that the directors of CIANF recently asked her to do a Powerpoint show on Jeddah's unique outdoor art gallery.

"This open-air museum was the brainchild of Jeddah's mayor, Mohammed Said Farsi," Susy told the audience. "Farsi admired the ancient city of Jeddah (founded in the 6th century BC) and wanted the new city to be just as beautiful and unique in its own right. He was determined to develop it into a city of art, to make it the first city in the world to turn its face against the convention of locking up art in museums and galleries. Instead, he wanted to bring art out into the streets where everyone could see it."

Susy explained that abstract sculptures were perfect for Farsi's project because local traditions frown upon or forbid the representation of people and animals. "Over centuries," she explained, "Muslim artists have channeled their talents toward calligraphy, which developed into a complex, multifaceted and often incredibly beautiful art form or they delved into the development of geometric patterns in architecture, tiling, glass cutting and carpet weaving."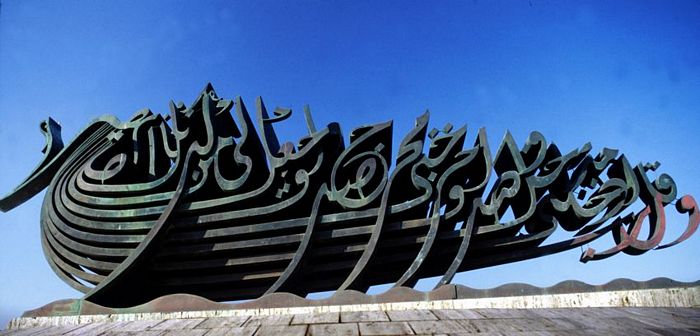 Word Boat by Julio Lafuente shows us the beauty and complexity of Arabic calligraphy.

Susy Pint began by taking her audience for a walk through the old section of Jeddah known as Balad:

"I first set foot in these extremely narrow streets in 1995 and I remember standing there dumbfounded, staring at ancient houses which were three, four and even five stories high, built from great blocks of coral. Their walls were covered with overhanging balconies made of wood, which were carved in such a delicate and intricate way that they looked as if they had been crocheted. They were masterpieces!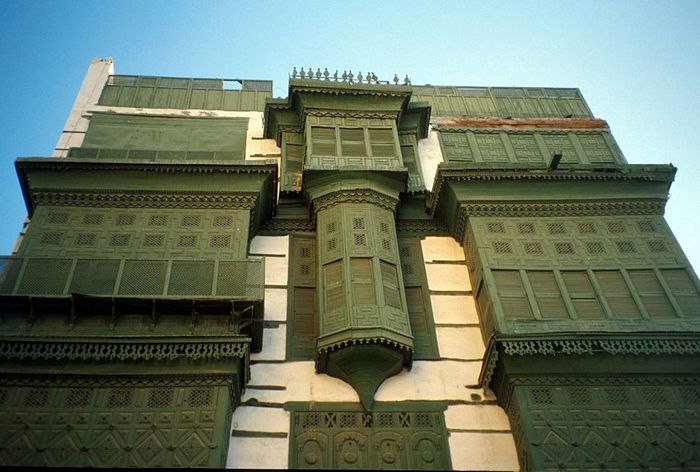 "It was as if, suddenly, we had been transported to another dimension and had become part of a fairy tale taking place hundreds of years in the past and we fully expected to come upon Aladdin and his magic lamp around the next corner."

The slides which followed showed just a few of hundreds of sculptures which adorn Jeddah's streets, roundabouts and corniche: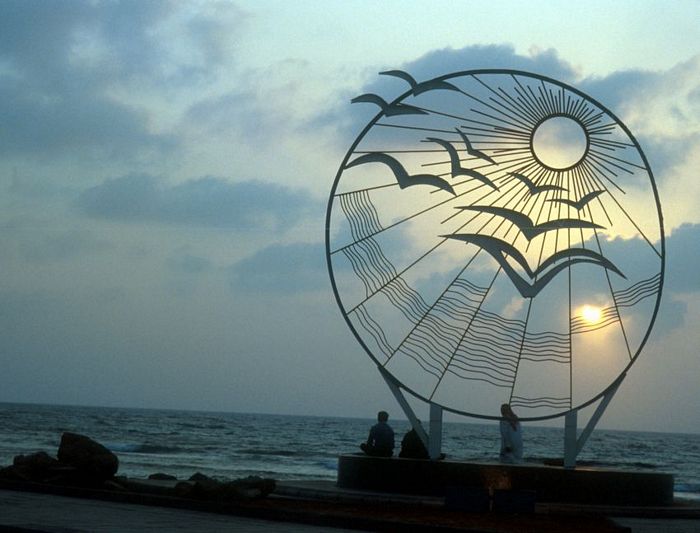 Seagulls by Mustafa Senbel

"Farsi invited the world's most famous and talented sculptors to contribute to his project, so if you want to see—first hand—some of the best work of Henry Moore, Ottmar Hollman, Julio Lafuente, Victor Vasarely, Joan Miró or César, you'll have to find a way to get yourself to Jeddah."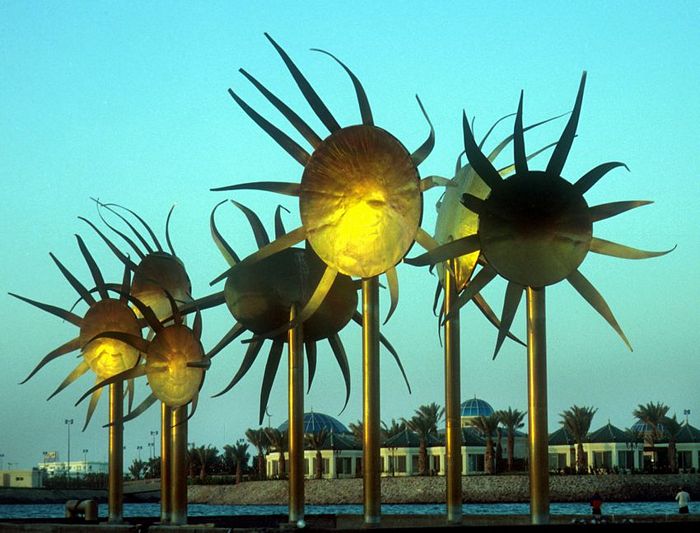 Sunflower Fountain by Eila Hiltunnen

If you can't head for Jeddah right now, and you just happen to read Spanish, you might be interested in Susy Pint's book

Una Mexicana en Arabia

, (A Mexican Woman in Arabia) published in Guadalajara by Editorial Agata. Its 185 pages are well illustrated by 57 color photos. In them you will find yourself immersed not only in the art and culture of the Arabs, but in the richness and unexpected beauty of the desert, where we spent many a weekend, camped beneath a star-studded sky that reached down to the horizon in every direction.

And if abstract art interests you, be sure to check out the CIANF Facebook page.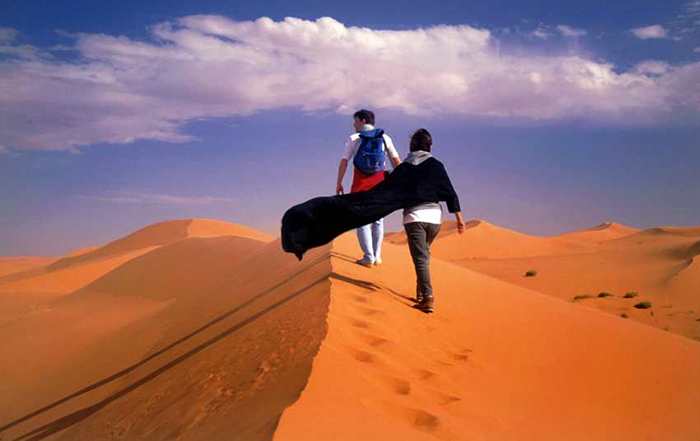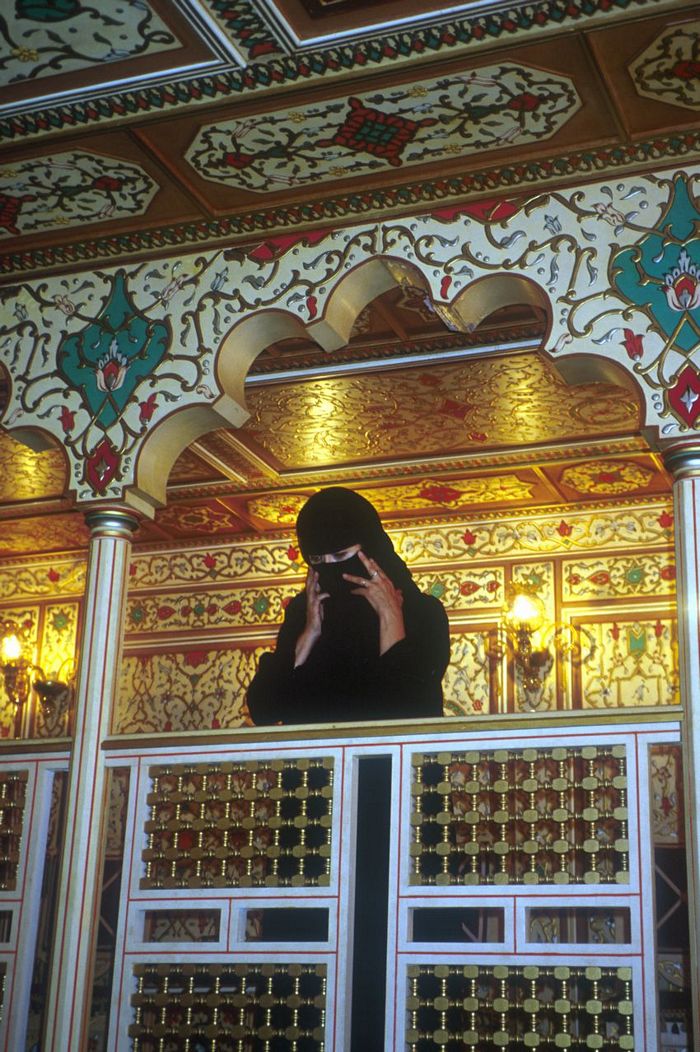 Susy Pint in Jeddah


Text and Photos © 2019 by John & Susy Pint
unless otherwise indicated.
HOME