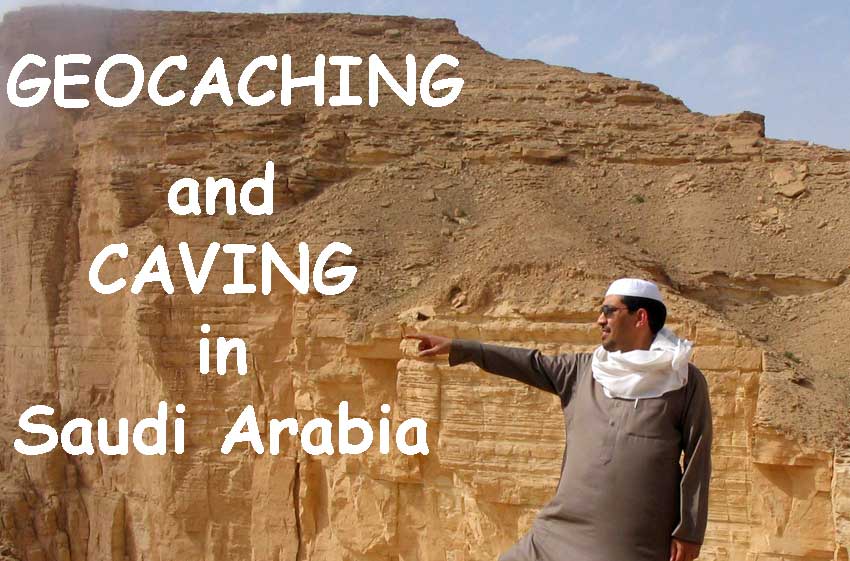 (Updated September, 2013. All photos courtesy of Mohammad Al-Fares)
On March 4, 2007, Saudicaves received an email from geophysicist Mohammad Al-Fares (pictured above), suggesting that "caving can be combined with Geocaching, the Treasure Hunt Game."
Knowing nothing about geocaching, we did some research and learned that this sport, game, hobby or whatever you want to call it, basically involves one person hiding something and other people trying to find that something with the help of their GPS. It seems that geocaching was started by a computer consultant named Dave Ulmer on May 3, 2000, one day after the US military turned off the "selective availability" of their GPS system, making it ten times more accurate than it had been previously. Apparently, Ulmer wanted to test the new accuracy of the system and hid a bucket full of goodies out in the woods near Beaver Creek, Oregon, challenging GPS users to find it. By September of 2000, a web site called Geocaching.com was online and there were 75 known caches scattered around the world.
Today (March 6, 2007) there are 366,535 active caches worldwide and geocaching has become a sophisticated activity with its own rules, procedures and terminology. The expression I like best is "muggled"--borrowed from the Harry Potter novels--in reference to a cache which has been vandalized or removed. Geocaching has, in fact, become just complicated enough that you might appreciate reading a nice clear introduction to it before rushing out to find the cache nearest to your home.
GEOCACHING IN SAUDI ARABIA
Mohammad Al-Fares has provided much more than an introduction to geocaching for adventurous souls in the Middle East, by writing the first book on this subject in Arabic. Thanks to Mohammad, we also learned that caves play a role in geocaching and we invite readers to check out his blog at http://saudicacher.blogspot.com/ for pictures and descriptions of several desert caves as well as interesting places "discovered while geocaching."
.

The cover of Mohammad's book
It's interesting to see that geocaching is an activity that gets people "out in the blue" to places they might never have visited otherwise. Likewise, Susy and I discovered dozens of natural beauty spots in Western Mexico while hunting for caves…so many, in fact, that we ended up writing a book about them (Outdoors in Western Mexico).


Geocaching in Dahl Abu Marwah
A WORD OF CAUTION
We'd like to draw the attention of all geocachers, worldwide, to our Recommendations for anyone interested in exploring caves . Bringing along the right equipment and following standard procedures could mean the difference between life and death! It is also highly recommended, by cave explorers all over the world, that you hook up with experienced cavers, if at all possible.


Climbing an unnamed dahl on the Summan Plateau.

Geocachers should wear helmets for activities like this and anyone climbing a ladder should be belayed. Read more on cave safety.
Although no formal caving club is presently found in Saudi Arabia, this website has received many, many requests for such an organization over the last few years, and we will try our best during 2007, to get a club started. Anyone want to help?
John and Susy Pint
Entrance to a cave in Nesah valley (approximately 75km southwest of Riyadh)