THE AMAZING SINKHOLES

OF LAYLA, SAUDI ARABIA

Unique in All the World

Article and Photos by Stephan Kempe,

© 2008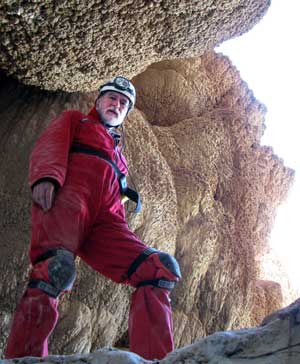 The gypsum tufa of Layla Lakes was a completely unexpected discovery. Heiko Dirks (a former MSc Student of mine) and I were on assignment in Saudi Arabia to look at a few sinkholes near As Sulayil. We found those, but they were not so interesting, since two had been filled by farmers and only one was new and actively sinking (even issuing hot air).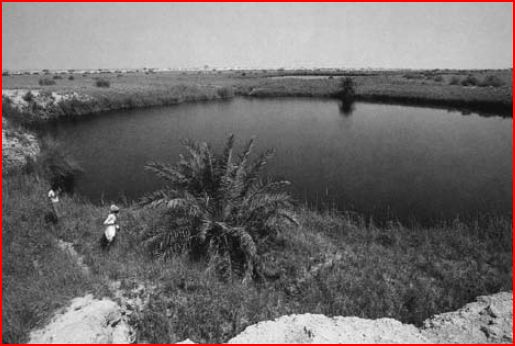 As a side project Dr. Randolf Rausch (Director of GTZ International in Riyadh) had told us to look at the Layla Lakes, a series of former lakes in the center of Saudi Arabia. We only had a vague description and since it was a Friday (February 21), nobody could be reached in the GTZ Office to look at Google Earth for more directions.
We then went out to search the absolutely flat area. Imagine hunting for a hole in the ground on a flat plain!

Heiko Dirks and Stephan Kempe in the wide open spaces south of Riyadh.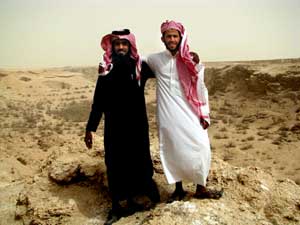 The first thing we came across was an interesting place where the farmers deposit their dead animals, which quickly turn into mummies. Here we were stopped by two young locals. Somehow we were able to convey to them that we were looking for the Layla lakes. They agreed to lead us there but first went shopping to buy Pepsi and candy bars, so that they could properly invite us.
Then we proceeded to the east, entered through the gates of a derelict hotel (the famous Layla Lakes Resort, that apparently never went into business) and stood at the brink of the largest of the former lakes

.

| | |
| --- | --- |
| I could not believe my eyes. First of all, we had been looking for typical sinkhole lakes, maybe 50 meters across, but these were enormous... | |
...

Secondly, the walls of this gigantic sinkhole were covered by something that looked like gours, shells, antlers, cups, hands, you name it. Immediately we thought of the stupendous Plitvice Lakes in Croatia and the incredible formations in Pamukkale, Turkey, but the features we were looking at here in Saudi Arabia must have grown under water and had not been caused by water running over them. Absolutely sure that this must be calcareous tufa, it took us an hour to realize that those big, crystal solid wall decorations were made of gypsum! I have not heard of any site comparable and was absolutely out of my mind. I just could not believe that this was possible.


Stephan Kempe in Sinkhole 2.
Shovel-like formations in Sinkhole Two
What an adventure it must have been diving here back when there were lakes, and to float down those walls at close range, like a bird (an adventure I had in ice-cold Lake Van, but that is a different story).
Now we began climbing and running about. The entire lake area appears to be sinking (circular cracks) but much of that may be attributed to the drying of the calcareous muds, the regular lake deposits into which the sinkholes are set. The underlying anhydrite apparently is not outcropping anywhere.
We did also find a few caves, specifically in Sinkhole No 2 where the mud at the bottom of the lake dried out and decreased its volume, thus detaching from the overhanging gypsum walls...
...On February 25th we returned with caving equipment and explored these cracks. We could climb down a few meters into these dusty slits but did not reach the bottom for fear of getting buried in loose sediment sliding in after us. There are also at least three pits that need vertical gear and experience. These appear to have been vents from which some of the lake water issued from below the anhydrite. They will be explored the next spring.


Heiko Dirks and the dusty slits.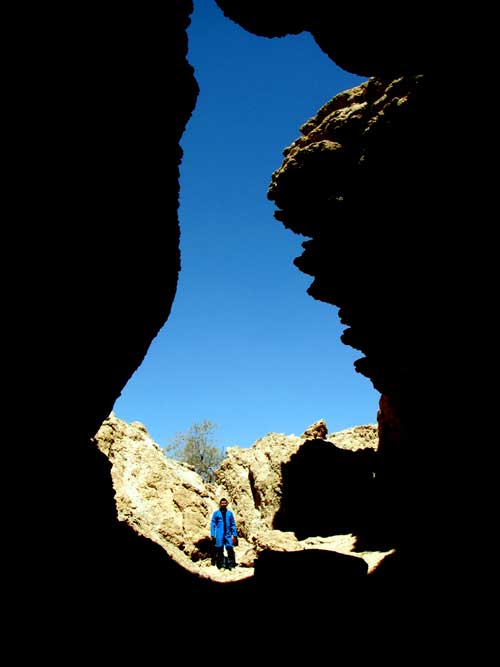 These lakes were natural groundwater resurgences that produced water saturated with gypsum that had sunk underground during the pluvial times of the Last Glacial. The natural outflow apparently was used by local farmers and conducted through qanats to fields and date farms in the north. Then a pump was set up and water was pumped directly from the lake. The house, the platform with the pump tubes and the channel are still visible. Apparently this quickly finished the water supply in addition to the fact that deep ground water wells all over the area lowered the ground water table by more than 100 meters, thus preventing the refilling of the lakes. They will most probably stay dry until the next Glacial and will be filled with drifting sand.
On the 26th I gave a talk at the KSA Water Ministry about hypogene karstification where I already could show some of the results from the field investigation. On the 27th I spoke about caves in general to the German community in Riyadh at the German Embassy (with the Ambassador serving drinks for us in person). More on the background of this magnificent place can be found in: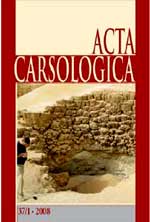 Layla Lakes, SaudiArabia: The world-wide largest lacustrine gypsum tufas
By Stephan Kempe & Heiko Dirks,
recently published in Acta Carsologica, Volume 37, Issue 1.
Download this article here (842 kilobytes, PDF format).