By John Pint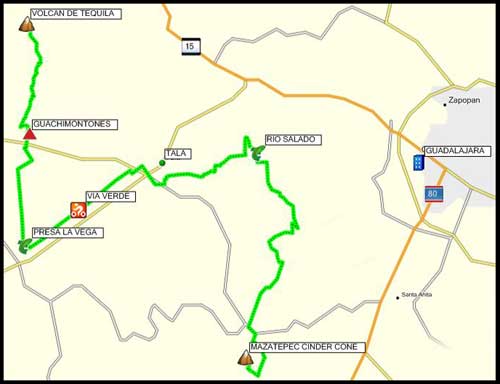 Long-distance hiker Cam Honan says that in December of this year he will attempt to walk to the three major types of volcanoes, all of which lie within a 50 kilometer range of Guadalajara.

"This is one of the few places in the world," said the Australian, "where you can find a stratovolcano, a caldera volcano and a scoria cone lying practically side by side. I hope to cover a 100-kilometer route between San Isidro Mazatepec and Tequila—and I hope to do it all in one go."
NOTICE: THE TRIPLE-VOLCANO TREK HAS BEEN POSTPONED UNTIL SOMETIME IN JANUARY 2014. CHECK HERE FOR UPDATES.
The hiker plans to do the triple-volcano tour upon his return from a far more grueling challenge which he will undertake at the end of November: a 640-kilometer through Mexico's Copper Canyon, which the public can follow by checking his website, thehikinglife.com. Honan expects to end his Copper Canyon traverse in mid-December and to undertake his visit to the three Jalisco volcanoes "hopefully on Wednesday, December 18."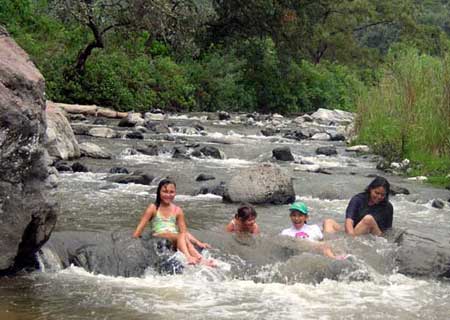 Honan's Christmas challenge was presented to him by the Committee to Create a Geopark in Jalisco. A member of the committee, John Pint, commented on the project, explaining that the first volcano Honan will visit will be El Volcán de Mazatl, located 25 kilometers southwest of Guadalajara near the town of Mazatepec. This, he said, is a cinder or scoria cone nearly 2000 meters high. After following an old trail to the top, Honan will head north into the Bosque de la Primavera. After passing through El Pedernal Obsidian Deposit, he will take a dip in the Natural Jacuzzi of the Río Salado.

"This point," said Pint, "is near the center of the Primavera Caldera, a volcano which exploded around 100,000 years ago scattering 20 cubic kilometers of ash and rocks over a large portion of what is now called Jalisco."

Honan's will next walk through Villa Felicidad, an area dotted with bizarre rock forms, crossing the town of Tala to reach an old railroad track which is being converted into a Vias Verdes bicycle trail and footpath. He will then walk to the pueblito of Pacana and follow a route north through three Protected Areas to reach an andador at the northern end of La Vega Lake, which was recently declared a Ramsar site, one of over 2000 wetlands considered of international importance. He will then continue b along a second andador, following the Teuchitlán River (home of a fascinating and endangered fish called Ameca splendens) to the Guachimontones archaeological site, famed for its trademark circular pyramids.
Next, the hiker will proceed on foot up to the crater of Tequila Volcano where he will climb the tapón, a volcanic plug reaching a height of 2920 meters above sea level.

"From there," said Pint, "it's all downhill to the town square of Tequila where we hope Honan will be given a warm welcome by leaders of the tequila industry."

You can view Cam Honan's route here on Wikiloc.com.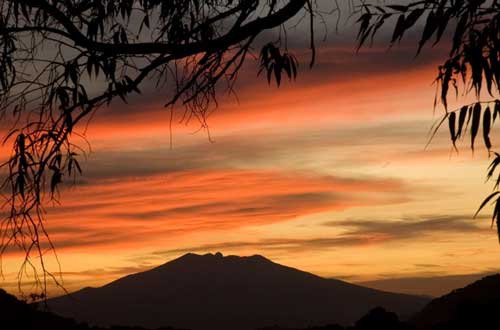 The Triple Volcano Trek will end on top of Tequila Volcano, at 2920 meters above sea level.