By John Pint

In the month of May, when temperatures soar in western Mexico, everyone wants to go swimming, so everyone heads either for the beach or for a balneario, both of which are likely to be overrun by crowds of like minded people dying to cool off.

When two friends asked me to suggest a good place for a swim, I assured them I knew just the spot, "but it's at the end of a very steep and rocky trail."

"How long will we be on that trail?" they asked.

"A half-hour," I replied..."and then we reach a 45-meter-high waterfall as beautiful as anything you've ever seen in the movies...with a pool of clean, cool, crystal-clear water at its foot."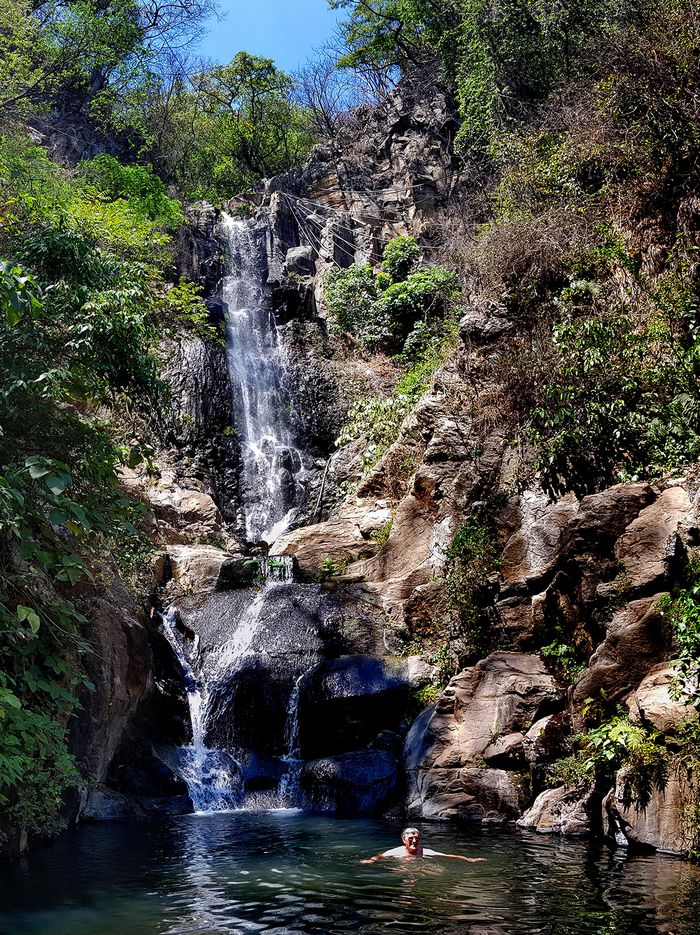 So it was we set off for Los Azules, three picturesque waterfalls located in gorgeous La Toma Canyon, situated quite literally at the edge of the town of Tequila.

Naturally, I waited until we were parking our car to mention that finding the right trail to the right waterfall was somewhat tricky because "my GPS tends to get a bit woozy in this canyon."

From our car we walked along a dirt road bordered by wide fields of blue agaves until suddenly we came to the edge of the cliff overlooking 600-meter-deep La Toma Canyon. What a view!

"Welcome to Mexico's Machu Picchu!" I told my friends, repeating the words of canyoneering guide Luis Medina who first showed me this easy (so to speak) way to reach Los Azules.

Only minutes after descending the narrow trail hugging the canyon wall, we came to the first of several forks where you need to make the right choice. Following my own notes from previous trips, I managed to lead us astray three times, saved only when the GPS would suddenly kick in, showing us 'way off track. "Sorry, amigos, we have to turn back to the last fork and go the other way."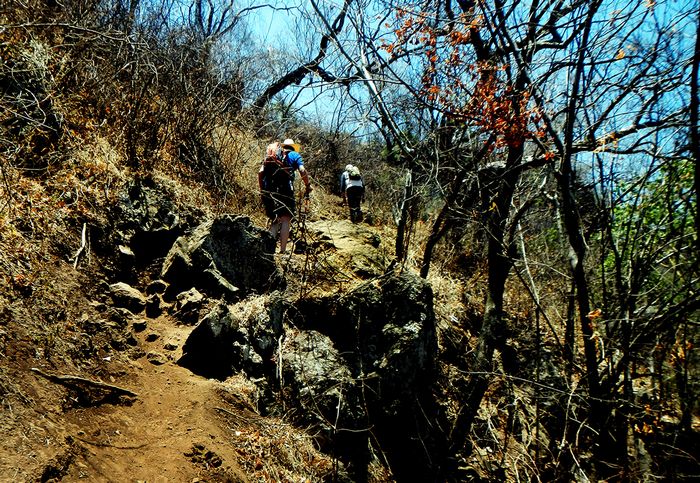 Eventually we could hear the roar of Cascade Number Two. As we approached the pool, we passed a group of hikers going the other way. "It's all yours," they said. "There's no one else down there." Since it was a Sunday—in the month of May!—I found this amazing.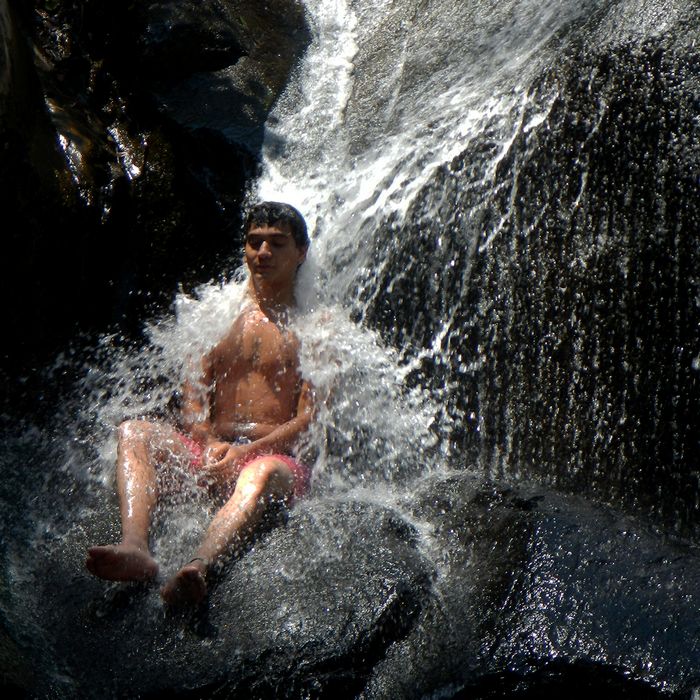 Well, the place was as gorgeous as I remembered it and the water as delicious as ever, but the peace and solitude lasted only five minutes before new adventurers arrived to join us. These young people turned out to have come all the way from Mexico City and had picked their way through the maze of trails by hiring a local guide...and that, in fact, is what I suggest you do, although I am putting a new trail map below showing the six forks where you must make a correct choice. If all goes well, you will end up splashing in the delightful pool at the base of Los Azules Waterfall number 2.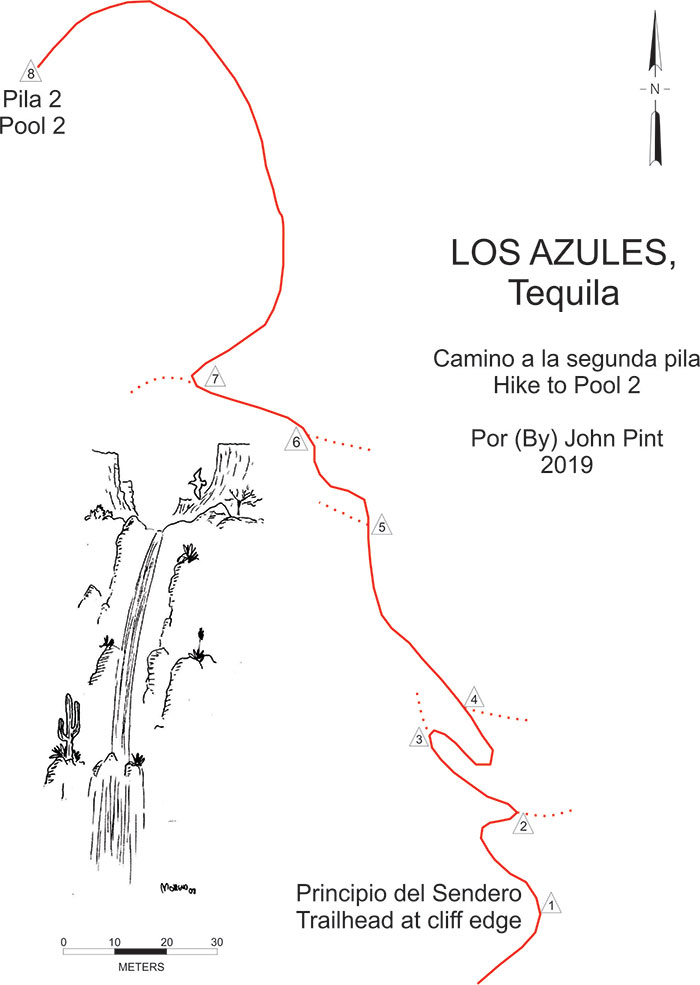 Note that this trail is very steep (maybe 45 degrees in places) and therefore only for people in great physical shape, wearing proper hiking boots. This is not recommended for children and please don't bring your dog because hikers must fully concentrate on where they are putting their feet, lest they end up falling to their death.

You will find this trail on Wikiloc as GuadHikes - Tequila to Los Azules UPDATE.

Driving time to the parking spot for Los Azules is an hour from Guadalajara and about 90 minutes from Ajijic.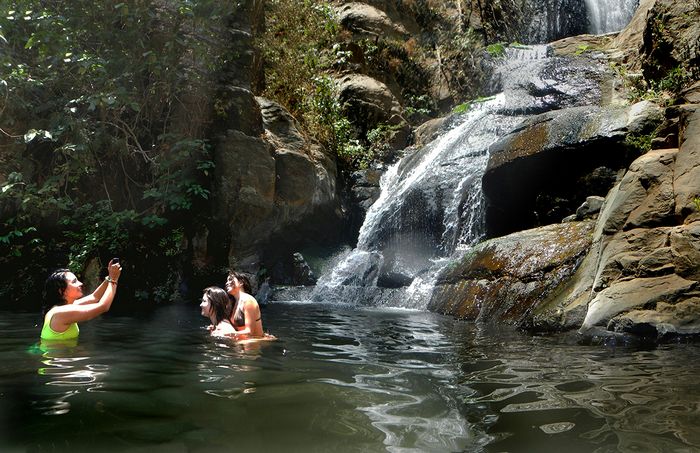 Text and Photos © 2019 by John & Susy Pint
unless otherwise indicated.
HOME