GEOCACHING:
SOMETHING'S HIDDEN
IN THE HILLS OF JALISCO
Photos and text ©2007 by John and Susy Pint
Geocaching is a pastime which takes you to places where you've never been before, in order to find—with the help of a GPS—a "cache" which someone else has previously hidden. It's something like a sport, something like a game and something like a hobby for an ever-growing gang of Geocachers around the world. The GPS, of course, is a hand-held device that picks up signals from satellites and tells you where you (or a place you want to find) is located.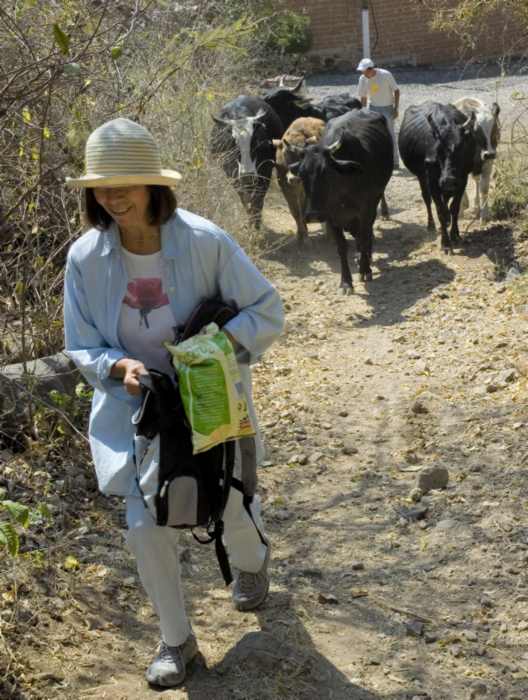 Susy Pint trying to beat the cows to the geocache.
We first learned about geocaching from a Saudi Arabian geophysicist named Mohammed Al-Fares, who wrote our Saudicaves website to tell us about the adventure of looking for geocaches hidden in several caves in Saudi Arabia. As we had never heard of this sport (or whatever it is) before, we checked it out on the web and discovered that geocaching was started by a computer consultant named Dave Ulmer on May 3, 2000, one day after the US military turned off the "selective availability" of their GPS system, making it ten times more accurate than it had been previously. Apparently, Ulmer wanted to test the new accuracy of the system and hid a bucket full of goodies out in the woods near Beaver Creek, Oregon, challenging GPS users to find it. By September of 2000, a web site called www.geocaching.com was online and there were 75 known caches scattered around the world.
Today there are around 367,000 active caches worldwide and geocaching has become a sophisticated activity with its own rules, procedures and terminology. The geocaching expression I like best is "muggled"—borrowed from the Harry Potter novels—in reference to a cache which has been vandalized or removed. The cache, by the way, is often nothing more than a jar containing a pencil, a register and a few trinkets. The idea is that the finder will take one of the trinkets (a coin for example) and replace it with something new and then report his or her discovery on the official website. Geocaching has, to tell the truth, become just complicated enough that you might appreciate reading a nice clear introduction to it before rushing out to find the cache nearest to your home. Take a look at "What the Heck is Geocaching?"
Naturally, we were just curious enough to try investigating whether there were any caches hidden near us, here in Jalisco. A quick search revealed that there were more geocaches in Mexico than we had bargained for: approximately 300.
GEOCACHER-UNFRIENDLY HILL
"Which of these are near us?" we asked. Well, we had problems finding an answer on the web and ended up asking Mohammed Al-Fares for help. He promptly replied that "there is a cache only 19.9 kms from your house" and, of course, we couldn't resist the challenge of trying to find it, not even noticing the amazing fact that a group of Tapatios (people living in Jalisco) were being directed to a remote hilltop near Mazatepec by someone living in Saudi Arabia!
So it was that we jumped into our friend Susan Street's newly cleaned station wagon and headed down highway 54 towards Santa Cruz de los Flores, looking for "a 7-11 behind which you will find a dirt road leading to a cerro (hill) " atop which was hidden a cache identified as Geo1. Fortunately, we had put the location of the place in our GPS, as the directions were somewhat hazy. Unfortunately, the hill in question was being eaten away by earth-moving machines and every five minutes we were enveloped in a cloud of dust from a passing truck filled to overflowing with powdery dirt.

The hill in question is not the one in the back, but the one on the right, being eaten away.
Even more unfortunate was the fact that the hill we needed to climb was covered by thick thorny maleza and we were unable to find the trail to the top mentioned on the geocaching web site. Ironically, from the quarry down below we could clearly see the tree beneath which the "treasure" was hidden, silhouetted against the sky.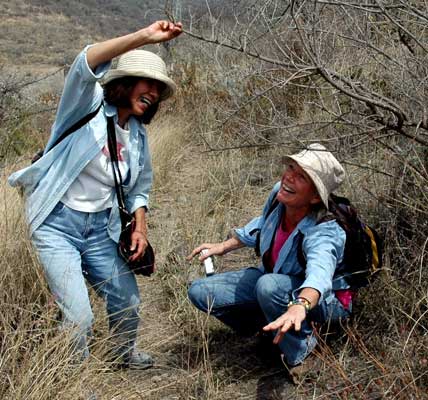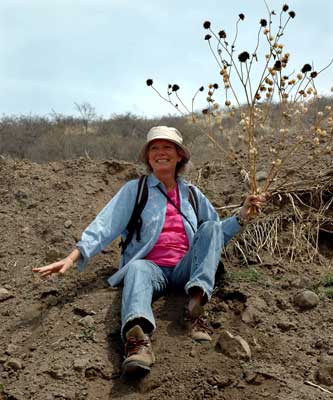 Left: The two Susies battling their way through the maleza with smiles on their faces (as always...ahem!)
Right: "Susy Bee" Street slides down the embankment with a dried-flower bouquet... So, our first geocaching trip was not totally a flop!
Both we and Susan's formerly clean car were now covered with a thick layer of gritty dust, as we turned tail and headed for home. Our first attempt at geocaching was a bust, but we could console ourselves with the fact that—according to the web site—no one else had been able to find that particular cache either.
THE TRAIL TO EL TEPALO
...

A week later, we decided to take Mohammad's advice and hunt for a cache which somebody had actually found. This one is known as El Tepalo and is located above a well-known, occasionally wet waterfall of the same name, just above Ajijic, a small town on the shore of Lake Chapala, Mexico's biggest lake. Despite our previous failure, we found several of our hiking and caving friends ready to hunt for El Tepalo Cache, because this site promised "an amazing view of the lake" even if we couldn't find the cache, which was inside a Nutella jar hidden at the base of a tree. Off we went to Ajijic with Sonia Calvillo and Cesar and Vero Guadarrama.


Wavy fungi.
The trail to El Tepalo was easy to find and turned out to be quite pleasant, even though it was the dry season. We saw picturesque fungi, an amate (Strangler Fig) sitting on a big rock and several papelillo trees with thin, paper-like bark. We had to share the trail with a herd of cows which seemed to have no problem heading up the steep slope.
When we came to the waterfall, we discovered a cloud of bees swarming around a hole practically in the middle of the trail. Having been attacked by killer bees only a few months ago, we slowly and quietly detoured around this spot. A bee attack on a steep trail where you couldn't possibly outrun the bees could easily prove fatal.

"Bees? Who's afraid a few little bees? Vero and Cesar Guadarrama, both of who survived the Killer-Bee attack at San Marcos.
At last we were above the utterly dry falls and began hunting for the "old rock round for cows," described by the hider of the cache who is obviously not a native speaker of English. Finally, we came upon an old stone corral. "Ah, something round and made for cows…this must be it!"
Now all we had to find was a tree alongside the corral wall, but, alas, there were lots of trees that filled the bill. Of course we didn't give up, but began to investigate every tree "around the round." After half an hour, it looked like we would return home cacheless, but then came a shout from Sonia: "I got it!" This was a surprise for me, as she was crouching next to a tree I had already checked out and supposedly eliminated.


Sonia "The Nose that Knows" Calvillo with prize.
I tell you, that Nutella bottle was really well hidden and I must also say it looked as welcome as a treasure chest to us! Inside, we found a small notebook, a mini-auto, a small screwdriver and a keychain. So we wrote our comments in the register and tossed in three coins from Ghana, Iceland and Switzerland plus a few other strange things. Finally we stuffed everything back into the jar and rehid it in the same spot.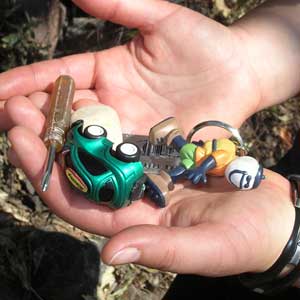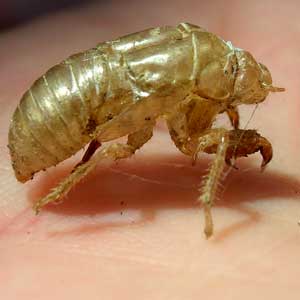 LEFT: contents of the geocache, including, at far right, a "Travel Bug" named Jake whom we should have removed, as his "goal" is to go on as many "great hikes" as possible. Unfortunately, we didn't know what a Travel Bug was at the time, so we put poor Jake back into the bottle...but we're sure he'd enjoy the hikes in our book Outdoors in Western Mexico.
RIGHT: a bug of a different sort, also found by Sonia: a tiny cicada molt: a Gold Bug if we ever saw one.
Just for fun, we then hiked farther up the arroyo until we had a stupendous view of Lake Chapala. The trail continued on, heading upward, but we had run out of time and made our way back down to our cars where we toasted our successful treasure hunt with ice-cold, dark, Cerveza Leon.
Clearly, geocaching can be a great way to get exercise and discover new places you've never been to before!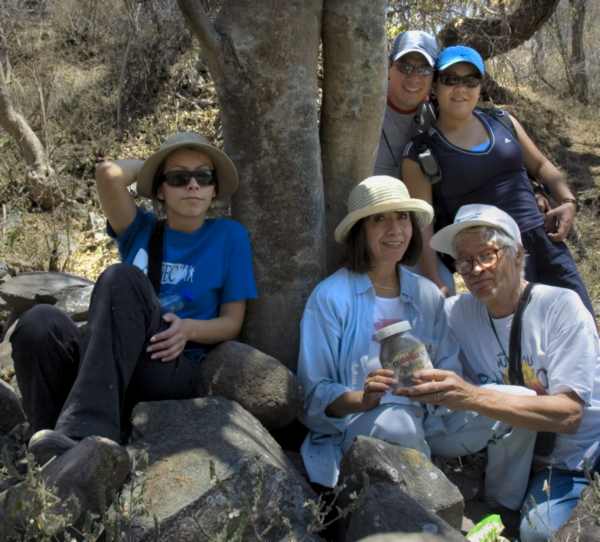 Finders of the Lost Cache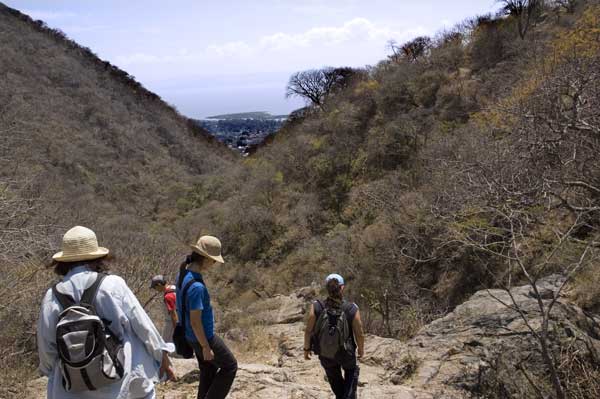 A hint of the famous view of Lake Chapala from above the falls.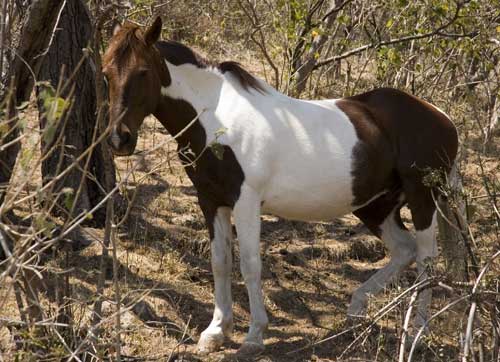 Friendly horse waiting for us at the top of the hill.