By John Pint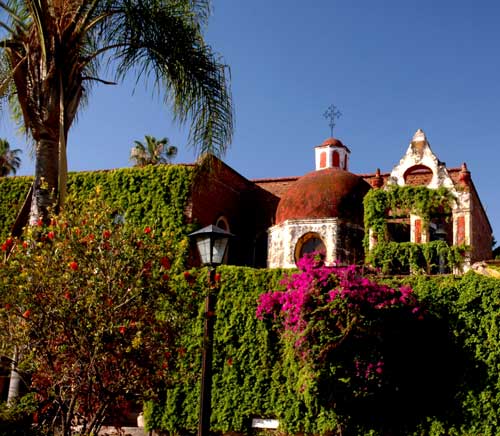 I am writing these words on a comfortable sofa inside one of the magnificent arched porticos of Hacienda El Carmen, which is located only 50 kilometers due west of Guadalajara and reachable in an hour and a half from Lake Chapala. Hundreds of turtle doves, great kiskadees, grackles and robins are singing in the huge rubber tree shading the courtyard in front of me, while the soothing melodies of Antonio Bribiesca's guitar play in the background.

This venerable hacienda is now a hotel, a spa, a gourmet restaurant and a historical monument all in one. This morning we had the pleasure of breakfasting with Mónica Baeza who grew up in the hacienda and in 1996 took charge of running it. We were, of course, curious about the history of the place. When we asked Mónica about it, her eyes lit up.

"Would you believe that this hacienda was built by Carmelite monks? It dates back to the 16th century when the Spanish Crown bequeathed the land to one Francisco Merodio de Velasco. It stayed in the family for generations until around 1705, when Francisca Figueroa, a widow with no children, decided to give it to the monks, who, in fact, are the ones who constructed the main buildings and that beautiful courtyard out there. The Prior, however, did not want to turn it into a monastery. Instead, he sent the earnings from the cattle and crops to Guadalajara to finance the construction of the famous Convento del Carmen. Back in those days, this finca (farm) was huge. It had 22,000 hectares on which they produced corn, wheat, oats, sugar cane, mezcal and sorghum, just to name a few things.

"Now, along came Benito Juárez and the Reforma. As a result, the Carmelites were expelled around 1856. The Ley Juárez relieved the Catholic Church of all its properties. So the Convento del Carmen suddenly became the Ex-Convento del Carmen as it is known today and our hacienda fell into the hands of people who were rich and powerful back in the days of Juárez. After that, it had many owners until it suffered from neglect and was auctioned off.

"In 1964 my mother fell in love with the old place and our family bought it and developed it as a country house. So this is where I grew up, where I played with my friends. Then, in 1996, when my father became ill, we held a family meeting to decide what to do about the hacienda. Well,
I ended up in charge of the place, because I raised my hand and said, 'I'll do it'."

Today Hacienda el Carmen has "only" 160 hectares of farmland where they raise sugar cane and corn and specialize in growing large, beautiful bell peppers for exportation.

Mónica Baeza's degree is in Industrial Relations and her principal hobby has long been cooking. When asked how she feels about being a farmer, she sighed. "Agriculture," she stated, shaking her head, "has more variables than any other business." In fact, she decided to transform the hacienda into a hotel in order to help balance things out economically. As for running a hotel-spa, Baeza discovered that "La hotelería is the business of perfection. Everything must be done perfectly from the very first contact with the client until the moment you wish your parting guest a safe journey—you can't push the rewind button."

"In the end," she adds, "our hacienda has become una fábrica de amigos, a factory that makes friends."

Indeed, the extraordinary friendliness of every soul we met at Hacienda El Carmen, whether owner, waitress, gardener or gatekeeper, made us feel completely at home. Human warmth is perhaps Mexico's most important attraction, but it is not always encountered in hotels. This hacienda, however, is filled with good vibrations and we even made friends with the ducks and the horses. Truly, "una fábrica de amigos."

What can you do at the hacienda? Plenty. Just start wandering and you'll come across cool, shady courtyards with bubbling fountains, wide, wide, stretches of green (including a six-hole golf course), the remains of a long, graceful aqueduct and a small lake where you can go swimming and bathing with the ducks or try sneaking up on the iguanas sunning themselves along the shore. Wherever you go, whatever corner you turn, you'll run into relics of the hacienda's long history, now tastefully transformed into objets d'art, whether old wagon wheels, brightly colored ceramics, ancient paintings or even a life-size wooden statue of St. Francis of Assisi, dating back to the days when brown-robed monks glided along the corridors.

Big attractions, of course are the massages, Jacuzzis, facials, etc. for which the hacienda's spa is now famous. There are also all kinds of "little attractions" everywhere you turn: monogrammed towels, bathrobes and slippers, a shower as plentiful as Niagara Falls, chirping crickets under a huge night sky with unimaginably bright stars, the kind of sky you can only find far away from the hustle and bustle of the city.

And then there's the food. It is simply perfect. Even if you can't stay overnight, it would be well worth it just to come for one of these gourmet meals. On top of that, they even have their own "house tequila" called Alebrijes, which is aged right on the grounds.

To me, the most surprising thing about Hacienda El Carmen is that they are not charging a fortune as are so many other haciendas. During the week, the price for a double room is US$ 130. This price does not include breakfast or spa services, but it does get you on the grounds and allow you to enjoy the place.

If you're interested in visiting Hacienda El Carmen, take a look at the Calendar on their website. They have special events like musicians in the moonlight on certain nights or imaginative discounts. For example, "Scorpios get a 50 percent lodging discount from November 4 to 6, if they bring along their birth certificate and anyone named Lupita (Guadalupe) gets a free back massage between Dec. 9 and 12, again with birth certificate in hand. You can see for yourself how beautiful this venerable landmark is by checking out my video on YouTube.


How to get there

From Guadalajara: Take Avenida Vallarta and then highway 15 (Nogales and Tepic) west for 25 kilometers to highway 70 which heads southwest towards Ameca. Now go about 18 kilometers and you'll come to an overpass and turnoff to Tala. From Ajijic: Take the Circuito Sur from the airport road (Cajititlán-Tlajomulco-Tala) to the same overpass. Now go 1.4 kilometers west where you'll see a huge sign reading El Refugio and a much smaller but far more important sign saying Teuchitlán. Turn right and drive 13 kilometers to Teuchitlán. Keep going west another 6 kilometers and turn left at a sign reading Hacienda El Carmen. After another 9.5 kilometers you'll see the Hacienda on your right. Driving time from Guadalajara's western Periférico is one hour and from Ajijic (via the Circuito Sur) it's just one hour and a half.
Parts of this article first appeared on Mexconnect, where you can see many more pictures of this beautiful hacienda.