By John Pint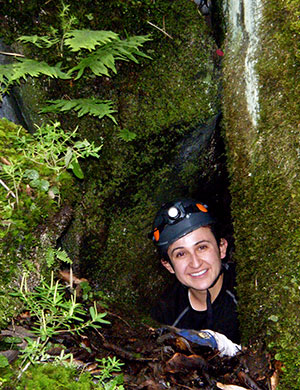 Somehow the word reached the small community of cave explorers here in Jalisco: There's an archaeologist in Michoacán trying to figure out how to accurately map a cave, and she needs help.

The archaeologist turned out to be Cinthia M. Campos, who is both Mexican and American and has a particular interest in how and why past civilizations used caves. "Come see my cave," she wrote, "and you can stay at El Gran Escape, it's a beautiful place with cabins and great meal service."

Santa Clara del Cobre, as I mentioned above, is in the state of Michoacán, so of course questions of safety and danger immediately came to mind.

"Santa Clara is near Pátzcuaro and Pátzcuaro is near Morelia," commented Cinthia, "and these three towns are as safe as any around Guadalajara. Don't worry, you'll be fine."

All this sounded great and I was all set to go with geologist (and excellent cave surveyor) Chris Lloyd, when out of nowhere I got a very bad case of the runs. So I ended up staying at home while Christ and Luis Rojas went to map the cave.

Three days later, they were back. "¡Caray! that cave was a killer," Rojas told me the following morning.. "We would have had to rope you in to get you through certain parts of it. Pos sí, that cave was duro and feo, but, of course there were those incredible petroglyphs I found exactly in the most inaccessible part of it..."

Well, that "hard and ugly" cave sounded more interesting by the minute, so I called Chris Lloyd.

"We surveyed 100 meters of it," he told me, "but instead of taking a few hours, as I had expected, it took two days."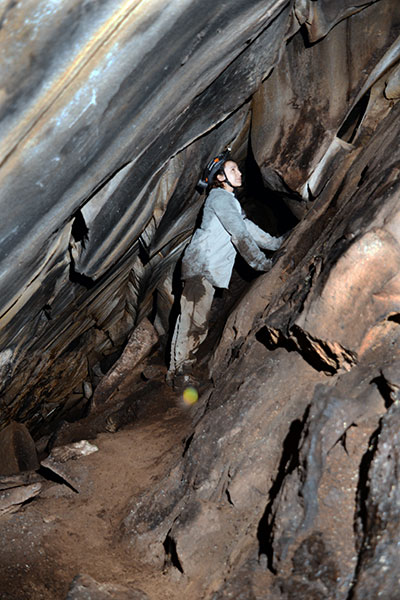 Lloyd explained to me that the cave has the shape of an ascending, diagonally tilted crack about a meter wide and eight meters high. The rock, he said, was basalt and the way the cave had formed turned out to be intriguing from a geological point of view, so much so, that the far-flung members of the International Committee on Volcanic Caves spent a full week offering email opinions on the cave's speleogenesis...which I won't trouble you with, firstly because this cave is not open to visitors, secondly because you need rock-climbing skills to get through it, and thirdly because just breathing the air in this cave is likely to land you in the hospital with histoplasmosis, a disease which is occasionally fatal. As Chris Lloyd summarized it, "This cave has all the charm of a muddy, guano-filled rat hole."

My caving buddies, however, reported that the little town of Santa Clara is well worth visiting. "It's a pueblo mágico," they told me, "the kind that really deserves the name.

Publications by INAH, the Mexican National Institute of Anthropology and History, indicate that the area including today's Santa Clara del Cobre has been inhabited for around 2000 years. One of the most interesting archaeological objects found here is the "querenda," I was told by Cinthia M. Campos. This is a Purépecha word referring to a lump of slag produced by smelting metal. The Tarascans were actively working metals prior to the arrival of the Spaniards. They were highly skilled and were able to make tools including axes, and needles, tweezers and rings. They began working copper by cold hammering but later learned to recondition it by heating. They also used the lost-wax method to make small bells.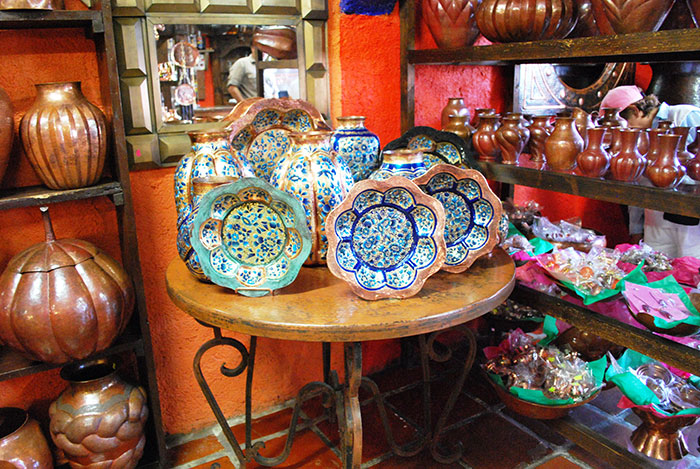 Beautifully worked copper is for sale everywhere in Santa Clara del Cobre. Photo Thelmadatter.
Today many locals in Santa Clara del Cobre are involved in working copper and the cobblestone roads are filled with hundreds of workshops you can visit. You can find everything from copper necklaces to bathtubs and always at amazingly low prices.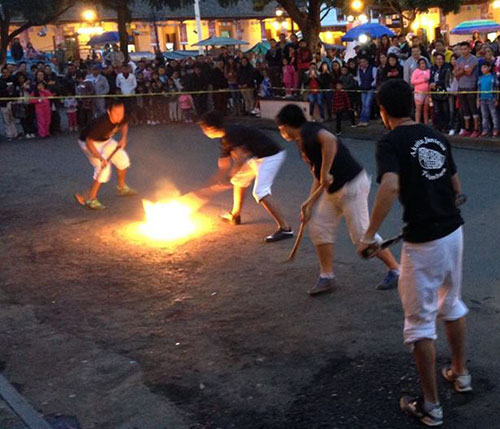 My friends visited Santa Clara at the beginning of August, exactly when the annual Feria del Cobre (Copper Fair) is held. "There are different activities going on every night," they told me, "and lots of great musicians." But what most intrigued my friends was the traditional ball game Uárukua (Pelota Purépecha) being played in a closed-off street in the middle of town. It is said that this game may be over 500 years old and it is different from that of Central Mexico.

"Suddenly they let loose six people using hockey sticks," says Chris Lloyd, "to hit a flaming, grapefruit-size, wooden ball. That in itself was quite a sight for me to see, as a Canadian, but part of the game is not just hitting the ball on the ground, but bouncing it off your stick in the air before trying to make a goal, only the goal line just happened to coincide with a line of spectators at each end. I wonder what the insurance implications would be in the US! And while this was going on, they were sending up balloons with a lighted candle in them, which eventually caught fire and came crashing down to earth. Believe me, it was quite a show!"

Where to stay when you visit Santa Clara? "We spent two nights at Centro Ecoturistico Comunal "El Gran Escape," Luis Rojas told me, "and it was great. The cabins are much better than the bungalows you typically find in rural communities and the food was very good."

Around the cabins, Chris Lloyd added, is a huge forest. "It's gorgeous, very much like the Biosphere Reserve of Manantlán, full of very tall oak trees covered in bromelias and orchids. It's owned by the local ejido, which is unlike any ejido I've ever seen anywhere. They appreciate and protect the forest, mountains and water as they are a vital part of their indigenous culture. And they not only want to protect what they have, but they are actively doing it. So the forest is intact and protected."

Restaurant at El Gran Escape, Santa Clara del Cobre - Photo by Luis Rojas
If you'd like to stay at El Gran Escape, you can visit their Facebook page: Centro Ecoturistico Comunal "El Gran Escape." Their phone number is (+52) 1 434 110 4425 and among the Photos on the FB page, there's a very handy map showing how to reach the cabins from the town.

How to get there
Note that in the rainy season you will need a truck or other high-clearance vehicle to get to El Gran Escape, which is located at 19°25'17.5"N 101°38'29.9"W, only 1.5 kilometers north of Santa Clara del Cobre. Reaching the town is much easier. Any kind of vehicle can get there and Google Maps will guide you all the way.

Driving time from Guadalajara to Santa Clara del Cobre is about three hours and 40 minutes.