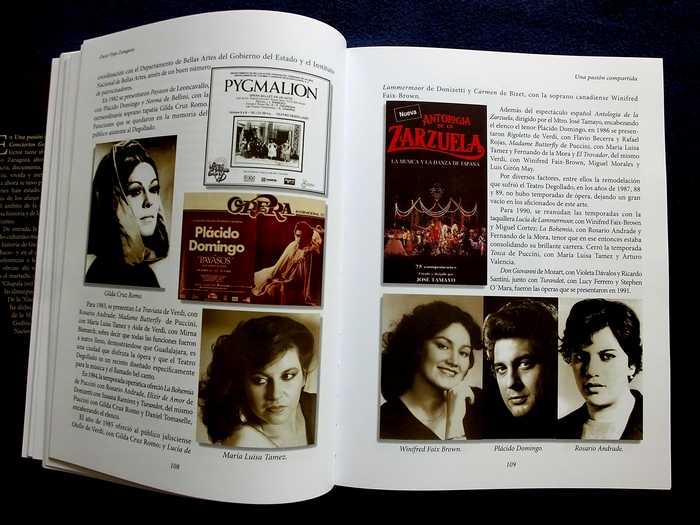 The first 200 pages of this book are filled with nostalgic posters and photos recalling concerts and operas featuring the most famous artists in the world.
By John Pint

There was standing room only at the Guadalajara Chamber of Commerce auditorium on Friday, March 10, 2017 for the presentation of a book outlining the history and contributions of Conciertos Guadalajara, the organization which—since the founding of the Symphony Orchestra in 1916—has been bringing the world's most famous soloists to the Degollado Theater and hundreds of other venues in Jalisco.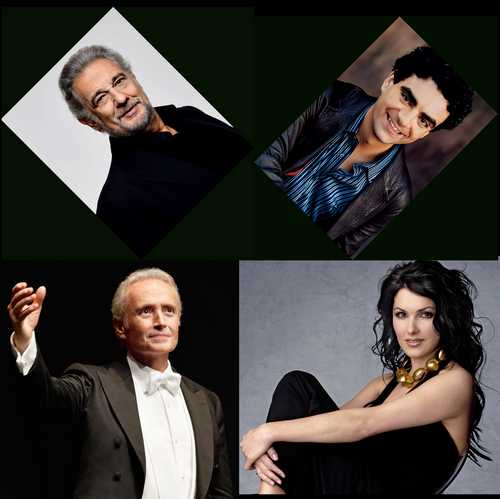 Una Pasión Compartida (A Shared Passion) is a collector's item, an elegant 656-page hardback by Oscar Trejo Zaragoza, playwright and Editorial Coordinator of Editorial Agata, which published the book. About 200 pages of this beautifully printed tome review the history of the Guadalajara Concerts Association, its ups and downs, challenges and solutions and the people in the background who made it all happen. This section contains hundreds of posters and photos—many in color—of world renowned artists such as Pablo Casals, Jaschi Heifetz, Claude Bolling, Andrés Segovia, Gary Karr, Narciso Yepes, Facundo Cabral, Benjamin Britten and many others of the outstanding musicians who were brought to Jalisco by the organization. The rest of the book is dedicated to Activities, in form of the most memorable programs of events occurring between 1951 and 2009.

The production of this book, says Trejo, involved "rising at the crack of dawn, working nonstop throughout the day and staying up all night long."

"So why did you do it?" he was asked by El Informador. "Well, it was a hard job," he replied, "but somebody had to put on paper what we have accomplished here in Guadalajara, to demonstrate that there is something else that is really ours apart from mariachis and tequila. Jalisco has been generating great cultural richness and this should not be ignored. Those of us who played a role in the history of Conciertos Guadalajara know what we have done, but we will not live forever. Some years from now this organization could be forgotten, so now is the time to create a testimonial and that is what this book is."

Conciertos Guadalajara was first known as La Sociedad de Conciertos y Amigos de la Música when it was founded in 1919 by local people enthusiastic about promoting the fine arts. Many of the events it sponsored over the decades have been free of charge, such as the international festivals held in the cathedral. The organization also presented free concerts outside Guadalajara with the proposal of bringing culture to every corner of the state. To help pay for such projects, they organized presentations by the extremely popular Vienna Boys' Choir and the Rondalla de Saltillo students' band. Supporting the efforts of Conciertos Guadalajara, says Trejo, "many musicians played in the city out of pure good will, charging not even 5 percent of what they would usually receive. Just one example is Mexican tenor Fernando de la Mora." This explains how it was possible for Tapatíos to enjoy operas featuring Plácido Domingo for an entrance fee of only ten pesos.
On other occasions, when it was necessary to raise funds to bring in less altruistic big-name soloists, the Association turned to several women (Teresa Casillas Hernández, María Teresa Santos Rooojo de Oroz and Martha González de Hernández Allende) who worked tirelessly to promote classical music in Guadalajara over the decades. For example, says Trejo, when it was discovered that Arthur Rubinstein charged two thousand dollars for a performance, the Association turned to one if its greatest supporters, Teresa Casillas, who commented:

"Rubinstein was the most expensive of all the artists I brought here and I had to perspire a lot to make it happen. When we were negotiating, they asked me what sort of guarantee they would have that his honorarios would actually be paid. I replied, 'It is I who am contracting him—what more do you want?' And they didn't say another word—but I was trembling and my knees were knocking as I hung up the phone, because the truth was that I didn't have enough money even to pay the orchestra. So I asked the owner of the Alameda Theater if we could hold the event there (for free), because it had far more seats than the Degollado. Then we charged four times the usual admission fees. Well, we sold every last seat, so I was able to pay both both the artist and the orchestra and to take Rubinstein out to dinner, and still we had money left over!"

On the night of the book launching, I asked people to talk about some of the great performances they had witnessed at the Degollado. Guadalajara muralist Jorge Monroy said, "I really enjoyed some of the great musicians from Argentina who played here, for example Les Luthiers and the guitarist Atahualpa Yupanqui. I also cannot forget the poet and singer Alfredo Zitarrusa, from Uruguay."

Said heart surgeon Carlos Juárez: "I remember Conciertos Guadalajara from my childhood and the great artists they brought here, for example Jean-Pierre Rampal and his solid gold flute and Narciso Yepes with his ten-string guitar, and the temperamental violinist Ruggiero Ricci and dozens and dozens of others...and the Requiems of Verdi or Mozart, all a crucial part of my life!"

And here are some of the memories of Doctor Roberto Pérez:

"I will never forget when the ballerina Anna Pavlova came here. What a performance she gave! Every seat in the Degollado was filled. Another of our favorites was José Tamayo's Anthology of the Zarzuela, which came here from Madrid. It was stupendous, extraordinary. And then there was the concert by Ravi Shankar. Another unforgettable evening was when Duke Ellington came to town. The Jazz musicians walked up to the stage through the aisles, playing their instruments. It was truly apotheotic! I also remember the performance of virtuoso violinist Ruggiero Ricci. He could barely walk, but this was utterly forgotten the moment he began to play his Paganini variations. I do believe it would be impossible to name any great musician who hasn't performed here in Guadalajara and all of them, every great soloist who graced the Degollado, were brought here by this organization, Conciertos Guadalajara."

Dr. Pérez' wife Marichuy Rodríguez said, "I can't name a favorite. Each one of them was simply the very best in the mastery of their instrument and their style. I've been a member of the Ladies Committee which has been assisting Conciertos Guadalajara for around 40 years and I can tell you this organization is incredible, truly unique in Mexico. And, as for this book, it is the register of a Golden Age of music lasting some 70 to 80 years. It is simply an emotional experience to page through it, looking at the programs and reliving those wonderful experiences."

When I put my question to violinist-violist Robert Nelson, whose name appears on many of the programs in Trejo's book, I got a point of view different from that of the concert-goer. "I can't forget Jean-Pierre Rampal's visit here," he told me. "I can still see him leaning over me, breathing down my neck and saying, 'You must do it this way, this way!' And then there was the visit in 2010 of Anshel Brusilow, the great concertmaster of the Philadelphia Orchestra. Brusilow is one of the very best directors of Beethoven's work, but after a full week of rehearsals, he turned to me and said, 'Enough Beethoven! Do you know anyone who plays Bridge?' So I told him I sometimes play Oh Hell with friends in Pinar de la Venta, and off we went for a great evening at Rancho Pint. On the way back to Guadalajara, I asked Brusilow if he was violin soloist in a certain 1970 recording of Respighi's music which I particularly love. 'Yeah,' he replied, that would be me.' Well, never in my life did I imagine I would someday be playing cards with the man who made that music which I so admired all those many years ago. By the way, speaking of Pinar de la Venta, it's the home of Joel Vandroogenbroeck, a pioneer in electronic music who was invited to play a jazz-new-age-ambient concert at the Degollado in 1996 together with maestro José Guadalupe Flores...another first."

The fact that this book's chronicle ends in 2009 tells us something. Is that when the Golden Age of music ended? The University of Guadalajara's Maestro José Manuel Jurado addressed this very question during the book launching. What does this monumental tome represent for Guadalajara's music scene? Is it Mozart's Requiem or Handel's Hallelujah Chorus? Only time will tell.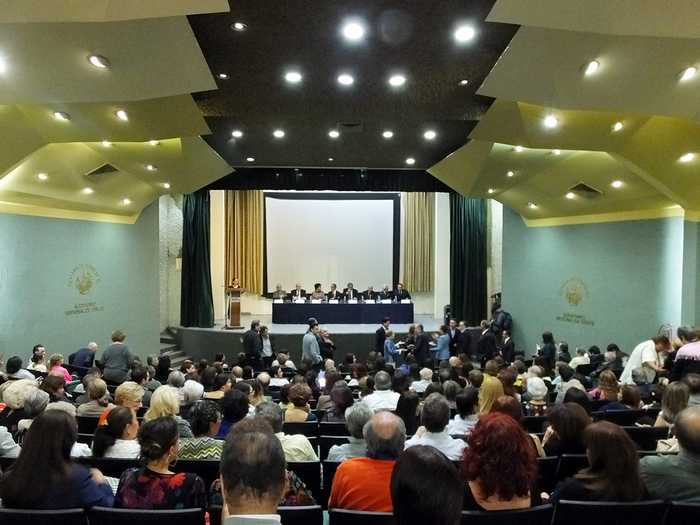 The auditorium was filled to overflowing.