By John Pint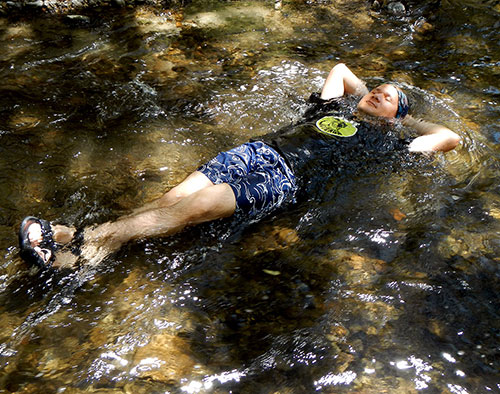 "I'm interested in visiting Guava Beach in the Primavera Forest," wrote Albert Schmaedick from the shores of Lake Chapala, Mexico's biggest lake. "Are there any good campgrounds nearby?"

That question was one I, too, wanted to investigate. Guava Beach is a sandy clearing surrounded by guava trees on the west bank of El Río Salado (the Salty River), the name given by locals to Río Caliente once it cools down a bit. Next to the clearing there's a natural cold spring, making Guava Beach "the perfect campground, with hot and cold running water."

"But how safe is it to camp there?" asked Albert. It´s a question everyone seems to be asking these days.

To find the answer, Albert and I teamed up with outdoorsman Jorge "Quercus" Robles, in a quest to find the closest "safe" camping area to Guava Beach. We decided to approach the river from highway 70 which passes through Ameca. A mere four kilometers from the paved road we came to Balneario Río Salado where friendly caretaker Antonio Meza welcomed us with open arms. "You want a safe camping site?" he said. "¡Aquí está! We have a big grassy area right here next to the Salty River where you can pitch your tent. And, of course, we have toilets and hot showers too, plus a guard and a locked gate.

This wide grassy area at Balneario Rio Salado is reserved for camping. The cost is 75 pesos per person and includes the right to use clean bathrooms and showers and to spend all the time you want soaking in the Salty River.
The caretaker told us their beautiful recreational area is open every day of the year and assured me it is both peaceful and practically deserted on weekdays. The cost for camping here is only 70 pesos for adults, 35 for children and there's no charge at all for petting their tame boar, Chancho who will gladly gobble up your leftover tortillas.

From the balneario, we drove south alongside the Salty River. This is a favorite place for weekend picnickers, with lots of shade trees and hundreds of good places to enjoy the Jacuzzi effect of the warm, mineralized water bubbling through the rocks. For good reason my nieces call it "the Rock-n-Roll River."

A kilometer and a half from the balneario, the road ends. Here we parked and set off on foot along a narrow trail that parallels the river. After 550 meters, we came to a picturesque meadow between the river and the nearby high, majestic cliffs. This is the place where a German-speaking friend once exclaimed, "Oh mein Gott—this place is really beautiful; it's magic!"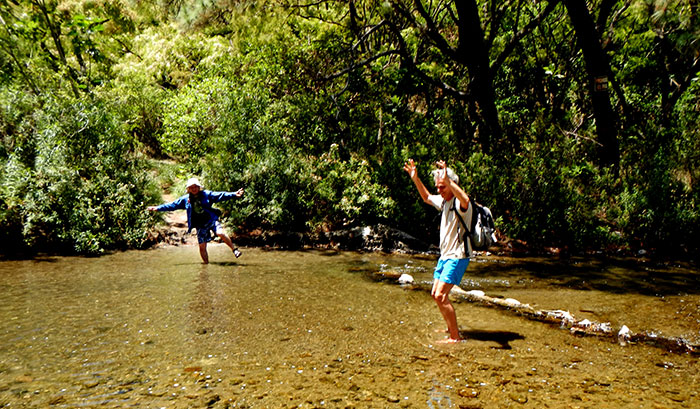 "It´s still here! Jorge "Quercus" Robles and Albert Schmaedick jumping for joy while crossing the Salty River.
We waded through the shallow stream and stepped into the clearing, still nice and clean and still surrounded by guava trees. At one end we found three tents pitched and the owners told us this campsite was about as good as they get. "We have shade, sand and hot water," a young man told us, "and just behind our tents there's a cold ojo de agua with delicious, drinkable water."

We joined this family for a soak in the river and then headed back home. All went well until we reached the small stream we had crossed on our way in. About halfway across, it became clear that something was very wrong. That stream is normally no more than 20 centimeters deep, but now water was splashing up and over the car's hood. "It's coming in under the doors!" shouted Albert. In the back seat, I looked at my feet and saw them disappear under a rising tide.

And that's when the car stalled. "The tailpipe must be under water," said Jorge Robles. "We have to get out and push—but don't open the doors!"


Well, that left only one way out: through the windows. Fortunately, all three of us were wearing "water shoes." I stuck my feet out the window and slid into the river. The water came up to my pockets. What could have caused this? Just at that moment, two cars arrived and a few minutes later there were seven of us, nearly up to our waists in muddy water, trying to push the car up and out of the river, grunting, sweating and cursing. But the car barely moved. "Are you sure it's in neutral?" shouted one of the men. "Sí, está en neutral," replied Jorge...and then: "¡Caray... el freno!" Yes, we had actually moved that car uphill about two meters with the emergency brake on.

With the brake off, we pushed it right out of the river and, to my surprise, the engine caught in less than a minute. Unfortunately, bailing out Jorge's car with coffee cups took a great deal longer, but in the end, it got us back home, happy, if not dry.

How to get there
Drive west out of Guadalajara on "libre" Highway 15 for 25 kilometers and turn southwest onto highway 70. After five kilometers you'll go under a pedestrian overpass. Immediately, make a left turn into the little town of Emiliano Zapata (N20.72017 W103.62735). You'll see a fork in the road straight ahead of you. Keep right and you'll be on a winding cobblestone road that will take you past the town plaza. Now the road becomes dirt (good quality) and 300 meters past the plaza, you come to a T where, again, you go right. Follow the main road south for 3.3 kilometers to Balneario Río Salado (N20.69207 W103.61322). Better use a high-clearance vehicle! Guava Beach is two kilometers southeast of here at N20.67922 W103.60266. This route is on Wikiloc.com under "GuadHikes - Hwy 70 to Rio Salado." Driving time from Guadalajara to the balneario is about one hour.