Outside Guadalajara

The Secrets of Amatitán
Searching for beauty while slogging through a wet qanat

©2010 by John Pint - Photos by J. Pint unless otherwise noted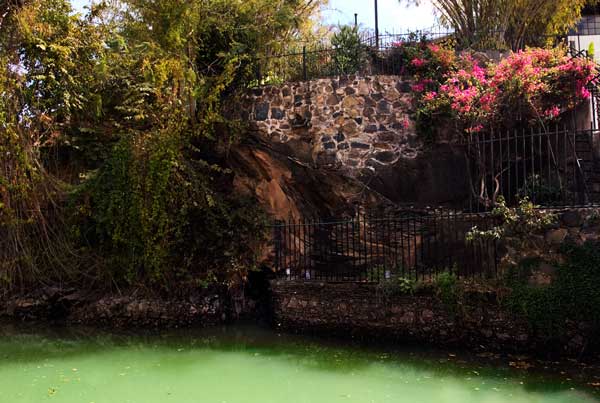 Jalisco Muralist Jorge Monroy assured me I would find beauty in the center of Amatitán, a small town located 35 kilometers northwest of Guadalajara, so I talked my sister Ruth into accompanying me on an exploratory visit.
I must confess that the view you get of Amatitán from "libre" Highway 15—which skirts the town along its northern perimeter—would lead you to believe that no artiste had ever set foot in the place during its entire (very long) history. Boy, was I wrong about that one!

Right from the start, Amatitán proved to be a bit different. El Centro was not in the center of town at all. Instead, the plaza and church are at the eastern end, at the foot of a steep hill. The reason for this immediately became obvious: the town's only source of water is here. Originally, this was a spring trickling out from under the hill, but in the 1800's—signs in English and Spanish informed us—the townspeople decided to dig a qanat or underground aqueduct from the plaza to the water table, over 60 meters inside the hill. This was a success and resulted in a large pool of drinking water being available to anyone arriving at the plaza.

Naturally, we went into the Presidencia Municipal—at the other end of the plaza—to find out how we could visit the qanat.

The second the staff spotted two "güeros" (blonds) walking through the door, word was sent to their dynamic Public Relations man, Ezequiel Garcia: "Tourists have arrived in Amatitán!"

Ezequiel Garcia turned out to be the very person we really needed to see. As we walked across the plaza, he gestured at the magnificent domes crowning the Church. "Those were the work of the famed architect, Luis Barragán (considered the most important Mexican architect of the 20th century) and inside the church you can see four paintings by none other than José Clemente Orozco himself." We also stopped to admire a great wall on which the Eight Beatitudes were hand engraved by…well, I'm still not sure if it was Barragán or that other great architect, Ignacio Díaz Morales, because both of them were responsible for remodeling Amatitán's magnificent church.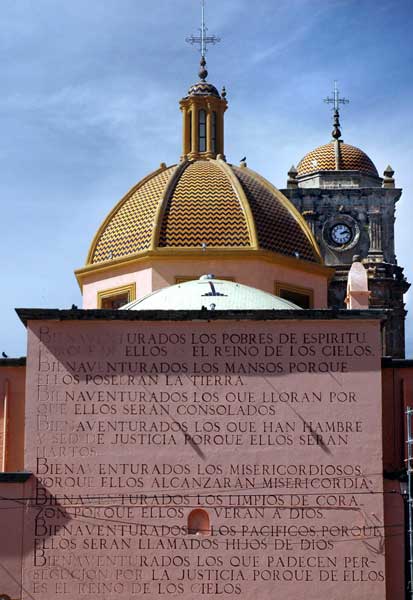 The qanat, being essentially a tunnel filled with water, was naturally kept locked, but while we were waiting for the keeper of the key, we had a chance to look at several plaques and maps in the plaza, which relate Amatitán's claim to being the birthplace of tequila, a description of its artistic treasures and, of course, the story of its qanat. Here we learned that the "qanat" (an Arabic word from which the English and Spanish "canal" is derived) was invented in Persia 3000 years ago and proved a great success for carrying subterranean water to human settlements, without contaminating the water or losing it to evaporation in the deserts of the Middle East. This technology was spread to the far corners of the world and carried to Mexico by the Conquistadores, who got it from the Arabs.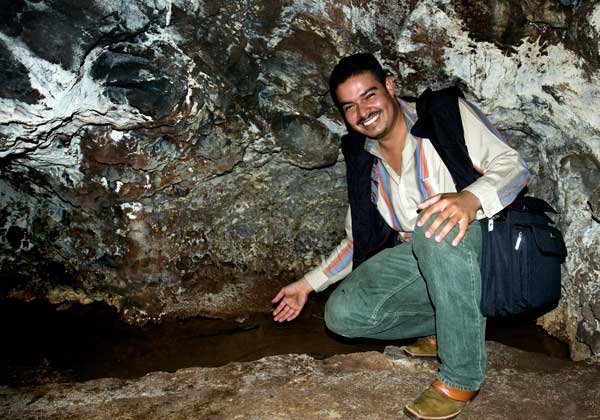 Ezequiel Garcia at a pool of crystal-clear drinking water inside the qanat.

We walked into the cool main passage of the qanat, which measured about two meters square. "How far back does it go?" I asked Ezequiel Garcia.

"I don't know," he replied. It's full of water."

"Does a map of the system exist?" I inquired.

"No, but I wish I had one."

Since our caving club, Grupo Espeleológico Zotz, had already mapped two other qanats in Jalisco, I offered to survey this one and our guide enthusiastically accepted. "I'll be back with cavers, compasses and measuring tapes," I told him.

We stepped back into the sunny square, ready to gaze upon Orozco's paintings, but, alas, the church had just been locked (at 1:00 PM) and would not open again until 4:30. Future tourists, take note.

One week later, I was back with engineer Luis Rojas and biologist-bat expert, Leonel Ayala. Surveying a cave (or a qanat) involves painstakingly measuring distances and taking compass directions but our survey moved along quickly because these man-made passages—unlike those of a natural cave—went in straight lines. We had hoped our boots would keep us dry, but the water on the floor turned out to be knee-deep and a cool 17 degrees Celsius.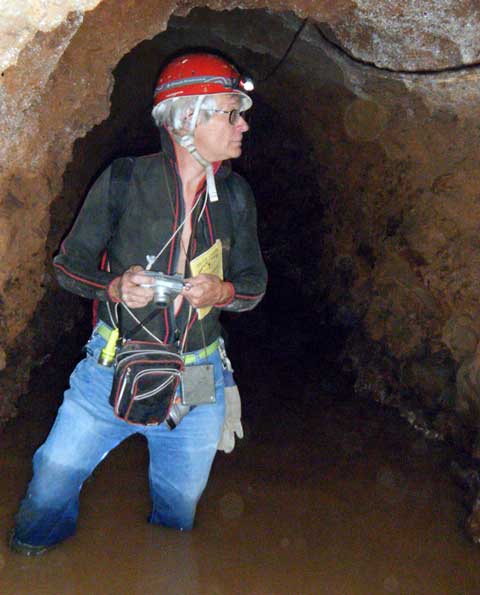 John knee-deep in qanat water. Photo by Luis Rojas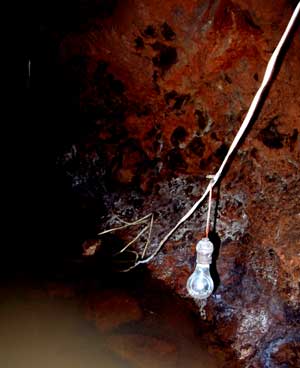 After 64 meters, the flooded main passage turned right and got a bit deeper. That's when we spotted live wires, connected to the electric lights installed in this tourist attraction, disappearing into the water we were standing in. Well, over the years, cave exploration may have presented us with certain problems, such as puddles of evil-smelling vampire guano and "lakes" of suffocating carbon dioxide, but at least we'd never been in danger of being electrocuted while standing in two feet of water.



Well, we survived, and our survey showed the qanat has four passages totaling 113 meters, with an air temperature of 18 degrees and 83% humidity. And here's our map: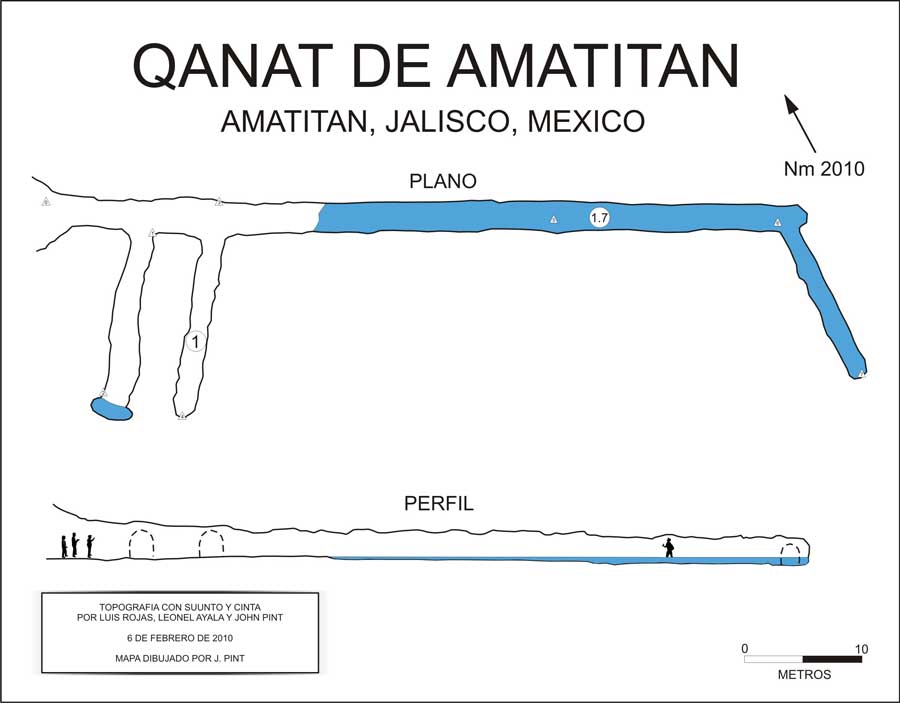 No sooner did we finish, than Ezequiel invited us for lunch, after which (in dry clothes) we were at last able to view the church's paintings of Matthew, Mark, Luke and John, all attributed to Orozco (according to Ezequiel).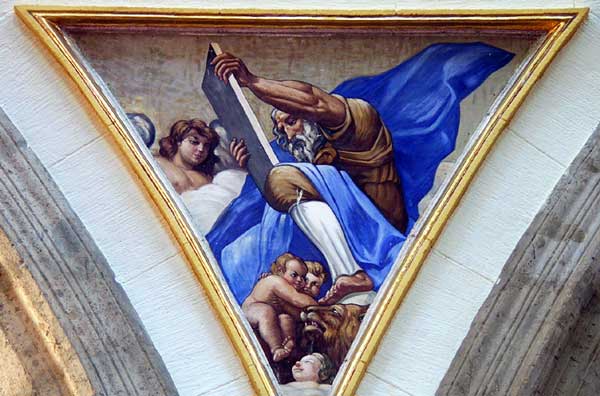 Painting of Saint Mark the Evangelist in Amatitan's church. Said to be one of four works inside the dome by Mexican muralist José Clemente Orozco.
Stepping out of the church into the plaza, we came upon four young ladies atop a wooden platform, practicing their walks for the Miss Amatitán competition to be held the following day. After all of this, we had to agree with Jorge Monroy: you really can find beauty in the center of Amatitán, whatever sort you're looking for.

How to get there

Take "libre" highway 15 west 38 kilometers to Amatitán. Go past the footbridge that crosses the highway and turn left onto Calle Juan José Flores. After two blocks, take a left onto Hidalgo and it will lead you straight to the plaza. Driving time from Guadalajara's Periférico to the plaza: about 35 minutes.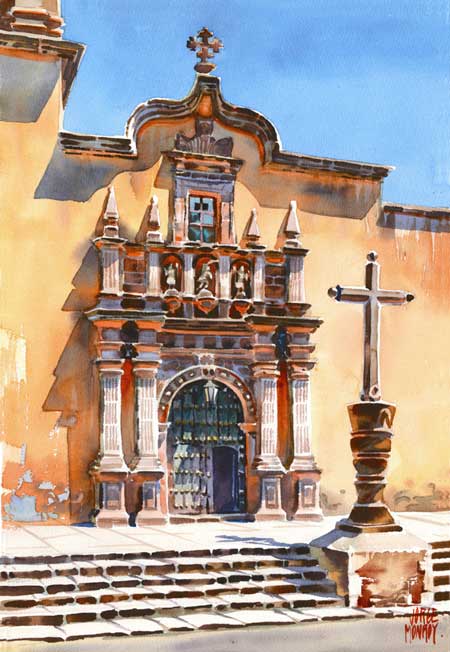 Façade of Amatitan's church, which was remodeled by famed architects Luis Barragán and Ignacio Díaz Morales. Watercolor by Jorge Monroy.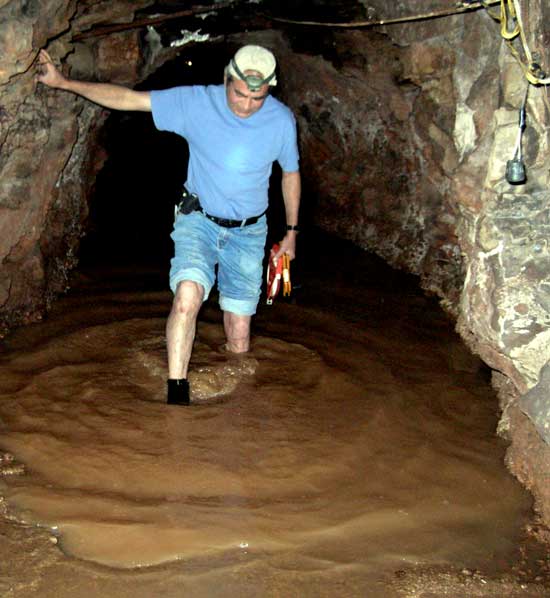 Finished at last, but the water is not quite so clear after three of us have sloshed around in it.
Luis Rojas on the way out.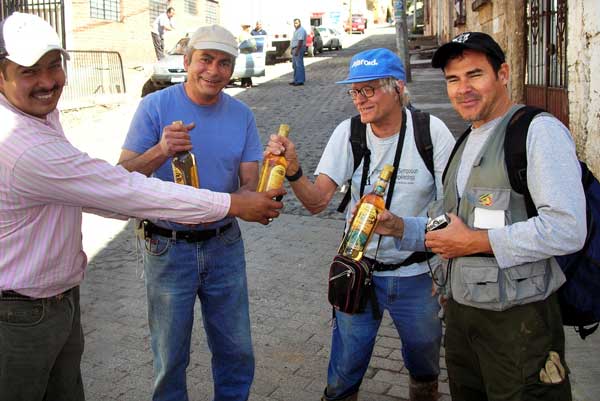 The Reward: Fine Amatitan tequila for the crew.