Outside Guadalajara


THE OLD AMPARO MINE

A Visit to a ghost town that keeps its secrets
Text and Pictures ©2009 By John Pint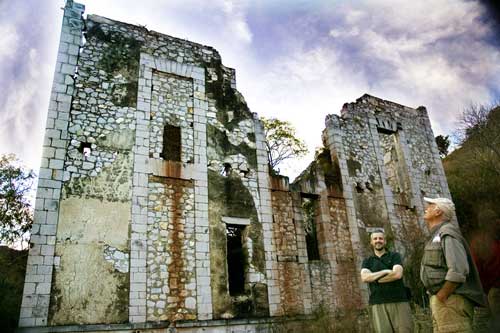 In 1916, the Amparo Mining Company had the most successful silver mines in Jalisco and was making money hand over fist. Although it was located pretty much in the middle of nowhere, 12 kilometers south of Etzatlán, rumor has it that a bustling community of some 6000 souls lived there, enjoying such luxuries as two supermarkets, a cinema, a dance hall and their own classical music orchestra. This community, it was said, consisted of Americans, British, Mexicans and lots of Germans.

All that is what the rumors say, but when I tried to dig up some hard facts about Amparo, I discovered a curiously different picture of life at the mining camp. "There's a monograph on the history of the old mine," I was told by archeologist Phil Weigand who lived in Etzatlán for years, "for sale in the convent book store."

Well, it took three trips to Etzatlán to get into that bookstore. We never did find it open, but on the third trip we managed to talk some of the nuns into opening it just for us, which meant that in addition to the monograph, we had to buy some of their homemade cookies and rompope, items you don't find in many bookstores. The cookies turned out to be especially delicious, but the monograph had only a few lines about the mine. They were anything but laudatory.


Silver and Suffering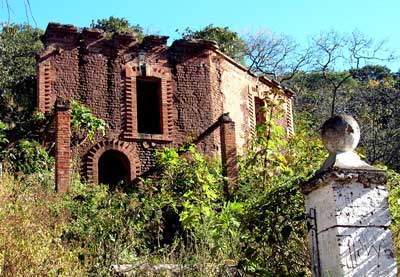 "The miners worked their long, miserable, heavy days under brutal conditions," said María de la Luz Correa. I got the distinct impression that the riches flowing from the mine had only flowed into the pockets of the owner, who it seems, was American, not British. I also found out that there were only about 500 some miners at Amparo, not 6000. As for the two supermarkets, it was claimed that their primary function had been to enslave the miners, offering them luxuries and expensive entertainment on credit until they were hopelessly in debt. To me, it brought to mind a few lines from the old song "Sixteen tons:"

You load sixteen tons and what do you get?
Another day older and deeper in debt.
Saint Peter, don't you call me 'cause I can't go—
I owe my soul to the company store.

The miners are long gone from the Amparo Mine, but an impressive ghost town still remains and it's not a difficult place to visit. I first went there with a local guide recommended by the Presidente Municipal. Six kilometers from town, we came to an impressive Mirador or lookout point. It's worth walking up the steps to a big cross from which the view is even better. Up here or in the woods behind the cross you'll find your ideal place for a picnic.

A Ghost Town and a Sleepy Ranch
| | |
| --- | --- |
| To visit the ruins of the old mining camp, continue along the same road that brought you to the Mirador. Twelve kilometers from Etzatlán you'll find the sleepy rancho of Amparo, surrounded by once elegant buildings now swathed in vines and bushes. "This was the bachelors' dormitory," explained our guide. "That was one of the stores and this was where the miners received their wages." | |

"What's that?" I asked, pointing to a lonely tower atop a steep hill. "We call that El Faro, the Lighthouse," said our guide. "Actually, it was a watch tower built for driving away bandidos."

Once I saw the outside of this tower, pockmarked with bullets, I gained a new respect for those people who worked at this remote outpost, cinema or no cinema.

More ruins can be found about two kilometers south of Amparo at Las Jimenez, where electricity from high tension wires was transformed into useable voltage for the mine's heavy machinery. Here we found the most beautiful building of all, several stories high. We were told the transformers were housed here, but the building looks too elegant for such a lowly purpose. Besides, transformers normally sit outdoors because they give off heat.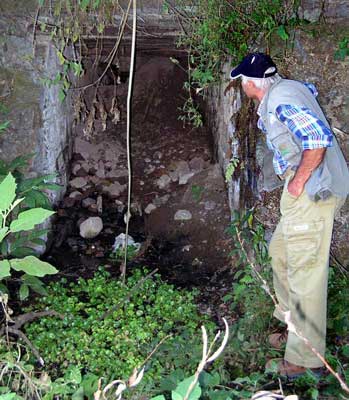 The miners at Amparo, led by famed Marxist muralist David Alfaro Siqueiros, joined a Jalisco-wide union in 1926 and made demands for better salaries and working conditions to the company, which chose to shut down the mine rather than capitulate. This mine produced 138,597 kilograms of silver between 1924 and 1931, plus impressive quantities of gold, lead and copper. It was still productive at the time it was shut down and would no doubt have been reopened later if President Echeverría had not (according to our guide) "stolen all the machinery and workings, causing the mine to be flooded." You'll need a vehicle with high clearance on the fairly well maintained dirt road from Etzatlán to the Mirador and Amparo.

How to get there.

From the Guadalajara periférico, take highway 15 (Nogales and Tepic) 25 km to highway 70 which heads SW towards Ameca. This is only accessible from the libre, so don't get on the cuota (toll road). Go about 17 kilometers until you come to the big sugar refinery on the road at the Tala turnoff. Continuing towards Ameca about 1.5 km, turn right onto the road heading for Teuchitlán and Ahualulco. From this turnoff, it's about 40 kilometers to Etzatlán. As you approach the town, you'll see a Pemex gas station on your left. Turn left here and drive 400 meters until you are in front of the old, abandoned train station. By the way, the railroad came way out here just to carry off silver from the mine. Turn left here onto Allende Street and follow it south through the town and up into the hills. The Mirador is six kilometers from town, with plenty of parking space. It's another six kilometers to Amparo. From Lake Chapala, get onto highway 54 via Jocotepec and exit at Santa Cruz de las Flores. From here drive northwest to Tala. Etzatlán is just over an hour's drive from Guadalajara and it'll take you another hour to reach Amparo (but only 20 minutes to the Mirador).