Cerro Colli:
Viewing Guadalajara from a 20,000-year-old volcanic plug

By John Pint

A number of years ago, I was chatting with the guard at Ixtepete Pyramid, located right next to Guadalajara's western Periferico. As is my custom, I naturally asked him if he knew of any caves in the area.

"Right up there," he replied, pointing toward a nearby ridge, "That's el Cerro de Colli and people say there's a deep cave with smooth walls somewhere on top—and a stream of boiling-hot water, too."

Of course, the following weekend found us and our caving friends at the foot of Cerro Colli, trying to figure out how we were going to get to the top of the nearly vertical 200-meter-high wall facing us.

We figured we could get partway up following a dirt road built to facilitate a large-scale quarrying operation that was digging away the hill we were climbing. Unfortunately, reaching this road required us to wend our way through an extensive garbage dump. We were amazed to find numerous small houses on the edge of the dump, each one connected (illegally of course) to power lines via a spider's web of wires.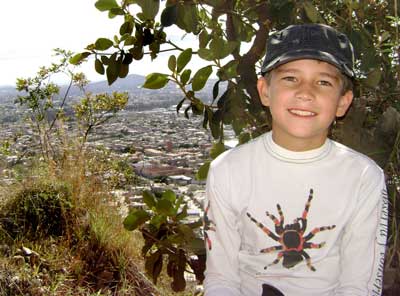 Eventually we reached the top which turned out to be covered with a pleasant, totally undeveloped woods from which we had a great view of Guadalajara to the east and—after a short walk—the Primavera Forest to the west. While gazing at the forest below through binoculars, off in the distance we saw a huge geyser suddenly shoot straight into the air. It was a spectacular sight and weeks later we managed to locate the place, only to discover that this geyser had been capped by the Federal Electrical Commission which had sunk 13 deep wells in the same area, as part of a multi-million-dollar project to generate electricity, a project which to this day, has generated lots of controversy, but not a watt of power.

As for the cave and the hot river, we found neither—lucky for us, because a UDG professor later informed a member of our group that the hill we had climbed is actually a plug above an active thermal area and that the smooth-walled hole we had been looking for was, in reality, a vent through which hot gases occasionally escape. "You could easily have been parboiled had you gone inside it," he warned. In fact, not long after our escapade, Guadalajara authorities shut down the quarrying operation on Colli. Even the politicians agreed that digging away the plug of a still-live volcano was not too smart an idea.

Cerro Colli marks the exact spot where the last volcanic eruption occurred in this area, 20,000 years ago. It sits on the edge of a large caldera that actually contained a lake (11 kilometers in diameter) some 70,000 years ago, right where today we find the center of the Primavera Forest.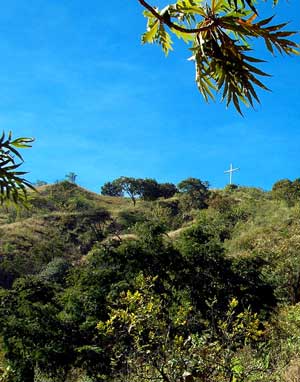 I didn't attempt climbing Colli again for several years. Then one day, while driving along the westward prolongation of Avenida Guadalupe, I found myself at the southern end of the great plug (which has a diameter of about 1.8 kilometers). From the street I could see a big white cross up near the top and I figured there must surely be a path leading to it. Well, I asked a lot of local people about this and they said, yes, there's a vereda, but not one of them had ever walked up it. Eventually I found the trailhead and discovered that the zigzagging trail is steep but easy to follow and in twenty minutes takes you to the cross where you'll find cool breezes and a magnificent view of the ever-expanding city.
Amazingly, if you keep following that path up to the very top (another ten minutes), you'll feel like you've been wafted a hundred miles away from civilization. It's dead quiet on top except for the songs of birds and the whistling of the cool breeze through the pine and oak trees. Here you can wander among undulating hills and never run into a human being, although you may see a good number of holes dug by Mexico's ubiquitous treasure hunters, always looking for "the gold of the Conquistadores" in the most unlikely places.

| | |
| --- | --- |
| If you hike up Cerro Colli, I guarantee you'll benefit from good exercise and a good view. As for the possibility of a geothermal explosion, geologists say this volcano erupts every 20,000 years and, of course, the last eruption was 20,000 years ago…so don't forget your camera: you may end up taking the hottest Youtube video ever! | |



How to get there

Head west on Avenida Guadalupe. After going 1.3 kilometers past the Periferico, turn right onto Avenida Galeana. Follow Galeana straight uphill for 370 meters to where the street ends, right in front of a church. At the very end of the street you'll find a set of cement steps and a trail. Follow the trail northeast for about 100 meters, passing a big tree. Next the trail swings westward and you must walk another 250 meters to reach the cross. After taking in the view, you can continue uphill another 50 meters to the top of the ridge where you'll find trails heading both east and west. The cross is located at N20 39 13.0 W103 27 36.5, in case you want to check out this site on Google Earth. Driving time from the Periferico to the trailhead is a mere four minutes.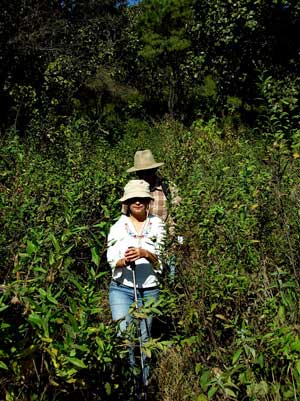 Archeologists Cyntia Ramirez and Rodrigo Esparza enjoy a natural setting only four minutes from town.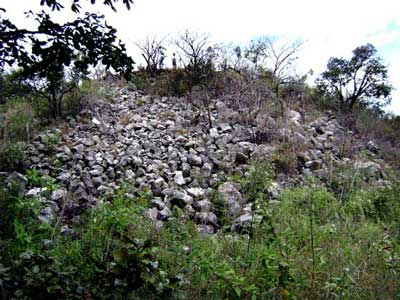 A Mound of rocks which turned out not to be a pyramid, but just a mound of rocks!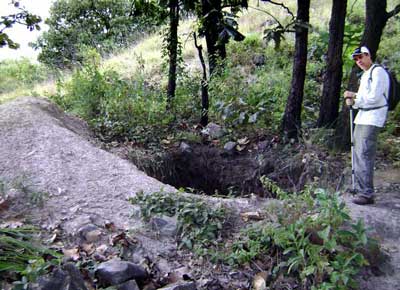 One of many holes dug by people looking for the Gold of the Aztecs!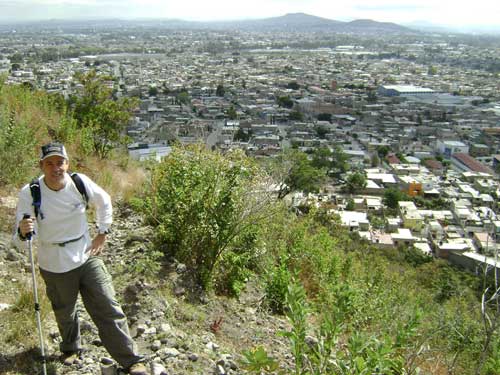 Guadalajara tarantula expert Rodrigo Orozco at the edge of Cerro Colli, 200 meters above Avenida Guadalupe.