Outside Guadalajara
The conquest of the Little-Mango River
By John Pint
Not long ago, Canadian canyoneer Chris Lloyd showed us slides of a recent, exciting river adventure. Once again, he and his friends had succeeded in being the first to "do" a river canyon from start to finish. Canyoneering, of course, is that sport in which you leap off the top of numerous waterfalls, rappel down ropes through the frothy spray, plunge into icy pools at the bottom and hopefully swim to safety. Not exactly a sport for the faint-hearted.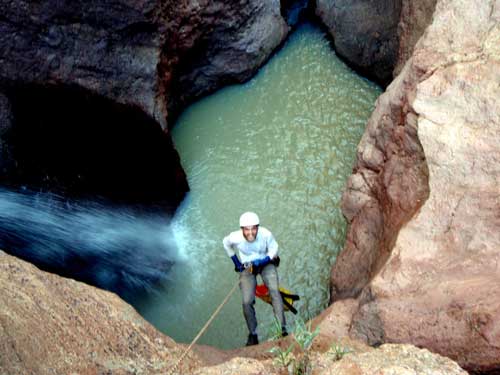 Canyoneer Alberto Cortes rappelling into one of many pools
along the Manguito River. Photo by Chris Lloyd
The dramatically beautiful arroyo these canyoneers followed is called El Manguito (the Little Mango) and when they mentioned that it's only a short drive away from Guadalajara, I decided to check it out to see if "normal" people can enjoy the falls, even if they don't feel like jumping over the edge and swimming for their lives.
Arroyo El Manguito is located due north of Amatitán, on the other side of the Santiago River. It was easy to find a gang of volunteers to explore this area which, in the past could only be visited if you had four-wheel drive and nerves of steel. There is, of course, only one road, which takes you along the edge of awesome precipices up to the previously isolated little town of El Salvador.
This road is now paved and we found it to be in excellent condition, fit for any sort of vehicle that has good brakes. The only problem we encountered was at the bridge over the Santiago River. The stench was overwhelming and I recommend you close your windows as you approach the bridge. The Mexican government has strict laws against polluting rivers, but apparently they aren't doing much to enforce them, at least in this part of Jalisco.
We enjoyed spectacular views of the multicolored cliffs above us and the vast canyon below us as we made our way to El Salvador. From there, a decent dirt road brought us to a parking spot just above El Manguito River. Here we wandered along the stream bed, which had very little water, but was filled with smooth stones of all colors and shapes. It's the ideal place to search for a paperweight!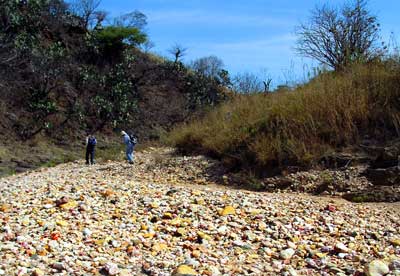 A bed of colorful rocks, worn smooth by the Manguito River. Photo by J. Pint
In no time we arrived at the waterfall where we found the bolt used by the canyoneers to attach their rope. We enjoyed a great view both of the falls and the distant panorama and were also delighted to discover plenty of small "nipple cacti" (mammillaria jaliscana), all of them in flower. What we didn't see was a single human being. We knew we were on the property of one Don Rigoberto, but never saw him or anyone else. This is really an isolated spot. I later asked Chris Lloyd how he managed to find The Little Mango in the first place.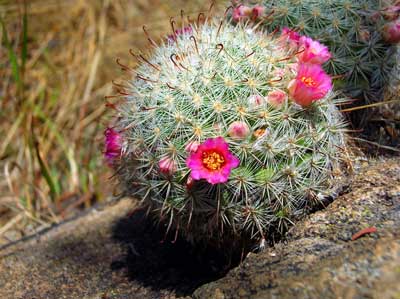 A flowering Nipple Cactus seen on the banks of the Manguito River. Photo by J. Pint
"Well," he said, " I used the well-known Huaxtla Canyon as a model and started looking on the topo map for similar arroyos above the Santiago, canyons with steep drops and the potential for high cascades."
El Manguito was one of the few such arroyos which the canyoneers found could easily be accessed at both its start and end. In December of 2009, they rapelled down the first fall, which they found was 53 meters high. After several smaller pitches, they discovered that the river runs through a large cave. "It was actually a huge arch," says Lloyd, "very dark inside and truly spectacular. I've seen nothing else like it in Jalisco."
Equally spectacular, adds Lloyd, is the final drop, a waterfall 70 meters high with a panoramic view of the enormous Santiago River Canyon below. Since the horizontal distance between the first and last falls is only about 600 meters, you can see some parts of this dramatic river by hiking along nearby roads and trails, with no need to hang in a waterfall or plunge into a chilly pool.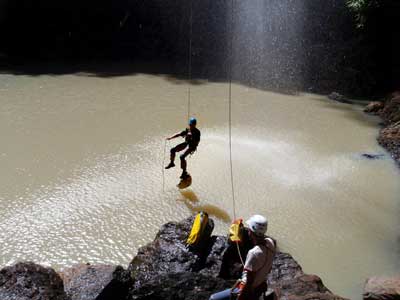 Canyoneer Chris Lloyd about to plunge into a pool of cold water
below one of the falls on the Manguito River. Photo courtesy of Chris Lloyd
How to get there
Drive west out Guadalajara toward Nogales. When you reach the town of Amatitán, turn right just before the first overhead footbridge across the highway. Take this road, signposted "El Salvador," north for about ten kilometers and—holding your nose—drive across the bridge over the Santiago River. Continue north another 20 kilometers and drive to the plaza in El Salvador. From here go southeast, on the road to El Cóbano. After 5.5 kilometers you come to a Y. Here you must continue southeast and not head north! After another 2.8 kilometers you'll go over a little bridge. The very next barb-wire gate on your right is the entrance to Don Rigoberto's property. Drive east 200 meters and park, asking permission of Don Rigoberto to be there. You'll find the Manguito River 175 meters southeast of you. Follow it downstream 300 meters to the first waterfall. Driving time from Guadalajara to El Manguito: about two hours.