Outside Guadalajara

The Saga of San Martín Falls
Canyoneers attempt to conquer Jalisco's—possibly Mexico's—tallest cascades
By John Pint
Text ©2010 By John Pint, Pictures ©2010 By Chris Lloyd or Alberto Cortés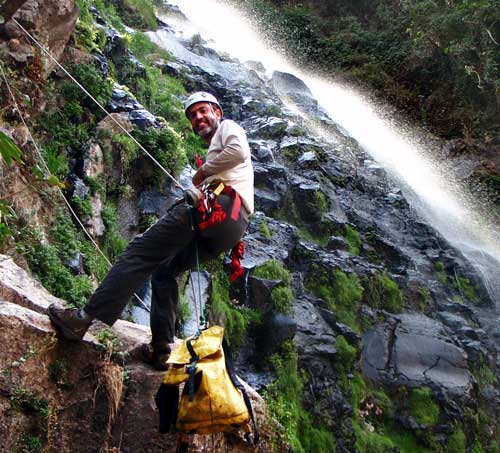 Before you read this, check out the YOUTUBE video!
I reached home one evening and found the following message on my answering machine: "We want to rappel down Jalisco's biggest waterfall…would you like to be our Pickup Man?"
I phoned my friend Chris Lloyd and asked him where this waterfall is located.
"Right next to the pueblo of San Martín de las Cañas, just a few kilometers north of Tequila."
Unsuspecting of what I was about to get into, I said yes and early the next morning I was on my way to San Martín with Chris and two other canyoneers, Alberto Cortés and Victor Hugo Zaragoza. We drove to San Martín, parked just outside the town and a few minutes later found ourselves walking along the edge of the imposing canyon, carved over millennia by the relentless Río Santiago. Three hundred meters from where we left our car, we came to the spot where the San Martín River cascades over the edge of the cliff.
It looked like a tremendous distance down to the bottom. Fortunately, all I had to do was take a few pictures and then drive the truck down to the Pick-up point, which I had somehow imagined would be rather near the town of San Martín. "No, we will meet you at 6:00 PM tonight at that grove of mangoes down there where the San Martin River runs into the Santiago." Well, this looked very far away indeed and, in fact, I was told it would take me an hour just to drive there.

"Does this place I'm driving to have a name? –What? You have no coordinates, nada?"

My companions smiled and I realized they would not be the only ones facing a tricky challenge that day. After they slipped over the edge without incident, I retrieved their left-over rigging and went back to the car. Before setting off on my mission, I wandered to what looked like a good lookout point a mere 300 meters northeast of the parking spot. From this little mesa, I could appreciate the San Martin Canyon in all its splendor and I could also see a sizeable section of the tremendously long waterfall which had just assimilated my three friends.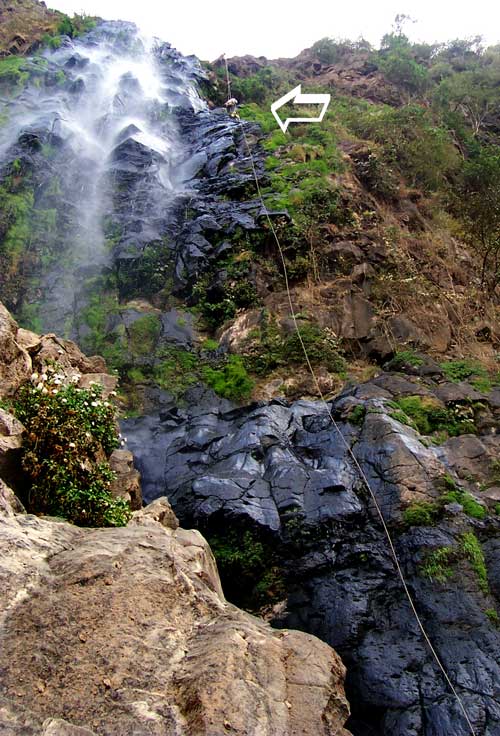 Later calculations based on altitude readings seem to indicate that el Salto de San Martín is at least twice as high as Jalisco's previously tallest waterfall, El Salto Negro (located north of Tesistán) and might even be a wee bit higher than Chihuahua's Piedra Volada Falls, which is 453 meters tall and the highest cascade in Mexico as well as the 107th tallest fall on the planet, according to the World Waterfall Database. And just think, you can stand at the top of monumental San Martín's Falls or view it from the little mesa for no charge whatsoever, simply by following the directions below.
Once I had a good look at the humongous undertaking my companions had chosen to embrace, I went straight to an albarrotes (grocery) store in San Martín and bought all the bottles of water I could carry, plus a supply of canned food. "There's no way they're going to make it all the way to the Santiago River by 6 PM," I told myself. I better get ready for the worst."
Once this somber thought had penetrated my brain, I tried phoning our various next of kin, not to suggest we weren't coming back, but merely to hint that it was unlikely to happen that same day.
Why did I figure that? Well, you must understand that my friends were not simply sliding down a rope all the way to the bottom of the falls. No, they were using a "pull-down" system, meaning the rope is much shorter than the drop and is pulled down and re-used over and over from ledge to ledge. Yes, this means there's no going back. It's a one-way trip: the cold and wet equivalent of burning your bridges behind you. Of course, if you are performing the very first descent of a canyon (as in this case), there's no way of knowing what lies below the next ledge. So, that's why I wanted to phone our families, but this proved impossible because there's no cell phone coverage in San Martín.

Down the long and winding road I drove and never did I meet a single car or see a single human being (although I did race with several Roadrunners) until, an hour later, I reached the mango groves of Don Reyes Villalobos, owner of the property where the Río San Martín flows into the Santiago.

There's not much a city slicker can say to surprise a ranchero, but when I told Don Reyes I wanted to wait on his property for three friends who were coming down the waterfall on a rope, his eyes bulged. Nevertheless, he welcomed me, and we spent some time chatting about everything from the invasion of Iraq to his life as a lone rancher in the middle of nowhere.

I parked under a wide, shady tree in a clearing next to the two rivers and wandered upstream every once in a while to blow my emergency whistle, but there was no reply from my friends. The 6:00 pickup time came and went and I got ready to spend the night sleeping in the bed of the truck.

Darkness fell. I had brought several books along and figured I'd have all the time in the world to read them, but, alas, the moment I got as comfortable as you can on a hard truck bed, I switched on my headlamp and was instantly smothered in a cloud of 10,000 tiny bugs which immediately tried their best to get into my eyes, ears, nose and mouth. "Yowp!" I cried, switching off the light. Now, in total darkness, I could see a big brush fire burning not 200 meters from the truck. "Ah, this is going to be a night to remember," I thought.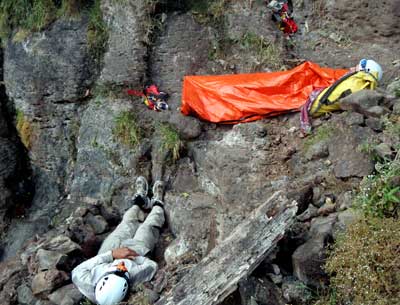 Unbeknownst to me, at about that very hour, my three friends were also improvising for an uncomfortable night's sleep. They were on a ledge 230 meters from the top of the falls. Here they had run into a little snag. After successfully performing six rappels to reach this spot, they discovered that the next one was a whopper—possibly as long as 200 meters…and their 160 meter rope (which had to be doubled for pulling down) could only reach 80 meters. They were stuck.
Fortunately, by some miracle, their cell phone just happened to work from this particular ledge, and nowhere else. Chris Lloyd called his wife to say they were alright but would spend the night bivouacking in paper-thin "sleeping bags" and the next day would attempt to work their way down from the ledge along a steep side slope. By now they had run out of water and were drinking from the river. I was in much better shape, able to swallow cold Coca-cola (instead of hot coffee) the next morning, but, of course, I had no cell phone coverage of any sort, so I had no idea whether the others were alive or dead.

To make a long story short, the three canyoneers successfully escaped from their ledge and reached the truck—and cold beer—the next day at noon, 18 hours past their ETA. By then, various plans to rescue them were imminent, but the helicopters and rescue teams were called off at the last moment and all ended well. Later, calculations indicated that El Salto de San Martín is by far the tallest waterfall in Jalisco. As for whether it's also the longest in Mexico, no one will really know for sure until the canyoneers go back (with a much longer rope) to complete the final pitch of this remarkable cascade.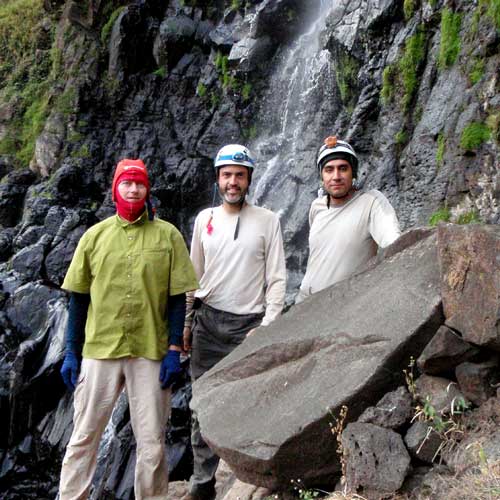 The Canyoneers (from left): Chris Lloyd, Alberto Cortés and Victor Hugo Zaragoza
See this story in action! Watch the Youtube video!
How to get there
Take cuota (toll) or libre (free) highway 15 (toward Nogales and Tepic) to Tequila. Drive north on old, libre highway 15 past the town and, 4.5 km after the Tequila Pemex station, turn right at the sign for San Martín de las Cañas. Drive north 4 kilometers on an asphalted road. Exit the tiny town on a dirt road heading for "El Salto." Drive 700 meters north, go through a gate into a field and park. From here you can either walk 342 meters northwest to the lip of the falls (at N20 57.351 W103 51.451) or, for a side view, walk 125 meters east to an abandoned house. Skirt the left side of the house and go another 160 meters northeast on the mesa to a nice lookout point on the edge of the canyon. Driving time from Guadalajara's Periférico: about 80 minutes.