John Pint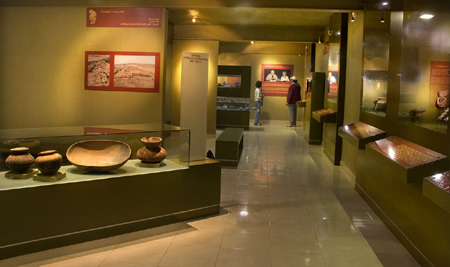 On December 23, 2009, about 50 people turned out for the official opening of the totally redesigned Museum of Tala.

Tala is a small town located 30 kilometers due west of Guadalajara, Mexico's second-largest city, and best known for its large, government-operated sugar refinery, infamous for being the major polluter of Lake la Vega. Two thousand years ago, however, Tala was the residential district of a large metropolis with a population of some 60,000 people. "Most likely," says archeologist Rodrigo Esparza, "in the days of the Teuchitlán civilization, the great majority of its people lived in and around what is now called Tala, which was rich in woods, water and obsidian deposits, while the nearby Guachimontones were reserved for official business and ceremonies." The name Tala in fact, is a corruption of "Tlallan," which means "Place of Arable Land." Around 1000 A.D., after the decline of Teuchitlán, the settlements in the Tala area coalesced into an independent town.

Proof of Tala's heritage is the fact that bits and pieces of its past keep turning up anywhere people dig a hole. The importance of the pots and artifacts unearthed by his fellow citizens became a matter of concern to local artist Guadalupe Romero some 25 years ago.

"I began to talk to the tomb raiders, trying to prevent these marvelous finds from leaving our town," says Romero, who built up a large collection over the years, most of which he has donated to the museum, of which he is now the curator. In the past, in numerous small communities in Mexico, such collections were typically stored on shelves—the more pieces per square foot the better—and mislabeled, if labeled at all. Here they often gathered dust, forgotten and rarely seen by anyone.

That was the case in many of Jalisco's small towns right up until the year 2007 when the Secretariat of Culture decided to do something about it. According to Municipal President Cipriano Aguayo Durán, speaking at the inauguration, Tala's archeological collection is the eighteenth in Jalisco to be studied by professional archeologists and architects and transformed into a modern museum. "Here in Tala," added Maria Elena Ramos of the Jalisco Secretariat of Culture, "can be found one of the best collections in the state and we hope that many students and other visitors will come to see it."

According to the Secretariat of Culture, the funds for renovating Tala's museum come from a project called "Jalisco en la Cultura" which resulted from a review of 125 municipalities, carried out by Maria Elena Ramos in 2007. She discovered that past administrations had created some 55 Casas de la Cultura, "some of which had nothing inside them at all and others had not held even a single event in the space of a year." As a result of this study, meetings were held with regional directors who presented their cultural projects (or were required to develop such projects if they had none), the best of which were integrated into a new program called Jalisco en la Cultura. A budget of 117 million pesos was created to fund the program, which has since revitalized or built Casas de Cultura, libraries, museums, music schools, etc. all over the state. More than 25 million pesos of the program's budget have been set aside for the renovation or construction of museums such as Tala's.

Amazingly, the renovation of Tala's collection and the creation of the new museum took only one month, thanks to the full cooperation of local officials and the hard work of architect Héctor Manuel Plascencia and archeologists Rodrigo Esparza and Cyntia Ramirez. The total cost of the project was three million pesos, paid for mainly by the Secretariat of Culture with some assistance from INAH, the National Institute for Anthropology and History.

The new Museum has some 350 pieces in tasteful, well-lit, ultra-modern display cases, spread among six rooms. Of particular note is a rare collection of obsidian jewelry featuring two very different styles of necklaces. "A lot of obsidian jewelry was found in this area," says Esparza, "because this kind of obsidian was a specialty of the nearby deposit of San Juan de los Arcos, where we found unique 'cores' designed specifically for producing the thin, flat sheets needed for some kinds of jewelry. These layers of obsidian were only 2-3 millimeters wide." Of particular interest in the Tala Museum display is a necklace of tiny human figures made of this very thin obsidian. Each one, of course, has a minuscule hole in it for stringing. How people 2000 years ago—having no metal tools—produced these holes in thin, delicate, natural glass, is not known.

Other particularly interesting displays in the museum show figurines of people with artificially elongated heads and pointy ears, which the Spaniards mistook for horns, naming such figures "diablitos" (little devils). The museum also has fine examples of Oconahua Red-on-White ceramic plates. Because these contain up to 70% kaolin, they are exceptionally fine, thin and white, decorated with unusual geometric figures.

The museum also has a fine representation of a shaft tomb, a specialty of this part of Jalisco, going back to 1000 years before Christ. The deepest known of these vertical tombs is at San Juan de los Arcos, just outside Tala and measures 22 meters deep. While most shaft tombs have been found already looted, the one untouched tomb found by archeologists, at Huitzilapa in 1996, yielded a staggering 67,000 artifacts.

Large placards with descriptions and photos accompany each display case and two slim, wall-mounted computer screens allow visitors to easily navigate the museum. In addition, the museum features a large painting by its Director, José Guadalupe Romero, presenting the artist's view of Tala and Teuchitlán at the area's apogee in the year 200 A.D.

Tala's newly revamped museum is open Monday to Friday from 9 to 3 and 4 to 5. It is housed in the town's Casa de Cultura, located at 91 Calle Nicolas Bravo at the corner of Cabañas. You can call ahead, to make sure the place is really going to be open, at TEL (01384) 738-00-05 or 735-00-88 or 738-00-54. Admission is free.

How to get there

From the Guadalajara Periférico, take highway 15 (Nogales and Tepic) 25 kilometers to highway 70 which heads southwest towards Ameca. Now go about 18 kilometers and, just past the Tala sugar refinery, turn left. At the second stoplight, you'll see a sign saying Tala. Turn left here and follow Herrera-y-Cairo Street straight to the town plaza. Here turn right onto Nicolás Bravo and drive 470 meters straight to the Casa de Cultura.

You can also reach Tala from the lake. Take the Jocotepec road to highway 54. Go north 10 kilometers and take the Tlajomulco exit. Follow the off ramp up to the top and turn left. This road will take you past San Isidro straight to Tala. The road is being widened to four lanes, by the way, and will someday provide a fast and easy way for lakesiders to explore the extraordinary sites in the Teuchitlán area.

Driving time from Guadalajara: about 40 minutes.