T

he Teuchitlán River Bicycle Route

By John and Susy Pint Text and Pictures ©2009 By J & S Pint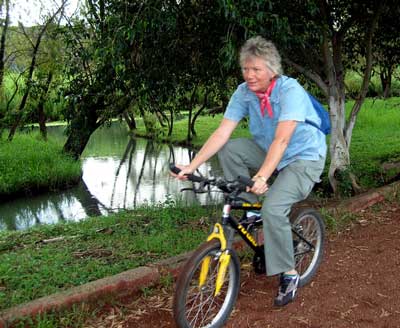 For some time now, we've been hearing about the Teuchitlán River from fish experts in various parts of the world. Apparently it is not unusual to find websites in Russian, Korean, Polish or Japanese discussing Ameca splendens, a little fish that comes from this river. We, however, who live less than an hour away, had never actually seen the celebrated Teuchitlán River and one day we decided to go look for it.

We drove to Teuchitlán, parked near the restaurants famous for frog's legs, walked across the highway and there it was, the surprisingly picturesque Teuchitlán River. Even more surprising, we found a very elegant walkway (andador) alongside the river. So, of course, we followed it upstream and were amazed again and again at the serene beauty of this river, which is a mere two kilometers long.

Ameca splendens: Teuchitlán's Rare Fish

When we drew near the main source of the river, Balneario El Rincon, we spotted plenty of small fish with a bright yellow stripe on their tail. These are male Ameca splendens, members of a family of live-bearing fish called Splitfins (Goodeidae) many of which are endemic to this part of Mexico. Ameca splendens was declared extinct not so many years ago, but when some of them were found alive and well (in the pools at the Vega Dam restaurants, of all places), interested parties in England and Mexico began a project to establish a fish sanctuary right on the banks of the Teuchitlán River (See Dibble's Ark: An Englishman Battles to Save Mexico's Unique Fish).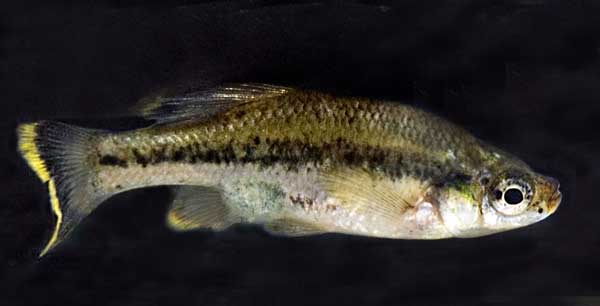 Eventually, we met the man who constructed the river walkway, Enrique Meza, President of Teuchitlán. "We've extended this trail another two kilometers on the other side of the highway," stated Meza. "You ought to take a look at it."

Bird Watching at La Vega Lake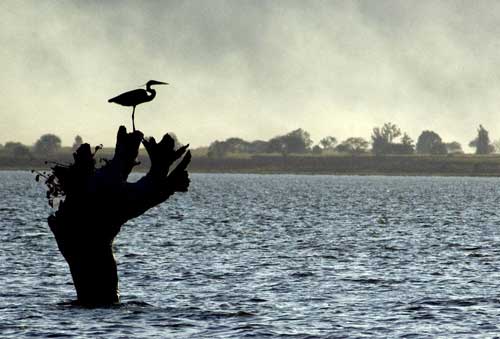 To our delight, we discovered that this southern portion of the walkway takes you through a totally different environment, along the shoreline of La Vega Dam. In fact, you have water on both sides of the pathway most of the time and here we easily spotted nine different kinds of birds, including white egrets, jacanas (which walk on lily pads), ibises, anhingas, cormorants, etc. This part of the trail leads you to the southern end of a small town called Estanzuela where friends could pick you up in case you want to do the four-kilometer trail one way.

This combination walking-biking-horseback-riding trail starts at the foot of the road leading up to Teuchitlán's famous Guachimontones (circular pyramids) and follows the river downstream to Jalisco highway 4 where, unfortunately, you must walk about 35 meters north along the road to get to where the restaurants are. Once you have passed all the restaurants, you are back on a no-car trail again. When you come to a chain across the trail, go forward another 200 meters. When you see a big planter, you have completed the four kilometers and are at the end of the trail. You can now turn around and head back or, if you prefer to be dropped off at the beginning and picked up at the end, you can follow the instructions below. We found the trail nice and quiet on a Sunday morning, but you may be blasted by few radios in the afternoon.



Drop Off
Starting from Guadalajara, take highway 15 west toward Nogales. Don't get on the toll road (cuota). Turn off onto highway 70 for Ameca. After 18.5 kilometers, turn right onto Jalisco highway 4 and drive 14 kilometers to Teuchitlán. Go straight into town and turn right onto the third street past the plaza. Go to the end and turn left onto the road to the Guachimontones. If you plan to park, take the first road right to reach the river. Here you'll find a parking lot and a little pink building which is a combination toilet and soda/beer stand. If you're merely going to drop off the cyclists, stay on the road to the Guachimontones and stop the moment you pass over a river (visible only on your right). The bike trail starts here, on the south side of the river.

Pick Up
Drive into La Estanzuela, a small town located 2.47 kilometers east of Teuchitlán on highway 70. If you're coming from Guadalajara, watch for El Meson de Don Simon restaurant on your right. 346 meters after the restaurant, turn left into La Estanzuela (possibly not signposted). Now drive 893 meters south to the opposite end of town. To accomplish this, you'll have to make a small detour around the Plaza de Toros (turn left and immediately right). Ignore any one-way arrows you see! When you reach the south end of town (as far as you can go), turn right and go about 100 meters. You should now be on Josefa Domínguez Street and only 20 meters or so north of the planter where the bike trail ends.

Driving time from the Guadalajara Periférico to the bike trail: about one hour.