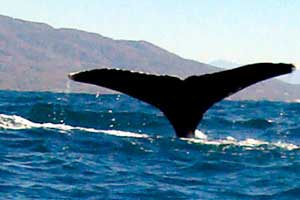 DON'T MISS THE VIDEO ON YOUTUBE!
For years I had heard that the place to go for whale watching was Magdalena Bay off Baja California, but ever since my friend Bruce's truck "drowned" aboard a ferryboat heading for Baja (fortunately, Bruce, survived), I had lost interest in making that particular crossing. Then along came my sister Ruth to visit us, all the way from Denver, hoping to glimpse a few whales during her two-week sojourn. Well, I've seen countless (and I do mean countless) pelicans in Lake Chapala, but never a whale, and Baja California is way outside the 400-kilometer-wide Magic Circle around Guadalajara, where, I contend, you can find just about any kind of flora, fauna, climate or terrain your heart may desire. So, we dealt with this problem Mexican-style and phoned my sister-in-law Bety.
"Bety, where can we see whales without leaving our comfortable Magic Circle?"
"I heard they have nice whales off Punta de Mita," she said, "and right now (December, January and February) is the right time to see them."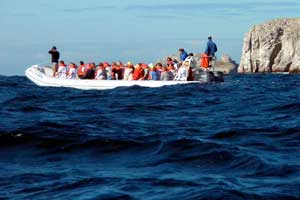 Of course, we next faced the problem of finding lodging in Punta de Mita (the Four Seasons was a bit pricey), a site even the well-traveled Bety had never visited. This problem was also solved Mexican style: Bety's son Ricky's friend's mother just happened to be a travel agent and in nothing flat, she found us a bungalow in Bucerias, just east of Punta de Mita. "But it's very cheap, only 30 (U.S.) dollars per night per person, so don't expect too much."
We therefore packed plenty of toilet paper, towels and our Complete Camper's Cooking Kit. Two hours out of Guadalajara, my wife Susy exclaimed, "Oh no, we forgot the mosquito nets."
"Don't worry," I replied, "I brought along gallons of repellent."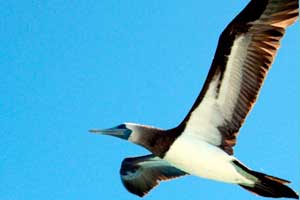 A mere four hours after leaving Guadalajara, we arrived at Bucerías, our eyes peeled for Los Picos Bungalows, whose only address was "Kilometer 140." We found the place quite easily but could hardly believe our eyes when we saw it: Los Picos is the best-looking beach hotel you could ever want. Ricky's friend's mother had got us low-season promotion rates. Our rooms gave us an even greater shock: they were clean, modern, tasteful, and comfortable and absolutely everything worked. It was almost too much for a crusty old columnist like yours truly. There wasn't a single thing for me to complain about!
Next morning, Explora Vallarta, a touring company run by marine biologists, took us to the port at Punta de Mita where we ended up having a medium-sized boat just for ourselves, plus the pleasant company of three enthusiastic young biologists whose very lives revolve around whales. We left the dock surrounded by brown pelicans.
"How's the sea today?" we asked.
"Smooth," they answered.
We were soon being thrown starboard, windward, leeward and everyotherward known to navigators of the deep, as our little boat flew through the air, smacking the brine over and over. Lucky us that it was a smooth sea that day!
After half an hour, we spotted another boat, this one full of about 20 shivering lifejacket-clad tourists like us. We turned to our guide, Jorge Morales.
"Jorge, that boat doesn't seem to be jumping up and down like ours."
"No, but that boat has almost no maneuverability. You'll see who gets close to the most whales."
And so it was. Every time a head, tail or waterspout appeared, there we were, with our guides Jorge and Fabiola explaining everything both in Spanish and English.
"Look, there's a female humpback with her week-old baby! That baby drinks 250 liters of milk every day, and its mother eats nothing the entire time she's in this bay because the krill she feeds on aren't found here. She completely subsists on the energy stored in her blubber."
"So why do they come to Banderas Bay if there's no food here?" I asked.
"The water here is warm and calm and there are almost no predators. You see, the baby has to come up for air every five minutes and during this time the mother and her current mate have to teach it everything it needs to know."
Occasionally we'd see a huge shape rise into the air and plunge straight down, slapping the water with its powerful tail. "That's the male," they told us. "He shares responsibility for raising the baby with the female, even though he's not the father."
Besides numerous families of whales, we also saw rare blue-footed and brown-footed boobies and the beautiful Marieta Islands, which are now bird sanctuaries.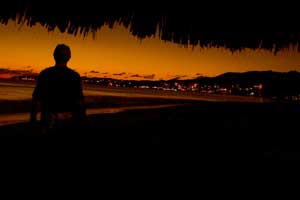 Our guides were a nonstop source of fascinating information and the time seemed to fly.
"Time for us to go," our biologist hosts said suddenly, "We don't allow boats to hang around the same whales for more than half an hour."
Jorge had taken photos of every whale tail we'd seen and immediately filled out a register. Each tail is unique, they told us, and a computer will analyze the pictures, identify the individual whale and add this information to a large data base kept in common by all the biologists in Banderas Bay. We were glad to know the fees we paid were helping to promote a worthwhile, long-term project.
Information on these eco-tours can be found at www.exploravallarta.com, tel. (322)145-3520 and cellular (322)132-275. The phone number of Los Picos Bungalows is (33)3632-2532 in Guadalajara and (329)298-0470 in Bucerias.
To reach Bucerias from Guadalajara, take toll road 15 north towards Tepic and then highway 200 south toward Puerto Vallarta. Two kilometers past the Punta de Mita turnoff, slow down and start looking for Los Picos Bungalows/Hotel. Driving time from Guadalajara is about four hours.