JORGE MONROY
GUADALAJARA'S MURALIST IN THE WOODS
By John and Susy Pint
Under The Wings of Mercury by Jorge Monroy

Mural for the Teuchitlan Interactive Museum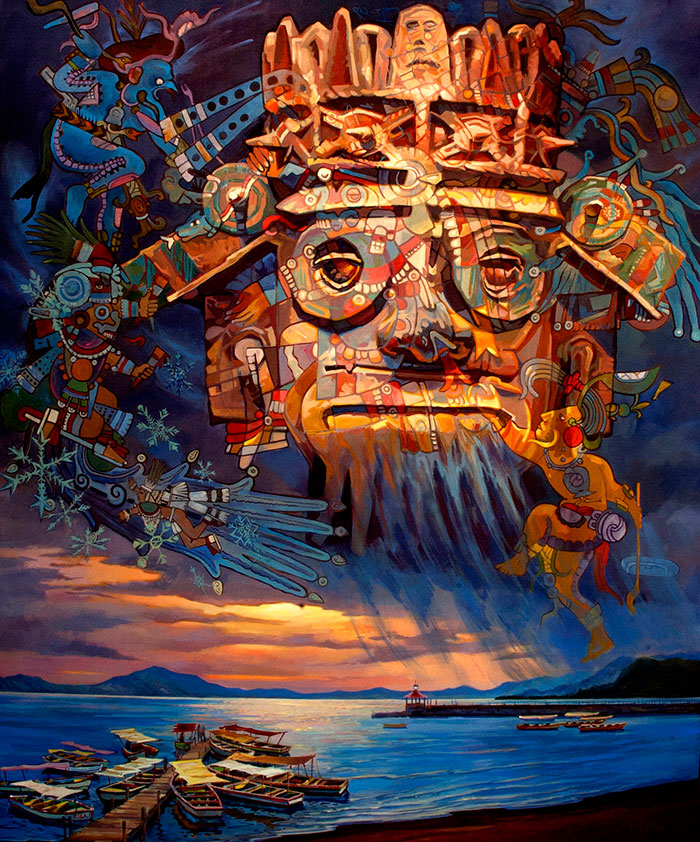 "Tlaloc Reigns over Chapala" by Jorge Monroy now hangs at the Jalisco State Water Commision building in Chapala, Jalisco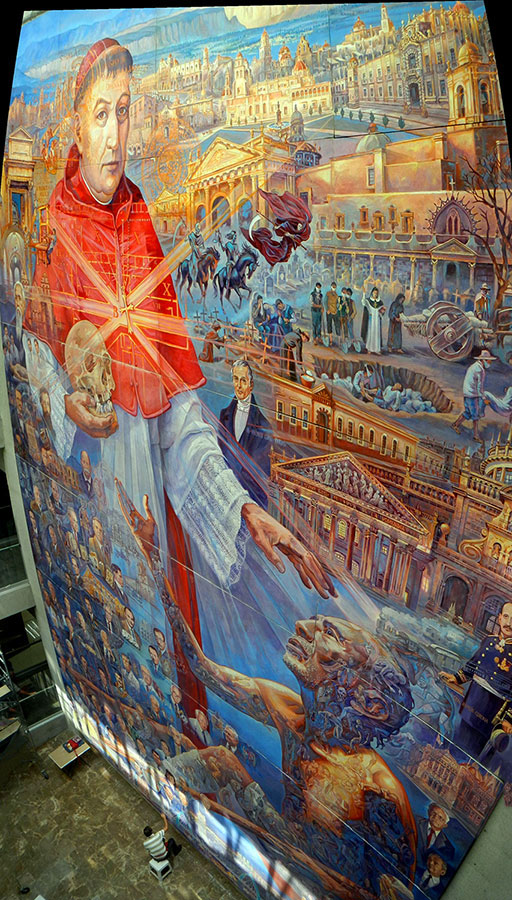 "Fray Antonio Alcalde y la Humanidad Doliente" by Jorge Monroy, at the new wing of Guadalajara's Hospital Civil

Click here for more photos and information.

EXTRAORDINARY VIDEO by Daniel Monroy on the Creation of the Teuchitlan Mural with EXTRAORDINARY MUSIC by Joel Vandroogenbroeck. Location: Vimeo.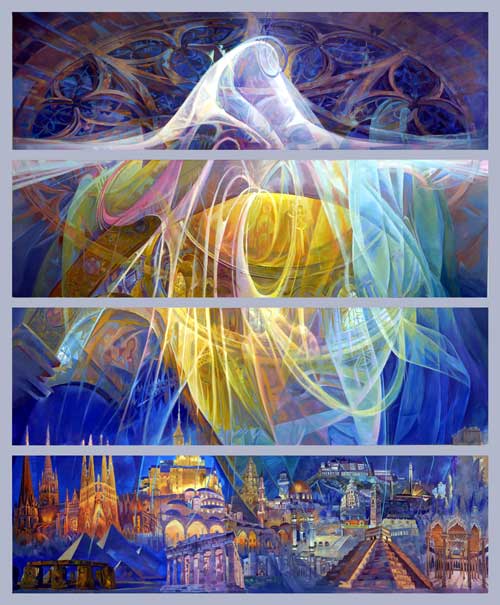 Eternal Light by Jorge Monroy, completed in 2011. See the story of this mural at: Eternal Light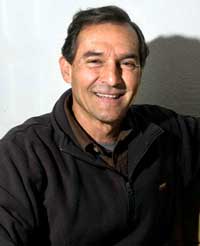 February 13, 2009 marked the inauguration of Jorge Monroy's mural "Bajo las Alas de Mercurio" (Under the Wings of Mercury), which now graces the foyer of Guadalajara's Camera Nacional de Comercio, Servicios y Turismo (Canaco). A plaque commemorating the event was unveiled by Jalisco Governor Emilio González Márquez and speakers for the occasion included José María Andrés Villalobos, President of Canaco, who first conceived the idea of decorating the foyer with a mural.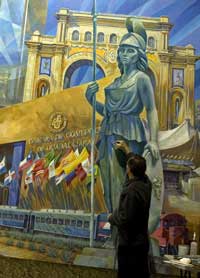 The mural was commissioned for the 467th anniversary of the founding of the city of Guadalajara and the 120th anniversary of Canaco. It covers 50 square meters and is painted in acrylics on three panels made of metal and concrete. Unlike some murals, which make use of abstract forms or clashing colors, this one "needs no explanation" according to Monroy, and invites the visitor's eye to "take a leisurely walk through the streets of Guadalajara."

The painting is framed on the left by Mercury, the god of trade, and on the right by the statue of Minerva, who was, among many other things, the goddess of commerce. The façades of Guadalajara's cathedral and Degollado Theatre take center stage, to which the viewer's eye is led by subtle lighting. From here the eye can wander into old colonial buildings, down quiet side streets or to a hospital or hotel in the heart of the modern city. What is particularly pleasing is that one scene smoothly blends into the next, with no abrupt or jarring change.


Dignitaries on Inauguration Day. Jorge Monroy can be seen at the upper left.
The universal appeal of the mural will be obvious to anyone who observes the behavior of people walking into the chamber of commerce building. Most stop for a quick look at the painting and end up mesmerized by it, accepting, without a second thought, Monroy's offer to take the viewer on a virtual paseo (walk) through the city.

One year ago, Canaco invited Guadalajara's leading painters to submit sketches for this project and Monroy's was chosen. Since November 2008, he has been working on it, often seven days a week, with his two assistants, painters Luis Eduardo González and Cristina Partida.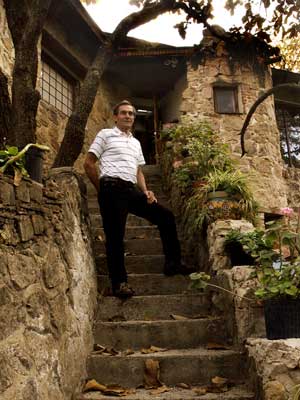 In an interview for John and Susy Pint, Jorge Monroy Padilla reminisced over his life-long love affair with art.

"As a child," he said, "I couldn't resist drawing everything I could see, from sunflowers to Superman." As a result, he eventually entered the Escuela de Artes Plásticas at the Universidad de Guadalajara. "I became a painter," he continued, "and I knew I would probably die of starvation, so I also became a vegetarian, studied yoga and prepared myself for a life of austerity."

Instead of expiring in a garret, Monroy managed to keep himself alive by painting watercolors and was even able to marry and raise a family. He has also succeeded in traveling abroad for months on end and always returns to Guadalajara with a portfolio full of acuarelas.

"In all these years," he says, "I've never suffered an artistic crisis—my enthusiasm has never diminished. Whatever I see, I want to paint. That's my problem."

Monroy has had twenty years of preparation for creating his own mural. Although his principal production has been watercolors of landscapes or buildings, he has also worked with acrylics and assisted a number of muralists in the city's Escuela Vocacional. Then, in 1999, he worked with Alfonso de Lara Gallardo on Guadalajara's largest mural, Historia de la Salvación, a 640-square-meter painting which now adorns the walls of El Templo de San Bernardo.


"Laguna de Montebello" Chiapas (left) is one of Jorge Monroy's many watercolors. If you like this one, see our JORGE MONROY ACUARELA GALLERY below.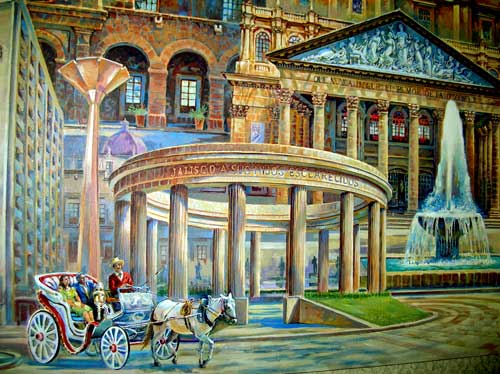 When asked whether he would consider doing another mural, Jorge Monroy replied, "I thoroughly enjoyed this project. It took me out of my studio in Pinar de la Venta and brought me into contact with all the people who go in and out of the Chamber of Commerce. I actually went to Canaco with a pair of earphones, figuring I would listen to music while I painted, but I never used them once, during all the months I was working on the mural. Instead, I was constantly interacting with passersby who stopped to watch me paint. And those people influenced the way I painted. Somehow, all of them are in this mural and that's something that doesn't happen when I paint alone in my studio. Would I like to do another mural? The answer is yes, and if you come upon a wall that needs a picture, just let me know." (First published at Associated Content)
JORGE MONROY ACUARELA GALLERY

Hacienda del Carmen

Jalisco, Mexico

Misolha

Chiapas, mexico

LAGOS DE MORENO

JALISCO, mexico

CAÑON DEL SUMIDERO

CHIAPAS, mexico

FUENTE MORISCA

CAPA DE CORZO

CHIAPAS, mexico

CASCADAS DE TAMASOPO

SAN LUIS POTOSI

mexico

MEXTICACAN

mexico

NEVADO DE COLIMA

JALISCO, mexico

MELAQUE

JALISCO, mexico

TEQUILA

JALISCO, mexico

TEUCHITLAN

JALISCO, mexico

YAHUALICA

JALISCO, mexico

SANTA MARIA

DEL TULE

OAXACA, mexico
And See Jorge Monroy's new 2011 mural: Eternal Light