By John Pint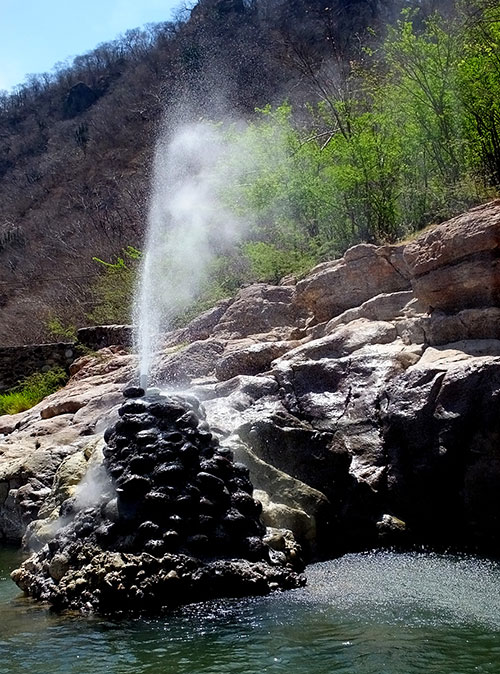 A 75-minute drive north of bustling Guadalajara can bring you to a charming oasis bubbling with thermal activity. My first visit to this extraordinary place on the Patitos (Little Ducks) River, many years ago, is impossible for me to forget. I had been lured into the San Cristóbal Canyon by botanist Miguel Cházaro who had promised to take me to "a cold river heated by a 'singing' underwater geyser located in the middle of it." Naturally, Cházaro first led me off to non-thermal parts of that same, very long, river, to help him search for a succulent called Echeveria, which he needed for his collection. This botanical mission somehow ended up taking most of the day and the sun was about to set when we finally parked near the hot springs. Cházaro lost no time. Under his pants he was already wearing his swimming trunks. In a flash he had removed the pants, jumped out of the car and was running toward the river. He waded to the middle and shouted, "ˇAquí está! Here it is! The singing geyser!"

And it was truly singing, or sort of wailing! And there I was, rummaging in my knapsack for my swim suit, when the driver of my car announced, "Sorry, folks, we only have a few minutes of daylight left to find our way back to the highway. We have to leave right now!"

So I never had a chance to enjoy the hot-and-cold river experience nor did I suspect that there were numerous geysers sputtering away only a hundred meters from that spot…

...Until four days ago when, on FaceBook, I saw a video of gorgeous geysers on the Cuixtla River north of San Cristóbal de las Barrancas. "That is the Patitos River," I said to myself, "and this time I'm going to get into it."

Without a problem I found five friends ready to drop everything and yesterday we headed north along the road from Tesistán to San Cristóbal.

This is now a divided highway, offering a magnificent view of a magnificent canyon and it conveniently skirts the town of San Cristóbal, in a few minutes bringing us to a turnoff signposted Ixcamilpa. What previously was a dirt road is now nicely paved and in only 20 minutes we arrived at our destination, which Google Maps calls "Campamento Huitztlán." Here we found a big garden dotted with curious rock sculptures and lined with nice shade trees. Under one of them stood the owner of the place, Roberto Castro, who told me that his little paradise is called Parque Ecológico Los Hervores, "no matter what Mr. Google might call it." He also referred to the river as the Cuixtla and the nearest pueblo as Atistique, even though I could find neither name on the maps I checked.

Don Roberto, we learned, has been working on his thermal park for six years. "In the past people knew about this place," he told us. "They knew it was special, but it was very difficult to get here and once they arrived, it was all rough and rocky, with no shade of any kind. So I bought this land and tried to turn it into a park. I brought in dirt, planted trees and I constructed that wall over there to stop the river from washing everything away during the rainy season. And while working on the wall I uncovered several new geysers. Bueno, I was on FaceBook at that time and I saw how people were posting anything there, even a plate of enchiladas, so I started uploading videos of these geysers and that drew a lot of attention to this place...people started coming on the weekends."

As he spoke, my eye wandered to the curious stone statues all around us. There was a bird here, a crocodile there, a voluptuous goddess of sorts and even a motorcycle worthy of Fred Flintstone.

"As for the sculptures," continued Don Roberto, "I worked as a landscaper in Palm Springs, in the USA and I learned that little touches could transform a garden into something beautiful. At the same time, I made my statues safe, so they can't hurt anyone. You can jump all over them if you like."

We then took a tour of the place, starting with three swimming pools fed by hot springs. "Pick the one with the temperature you prefer," said Don Roberto. All the pools were coated with green algae, but the water was perfectly clean and constantly circulating.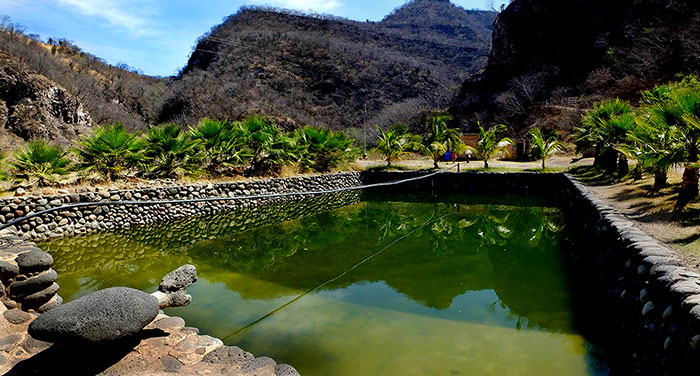 The biggest pool at Parque Ecológico Los Hervores
We walked only 280 meters to the riverside where geysers seemed to be hissing everywhere. Eventually we came to a natural "hot pot" where guests like to boil eggs. The water temperature was 80 degrees Centigrade (176 Fahrenheit).

Don Roberto made the mistake of mentioning that there was a cave nearby. This resulted in a delightful 800 meter hike through beautiful woods and dramatic arroyos. The cave turned out to be a long fissure where we spotted a few vampire bats. We also saw several strangler figs clinging to sheer rock walls as well as a stone wall which Don Roberto said had been constructed in preHispanic times. Birdwatcher Chris Lloyd spotted 15 birds that afternoon, including a motmot, a Mexican trogon (pájaro bandera) and a common black hawk. The hike put us in the mood for a soak in the "nearly body temperature" pool which, later, no one wanted to leave when it was time for us to go back home.

As this charming oasis can see up to 100 visitors on a weekend, I suggest you come on a weekday. Just about any kind of car can easily reach the place. From Monday to Friday the cost is 50 pesos per vehicle. Don Roberto sells cold beer and refrescos, but not food and, yes, overnight camping is allowed. Don Roberto's Cell is 333 451 0423 and he speaks a little English. At the moment, this is the only geyser park I know of in all Jalisco, so don't miss it!

How to get there
Take the western Periférico north to the Tesistán road. Exit the Periférico and drive northwest 8 kilometers to highway 23 heading for Colotlán. Drive 40 kilometers north, skirting the town of San Cristóbal. At N21.07634 W103.42088 you will see a sign saying Ixcamilpa. Turn left and follow the paved road nine kilometers to the geyser park (N21.11326 W103.44525). Google Maps will get you there from anywhere if you aim at Campamento Huixtlán, even though this is a totally wrong name for the Parque Ecológico… but that's Mexico! Driving time from the Periférico: about one hour and 15 minutes.