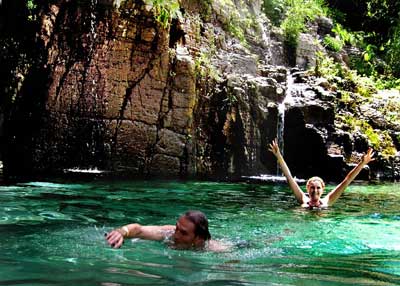 A few years ago we discovered paradise at the bottom of 400-meter-deep Barranca de Tamara, in Los Altos, the Highlands of Jalisco. On the banks of the Río Verde, beneath towering red cliffs, we swam in delicious pools fed by cascades of hot water and we swore we would come back again and stay in one of two beautiful cabins which are available for renting.
Since it's Paradise we are talking about, Susy and I had no problem convincing two of Jalisco's most celebrated painters, Jorge Monroy and Ilse Hable Taylor to join us.
We headed east and then north from Guadalajara toward Tepatitlán, the "capital" of Los Altos which is so-called because the elevation is around 2000 meters above sea level. Along the way, we passed El Puente de Calderón, where Miguel Hidalgo and 100,000 Indijenas fought (and lost) a major battle for Independence from Spain. This picturesque site is now a popular picnic spot on weekends, but practically deserted on weekdays and well worth a visit.
We exited the toll road at Acatic and drove eleven kilometers northwest along a well-signposted dirt road to Rancho el Venado (Deer Ranch). Here we produced proof that we had deposited 50% of the rental cost of one of the two cabins down at the bottom of the canyon. After paying the other half in cash, waterproof paper bracelets were placed on our wrists and we continued on our way. If you don't plan to stay overnight, by the way, you can pay 50 pesos per person and spend all day enjoying the canyon and balneario.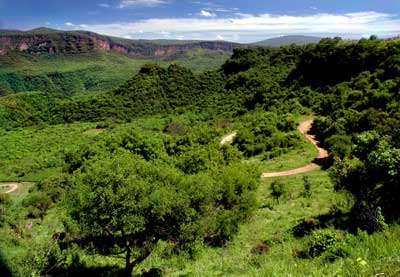 Just beyond the ranch house, there's an awesome lookout point where you can appreciate the majestic sweep of the barranca's red walls. When you begin the drive to the bottom, you will see the money you paid at work. Two bulldozers are on duty every day, maintaining the steep road in such good condition that any sort of high vehicle can use it.
Two kilometers down this twisting but wonderfully scenic road, you come to a fenced-in deer-feeding station on your left. At certain times of the day, you can see the tiny deer which give the Rancho its name.
Soon you will reach a bridge over a stream that feeds into the Río Verde farther below. In the rainy season, however, this "stream" turns into a wild and frothing torrent so scary we had a hard time convincing a certain member of our party that it was actually safe to go on. Just beyond the bridge there's a great mirador where you can appreciate the extent of the river's wild rapids as well as a tall, beautiful waterfall not visible from the bridge.
You now proceed through gently rolling hills and will notice a high metal watchtower at 5.4 kilometers from the Rancho. Visitors are allowed to climb to the top, from which the view is fantastic.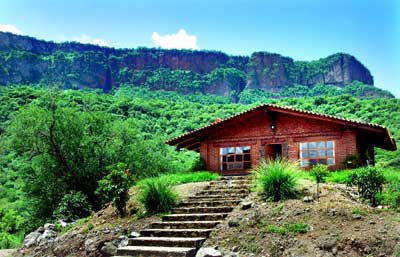 The road leads to two roomy wooden cabins, each of which has drinking and washing water, electricity, a kitchen, a fireplace and two bedrooms, each with two double beds. Note that the beds have blankets and sheets but you have to bring along your own towels and soap. The kitchen has a fridge and gas burners but very little in the way of pots, pans, dishes and such. We did, however, find a very loveable (and speedy) mouse in the kitchen, which seemed delighted that visitors had shown up.
A five-minute walk from the cabin takes you to the south bank of El Río Verde, where two swimming pools have been built beneath a network of small, natural waterfalls whose temperature is 37 degrees (98.6 F, body temperature). The water in these pools is incredibly clear and the towering red cliffs above the river and the hot streams trickling down the rocky walls are all so mesmerizing that our friends Ilse and Jorge immediately set up their easels and only when darkness fell could we lure them back to our rustic cabin. Rental of one cabin is 1500 pesos per night on weekdays, 2000 on weekends. For reservations, call 36-71-3647, 36-71-2123, 36-71-2807 (FAX: 36-71-3882) in Guadalajara.
The road is kept in very good shape, but a relatively high vehicle (like a station wagon) is recommended… and don't be surprised if the caretakers, Rosalio and María Victoria come knocking on your cabin door with a stack of hot, homemade tortillas. You are in Los Altos de Jalisco, after all, famed for folks who are both friendly and efficient.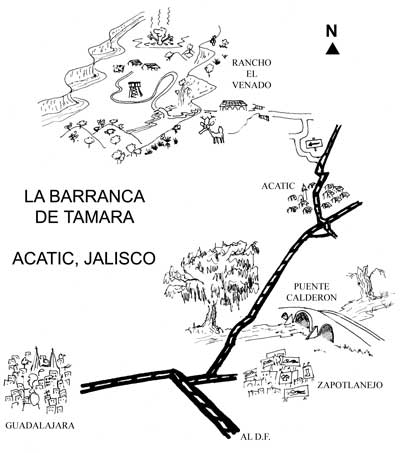 How to get there
Near Tonalá take the Tollroad-Autopista heading for Mexico City. Fifteen minutes later the road divides. Take the left fork (signposted Zapotlanejo). Again the road divides and again you take the left fork, this time for Tepatitlán. You should now be on Autopista 54D heading northeast. A half hour later take the Acatic exit. Drive straight north through Acatic, exiting the town on Calle General Andrés Figueroa. Keep a sharp eye because only 412 meters from the edge of town you will see signs for Rancho El Venado and you must turn left onto an easy-to-miss dirt road at N20 47.280 W102 54.702. Now follow the signs (or in case of doubt, the more traveled road) to Rancho El Venado (N20 48.410 W102 56.715), which is 51.2 kilometers from the eastern side of Guadalajara. Driving time from Guadalajara to the cabins: about an hour and a half.
John Pint