By John Pint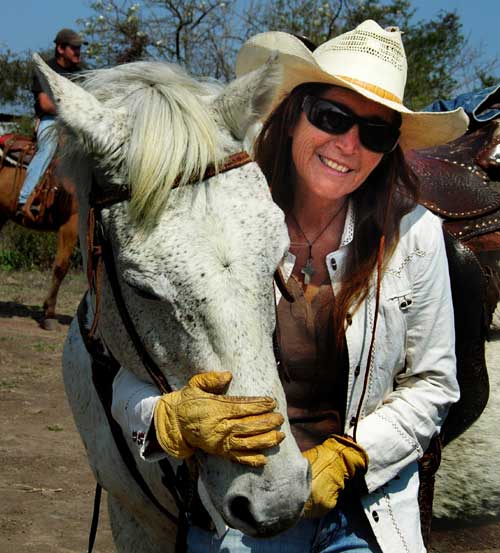 If you like horses, you'll love Hacienda de Taos, a 110-acre ranch located just 12 kilometers south of Lake Chapala along the way to Concepción de Buenos Aires. Here you can spend the night in a charming and beautifully decorated wooden cabin and learn everything there is to know about horses and horseback riding from the ranch's owner and operator, Celina Reynolds.

Celina hails from Taos, New Mexico and has spent her entire life working with horses, training them and investigating their psychology.

Upon our arrival, Celina invited us into her huge ranch house, which somehow manages to have both a New-Mexico and old-Mexico look at the same time. "Yoga groups come to do workshops in my house," she told us and we could feel the good vibrations still lingering around us. We learned that Celina raises both horses and cows on the ranch and hopes eventually to be a producer of organic beef, "but it will take seven years of treating both the land and the animals right, before I can claim my beef is really organic," she told us.

As for wild animals, guests at the ranch might see deer, wild boars, raccoons, skunks, mountain lions, bobcats and maybe an occasional black panther "and all night long you can hear the howling of coyotes in the distance," she added. Bird watchers visit Hacienda de Taos to see caracaras, road runners, falcons, thrashers and mockingbirds, as well as plenty of water birds, which flock to a large lake adjacent to the ranch. "We even have pelicans on the lake," chimed in ranch foreman José Manuel Castellano, who immediately invited us to go kayaking before dinner.

That evening we watched a glorious sunset while enjoying a meal prepared over glowing embers. Here we met Canadians Doug Harris and Gretchen Goodliffe, who were staying in the cabin next to ours and have been visiting Hacienda de Taos regularly. "We are learning all about horseback riding," Doug told us, "and there is simply no one like Celina. You watch her ride and she is just perfection in the saddle. And she's so patient—excellent for somebody who is just learning to ride."

When I asked Gretchen for comments on riding horses under Celina's guidance, here's what she had to say:

"It has simply been a delight! We are matched perfectly to our horse, by weight, age, and experience. I have been incredibly lucky to be paired with a beautiful stallion named Johnny Walker. All his little character traits have been passed on to me by Celina, and she is always there to offer her help and incredible horse sense whenever it is needed. The horses are all kept out in pastures from which they are brought in by José, and brushed and saddled up, waiting for their riders in the paddock. The day rides are approximately two and a half hours long, with a very appreciated demo by Celina prior to the ride. The trails are well planned to appeal to everyone... some wind their way up the hills for a spectacular panoramic view of the valley, ranch and lake. Others roam across rolling fields and over little creeks, and some take you into the little town. Each horse is well trained and gentle and when we are not riding them, some are involved in roping, branding, herding, and trail breaking. They all have a special sparkle in their eyes which makes you realize they enjoy their lives. This hacienda is a wonderful step back in time that reminds us all of the true things that matter, the love and respect for nature and the beautiful spirit of these horses."
If horseback riding, wooden cabins, kayaking and getting to know country people sounds like something you would enjoy experiencing, call Celina at 333 749 7730 and check out her web site, haciendadetaos.com.

How to get there
From Guadalajara take highway 54 towards Colima and get onto highway 15 heading for Jocotepec. Skirt the lake and at Tuxcueca drive south on the road to Mazamitla. After 15 kilometers (about 15 minutes), turn right toward Concepción de Buenos Aires (signposted). Go southwest 5.6 kilometers and turn right into the village of Los Sauces. Drive 1.1 kilometers and, just after passing a school, turn left onto a cobblestone road. After 897 meters, just after the road curves north, turn right onto a dirt road. From this point you can see the Hacienda's windmill (N20 03.464 W103 13.713) and four red roofs. Drive 1.7 kilometers north on this dirt road and you'll see a big red gate on your left. Toot your horn and give Celina a call on her cell phone.