By John Pint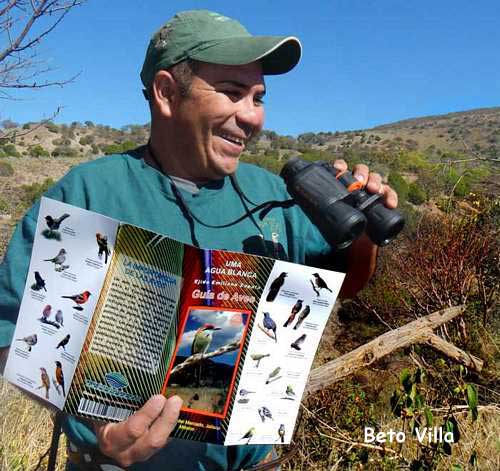 Jaime Villa is a farmer who decided two years to start a wildlife sanctuary in the foothills of Tequila Volcano.
"The land," he explained, "belongs to our ejido and it's too rocky for farming. However, it's extraordinarily beautiful and home to all kinds of animals and birds. So we applied to the government to set up a Management Unit for Wildlife Conservation (Unidad de Manejo para la Conservacion de Vida Silvestre,UMA) on 433 hectares of the land and our petition was granted.
During the last two years, with the help of a grant, we've created a nature trail 350 meters long, a site for camping and picnicking, a hanging bridge, and a mirador with a spectacular view."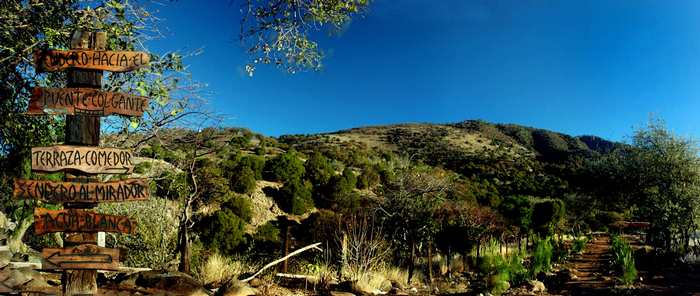 One thing the members of Ejido Emiliano Zapata (Ahualulco) have not yet created is a decent road by which an ordinary car could reach the place, but lucky for us our friend Rodrigo Orozco has a Jeep and one Sunday we all got together with Jaime Villa to visit UMA Agua Blanca.

We drove toward Etzatlán on highway 70 and, 7.3 kilometers past Teuchitlán, turned off the paved highway onto a good dirt road heading north, following Jaime in his All-Terrain Vehicle.

After 3.5 kilometers, the "goodness" of the dirt road evaporated and we encountered more and more rocks. Suddenly Jaime stopped. "The Welcome Center of our UMA is just ahead, but I wonder if you would like to take a peek at our local pyramid first. It's at a place called El Saucillo, just 500 meters from here." This was said so casually that we assumed there couldn't be much to see.

Well, the truth is, /every one of us except Jaime gasped in astonishment when the ruins came into view. The pyramid, platforms and ball court were not just easy to recognize, they were amazingly well preserved and simply beautiful to behold.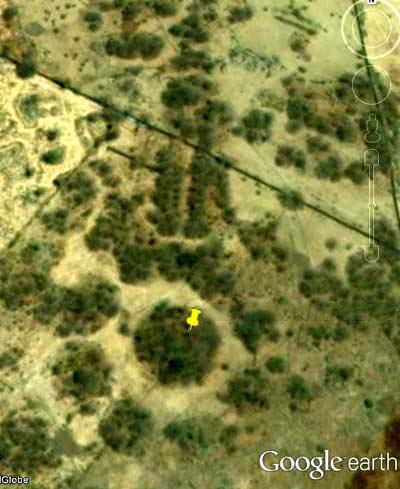 Now I know from personal experience that before archaeologists came on the scene, the famed Guachimontones of Teuchitlán were totally hidden beneath heavy brush and surrounded by cornfields. Even less visitor-friendly are the mounds of Santa Rosalia which can only be reached after a long, hard hike up steep hills. In contrast, the archaeological marvels of this ejido are brush-free, undamaged and only a two-minute walk from where you park your car.

Before us stood a large mound 35 meters in diameter encircled by the classical ring-like walkway of the Teuchitlán Tradition which in turn was surrounded by clearly defined, regularly spaced platforms. Well, here there had obviously been eight platforms, but three of them had been joined together to create what looks exactly like a "bleacher section" measuring about 80 meters in length. "It looks like this is where the crowd used to sit while watching the voladores flying through the air," we told our host. It took little imagination to see that this ancient amphitheater could be reconditioned for modern use. "I can see a crowd of fans watching the Rolling Stones perform up there on top," I told Jaime, "but you'll have to get cracking while the Stones can still walk."

Directly north of the Great Mound, there's an easily recognizable ball court 70 meters long, in the classical form of a capital I. Unfortunately, it is cut in half by a modern-day stone wall. Due south of the pyramid there's a set of four small mounds with a flat patio in the middle. The ball court, pyramid and patio are lined up perfectly along a north-south line and are surrounded by what appear to be the ancient ruins of rectangular stone buildings, and wherever you look you can find ceramic shards and bits of worked obsidian.

I later found a detailed sketch of El Saucillo Complex made by Phil Weigand in 1996. I'm sure his heart beat even faster than ours the first time he walked up to these beautifully preserved ruins.

From the ruins we went to the visitor's center of Agua Blanca Wildlife Sanctuary where each of us paid a fee of 20 pesos and received a beautifully printed triptych showing 55 species of birds which are frequently seen on the premises, identified in Latin, Spanish and English.

Next we began walking along a well constructed trail, with rustic guard rails, overlooking a deep canyon. This leads to a magnificent hanging bridge which, when you're halfway across, makes your legs fell like they've turned to jelly: a real treat for kids, although Grandma may not appreciate it.

Well shaded by huge black and red cedar trees as well as oaks, papelillos and strangler figs, the trail leads you past the spring of milky water which gives this place its name: agua blanca. "The color comes from minerals," explained José Zuńiga, one of the three guides who spontaneously offered to accompany us on our walk. "It has a distinct taste which you may or may not like, but is quite safe to drink."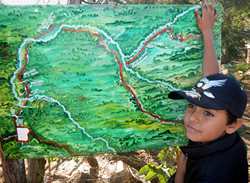 The trail parallels a rainy-season-only stream up to a lookout point with a magnificent view of the valleys and mountains stretching from La Vega Dam to Etzatlán. "From here you can spot all kinds of birds just after sunrise," said Jaime Villa's son Beto, "such as the Vermilion Flycatcher (Pyrocephalus rubinus), the Orange-fronted Parakeet (Aratinga canicularis) and the official mascot of our sanctuary, the Russet-Crowned Motmot (Momotus mexicanus)."
Of course, to see this spectacle, you'll have to camp overnight. For this, there's a nice, flat, shady area with toilets and a roofed outdoor dining area. Added benefits of camping here are the hooting of owls and the howling of coyotes as the full moon rises over Tequila Volcano, which looms right above the sanctuary. So if you have a high vehicle and want to visit this most remarkable wildlife-sanctuary-cum-pyramid, just call Jaime Villa—who speaks some English—at cell 386 105 2715. He can meet you at the turnoff (N20 41.384 W103 55.065) from Highway 70 and lead you up to Agua Blanca. Telephoning in advance is essential, as the UMA is open by appointment only.

Rustic dining area at UMA Agua Blanca with Tequila Volcano looming in the background.