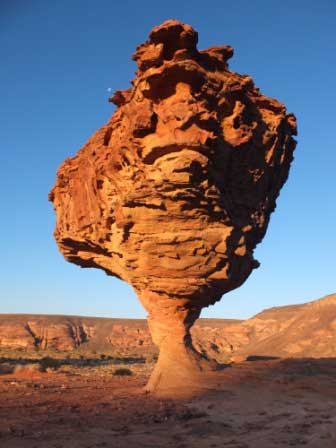 4WD Weekend Trip including Katrin & Tomas Hitzner, Denis O'Brien, Mary Loftus & Ken McAllister

Introduction
We are a group of friends resident in Yanbu who prefer to use our spare time exploring the surroundings and heritage of the western parts of Saudi Arabia. Like all amateur explorers here our greatest challenge is actually finding out about interesting places to visit. Most expats don't venture far past the town, the locals have surprisingly low engagement with their surroundings and, without a tourism market there is little published information.

We identify our trips through various internet search channels, books about the country such as that advertised on this website (Underground in Arabia) and contacting those who have journeyed before us such as the owners of www.saudicaves.com. The trip described below was as a result of Katrin and Tomas researching a book, seeing some interesting rocks, filing them in a 'future trips' file and managing to locate one of them on Google earth as we researched a trip to the Al Ula area.



Description
We have been many times to Al Ula and its surrounding regions. This is where Saudi Arabia's first UNESCO World Heritage Site (Mada'in Saleh) is located.

The huge palm tree colonies extend between the sand dunes and the oasis area still contains traces of earlier (Dedan) and later settlements.

In this area, wind and rain have created the most incredible rock formations from the sandstone rock during the past millennia. In between there are huge sand dunes creeping upwards against the rocks.
The area reminds one of Monument Valley in the West of the USA.

Frequently, when visiting Al Ula, we try to find additional places of interest to complement those we return to. Around 100 KMs west of Al Ula, near Abu Rakah, Tomas and Katrin found the two aforementioned rocks.

We have given them the names of "Katrin Wheel and ET- Stones".

The ET-Stone is aptly named because, particularly at dawn one side looks remarkably like ET the extraterrestrial and because it is standing on a remarkably thin neck/ foot. We continue to wonder how such a soft rock can have stayed upright with such a slender footing in a seismically active area.

The other stone immediately reminded Katrin of… well a huge mushroom. We've viewed it along a different plane and called it the Katrin Wheel to honour the effort Katrin and Tomas put into researching and discovering the stones and reflect the various circles we travel in as we conduct our amateur explorations!

Getting to the rocks is relatively easy provided you have a true off roader (Prado/ Pathfinder/ XTerra/ previous model explorer etc) to get through the various soft sand beds. One of our party got stuck a number of times and we were glad to have taken the usual precaution of having more than one vehicle, extra long tow ropes, shovels etc.

The surroundings of the ET-Stone are ideally suited as a place to stay overnight and we passed a very pleasant night marveling as we always do at the wonderous tapestry of a desert night sky.

A brief exploration of the area around the ET stone the following morning revealed some other interesting wind sculpted arches and enough petroglyphs and wusum (tribe markings) to justify the area being designated a national park in other countries.

We don't have the knowledge to date the petroglyphs or date the rocks but in truth the essence of trips like these is one of marvelling at the splendor of the various vistas we are presented with.

It requires a full weekend to get to these rocks from Jeddah or Yanbu so we feel confident that anyone putting in the effort to see them will share our respect for them and will leave them as we did, undisturbed.

Therefore we have shared the itinerary with John and Susy Pint for them to share with fellow explorers.





Journey:


You have the option of making the journey from Yanbu as a round trip. To that end you drive along the coastal road until Al Wajh and then turn towards the interior of the country.

Or, you take the highway first and then you take the coastal road on your way back from Al Wajh. This looks very tempting at sunset. The path along the coastal road is about 100KMs longer.

Whichever option you choose, at first you go to Abu Rakah. This place is about 50 KMs north
of highway 8451 connecting Al Ula with Al Wajh.

Important notes:

At N27° 2.868 E37° 11.4744 you should fill up again as from here you are leaving the main road towards remote territory.
On highway 8443 at N24° 4.204 E37° 9.910 turn to Abu Rakah.
In Abu Rakah at N27° 6.288 E37° 11.268 turn in easterly direction. Here the asphalt road ends for good. The next coordinates are exactly 5KM from here.
The next point is at N27° 8.534 E37° 12.566 here the paths split up. On the right hand side we get to the Mushroom stone, our first intermediate destination. Later on we will drive by here again to head towards the ET-Stone.
From here it is 5,78KM to the Mushroom stone. We drive on towards N27° 7.679 E37° 14.633 and pass by a small village.
We head in direction N27° 7.145 E37° 14.693 and from there we already see the mushroom stone located at N27° 6.959 E37° 14.794.
Now we have reached our first intermediate location. To get to the ET-Stone we drive back to the way cross at N27° 8.534 E37° 12.566.
At this way cross we take the northern sand path, pass through a small village and head for coordinates N27° 9.463 E37° 15.165.
There we proceed in northern direction to coordinates N27° 10.073 E37° 14.782.
From here we follow the track through rocky scenery until N27° 11.647 E37° 13.695 where we leave the fixed gravel road. From now on we head west and follow the existing tracks until we reach our goal, the ET-Stone N 27° 13.498 E 037° 11.993 .