Photos by J. Pint unless otherwise indicated
Updated September, 2013
Saudicaves:
HOW DID YOU BECOME A CAVER?
Ramón Espinasa:
It all started when I visited Mexico's Cacahuamilpa Show Cave…at the age of three. However, I don't remember that trip too well, so instead I'll give the credit to my father. He got interested in caves when he spotted guys with helmets coming out of Las Grutas de Carlos Pacheco, which has a big, beautiful entrance. He then found a map of the Cacahuamilpa System, showing 13 caves in the area. He started exploring these and was hooked. By the way, today we know there are actually thirty caves in that area.
Saudicaves:
I UNDERSTAND YOU HAD A FEW HAIR-RAISING EXPERIENCES WHILE CAVING WITH YOUR FATHER.
Ramón Espinasa:
Definitely the scariest of all took place at Hoya San Miguel, near Taxco. This cave is 455 meters deep. My father—Ramón Espinasa senior—tossed a rope down the first pitch, which is an 80-meter freefall, but the rope got snagged just at the edge of the drop. So he crawled down to unsnag it. Of course, he was not attached to any kind of line, because back in those days we hadn't heard about safety rules like "Always belay people working near the edge of a pit." Well, he slipped and fell, but he was falling slowly enough to be able to grab onto the rope, even though he knew it was attached to nothing up at the top. The miracle here is that at the very same instant, I saw what was happening and I also grabbed the rope. And there I was holding on to one end of the rope while my father was dangling from the other. We finally managed to get him out of there, but this is an incident my family will never forget.
Saudicaves:
WHO ELSE DID YOU CAVE WITH IN THE EARLY DAYS?
Ramón Espinasa:
I did a lot of exploration with Carlos Lazcano. For the first five years, he was the President of SMES (Mexican Society for Subterranean Exploration). Mauricio and Pablo Tapie were also very active in those days. Together with Ruth Diamant, who is now my wife, we explored the unforgettable pits of Terrero in Jalisco's Cerro Grande, and, of course, Toxin River Cave. Later we found another beautiful river cave in Guerrero. That was Aclala Cave which has twenty short pitches and requires a lot of swimming.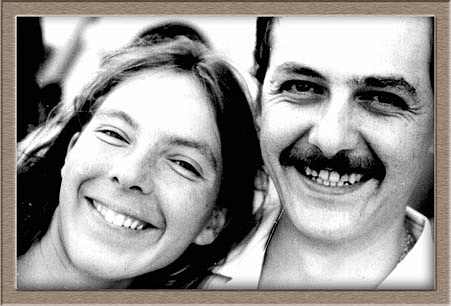 Ramon and Ruthie
Why do these newlyweds look so happy?

a) They just won the lottery.
b) they've just booked New York flights for their honeymoon.
c) They've just found a new cave with bad air and tight crawlways full of gooey bat guano squirming with millipedes.
ANSWER

Saudicaves:
ARE THERE ANY OTHER CAVES YOU WOULD CALL "UNFORGETTABLE"?
Ramón Espinasa:
Well, we were the first to explore El Sótano de Ahuihuitzcapa, the deepest cave in the Zongolica area, which has since become a classic because it appeared in Carlos Lazcano's book. The entrance is 60 meters wide, perfectly cylindrical and 200 meters deep. It has big rooms and a river with blind fish and it goes to 515 meters deep where it ends in a stream sink.
Saudicaves:
I HEARD THAT SOMEBODY GOT A BAD SCARE AT THAT CAVE.
Ramón Espinasa:
Ah, yes, it was my father again, but this time he was up at the top and I was down in the pit, on rope. It was the very first descent into Ahuihuitzcapa. Now, I should mention this rope was what we used to call "Chiclemex," a very stretchy nylon cord we had to use before static ropes were available. Well, I got about halfway down when I discovered that most of the rope was bunched up in a big knot. I had no problem untying it, but the moment the knot was undone, about 100 meters of rope went whizzing down from where I was hanging. What I didn't realize, however, was that up at the top, what my father heard was "Oop!" followed by "Zzzzzzzzzzzzzip" and then nothing. I understand he and the guy next to him just gulped and looked at each other in silence. So it was a hairy moment for them, until they found out I was still alive, but it wasn't scary for me. Sad to say, however, a caver did eventually die in Ahuihuitzcapa, some years later.
Saudicaves:
WEREN'T YOU ALSO THE ONE WHO EXPLORED THE CAVES AT TOLANTONGO THERMAL SPA? WHAT WAS THAT LIKE?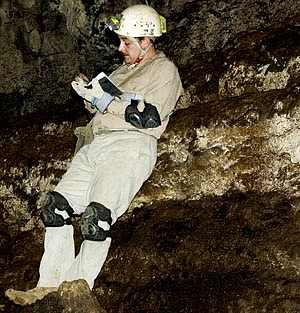 Ramón Espinasa:
Hot! The water flows along at three cubic meters per second and it feels like you are in a Turkish bath the whole time. The cave is 300 meters long and 100 meters deep, with high ceilings. It's very technical, so it took us eight hours to travel those 300 meters.
Saudicaves:
WHAT WAS YOUR MOST DISGUSTING CAVE?
Ramón Espinasa:
I would say it was a cave we found in Dos Aguas, in Michoacán, la Cueva del Río Durazno. It features a crawlway through semi-liquid mud, above which there is only a 50-centimeter space. I turned to Chris Lloyd and asked him what he thought we should name this cave. He replied, "Well, it's certainly not the tunnel of love." And so, now the cave is named Not the Tunnel of Love.
Saudicaves:
YOU'RE ORGANIZING A RATHER UNUSUAL SYMPOSIUM IN MEXICO, FOR THE SUMMER OF 2006. CAN YOU TELL US A LITTLE ABOUT IT?
Ramón Espinasa:
Yes, it is a bit unusual. The Mexpeleo gatherings I held in the past were for people interested in exploring limestone caves. This one is actually the twelfth international symposium on lava caves, held under the auspices of the International Union of Speleology (UIS). In the last few years, this event took place in some rather exotic locations like Kenya, Iceland and the Azores… places where you find extraordinary lava tubes. What many cavers don't realize is that Mexico is not only famous for huge limestone systems like Purificación or dramatic freefalls like Golondrinas, it's also home to some of the most complex lava tubes in the world, and among them we have the longest lava cave in the Americas.
Saudicaves:
SO, WHAT WILL PEOPLE SEE IF THEY GO TO THE LAVA-CAVE SYMPOSIUM?
Ramón Espinasa: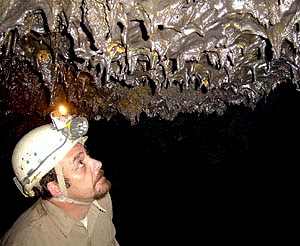 Well, we're going to visit a very curious site called Cuescomates which has seven small volcanoes, one of them only one meter high. And we'll spend an entire day inside Iglesia Cave which is really pristine, with most of its primary structures perfectly preserved. It has gorgeous stalactites, very funny stalagmites, gutters, lava dribbles, calcite formations (even gours!), lava balls stuck in the floor, the ceiling, everywhere!…and it's easy walking because there's almost no breakdown.
The dates for the Symposium are, by the way, July 2-7, 2006 and the location is Tepoztlán, a picturesque little town surrounded by more lava tubes than you can count.
Saudicaves:
AND IF YOU WANT A FEEL FOR WHAT THE TEPOZTLAN LAVA CAVES ARE LIKE, READ MEXICO'S MARVELOUS LAVA TUBES.
RAMON AND DAUGHTER SOFI