LAVA CAVERS GATHER
IN
TEPOZTLAN, MEXICO
By John Pint
Photos ©2006 by John and Susy Pint unless otherwise indicated -- Updated September, 2013
The XII International Symposium on Vulcanospeleology was held July 2-7, 2006, in the little town of Tepoztlán, located 74 kms south of Mexico City, Mexico. The event attracted 38 lava-cave experts and enthusiasts from South Korea, Australia, the Azores, the UK, the USA, the Netherlands, Germany and, of course, Mexico.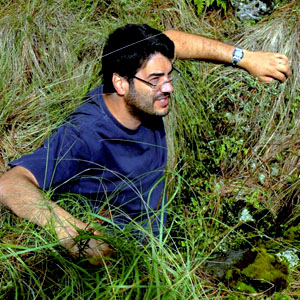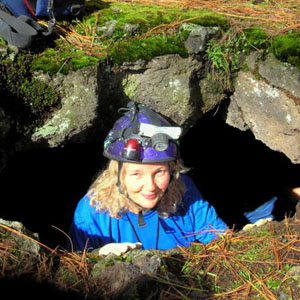 The first day of the Symposium began with a field trip to the Cuescomates lava flow. Here we found fascinating hornitos or mini-volcanoes, like the one pictured at the top of this page. We also saw tree molds, made by lava flowing around tree trunks, and, of course, a few (small) caves.
Left: Paulo Barcelos in a tree mold, making like a tree.
Right: Diana Northup looks ecstatic: "There's slime in this hole!" -Photo by Greg Middleton.
The mix of nationalities at the Symposium made for interesting small talk during the field and cave trips held every other day. During the three-kilometer hike to Cuescomates, for example, you might have heard snippets from conversations having nothing to do with caves or lava:
"Well, several members of my family are still in North Korea and we haven't heard from them for…"
"…But the Palestinians' main complaint is that they lost their homes in 1948 and have never…"
"…Then I told the customs man, 'Sure, you can open this satchel, but by law you have to fill out a few forms,' and when he saw the stack of papers…"
"Actually, I'm a translator, but I majored in English drama…feminist drama to be exact."
"In Germany, we have lots of jokes about how slow the Swiss are; for example, they were repainting this old clock in Bern, you see, and…"
The organizers of this event were Ramón Espinasa, Chris Lloyd and yours truly. Ramón gave the inaugural presentation at prestigious Axitla restaurant, reputedly one of the very best in all Mexico. Ramón has been studying the dynamics of lava flows in this area for years and his team has mapped over 28 km of lava caves. Please note that I have avoided the word "tubes" here… for reasons which will be explained below.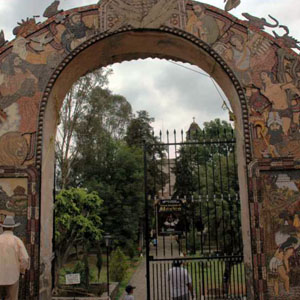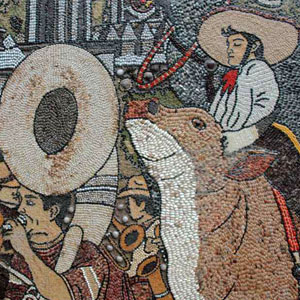 The sessions were held in an awe-inspiring 16th century ex-convent whose entrance arch has two beautiful murals entirely composed of six varieties of seeds. Every year, the local artists remove the old murals and create entirely new ones from scratch.
Left: The Ex-Convent arch with Symposium poster on the gate
Right: detail of mural made of seeds (mostly beans).
...

The high-ceilinged, thick-walled room we used for our meetings was most impressive but lacked even a single electric plug, a problem remedied by snaking wire all over the floor. The presentations focused on lava caves in Mexico, Iceland, Jordan, Saudi Arabia, the Azores, Hawaii and Korea

...

The conference room...but you'll have to click on the picture to see the wires on the floor.
Ed Waters of the UK tempted us to drop everything and go to Iceland which is full of fascinating, unexplored lava caves. Stephan Kempe charmed us with pictures of a smelly hyena carcass and bragged about Al-Fahde Cave in Jordan being the longest surveyed lava cave on the Arabian Peninsula. John Pint expostulated on the many lava caves waiting to be discovered in Saudi Arabia where there's high potential for 50-km long volcanic caves (take that, Stephan!) as well as major speleoarcheological finds. Diana Northup of the USA taught us how to recognize microbial mats on cave walls and Luis Espinasa of Mexico demonstrated how silverfish from the Chichinautzin caves are challenging "the competitive exclusion principle."
Pyroducts or Caviflavas?
After Chris Wood (UK) spoke on the morphogenesis of lava-tube caves, we enjoyed a lively exchange between him and Stephan Kempe, who suggested the term pyroducts should be used instead of lava tubes "because they aren't tubes at all." Personally, I think pyroduct or "fire-carrier" doesn't say much about how lava caves are formed and will never catch on. Therefore, I suggest coining yet another term and modestly offer my own contribution: CAVIFLAVA, short for "CAVIty created by Flowing LAVA." Note that caviflava will cover a multitude of holes, such as pillows, blisters, pressure ridges and braided passages. Besides, anyone who wants to sing the praises of lava caves will find that "the caviflavas of California" rolls off the tongue far more easily than "the pyroducts of Podunk."
....

During the two days of presentations, it was surely the Koreans who stole the show, with a dazzling video documentary on Jeju Island, located 130 kms south of the Korean mainland. This volcanic island houses over 120 lava caves, many of which are richly decorated with carbonate speleothems such as stalactites, stalagmites, rimstone dams, cave pearls, cave corals, etc...

But do your caves come with kangaroos?" jokes Greg Middleton of Australia with Kwang Choon Lee and Kyung Sik Woo.
...One of the most impressive caves has a mouthful of a name (Dangcheomuldonggul Lava Tube) and contains countless thousands of long soda straws as well as thick calcite columns originally formed by coating tree roots. Seeing such splendor, one could only say, "Danged if that unpronounceable cave isn't one of the most beautiful in the world!" And, in fact, several of the lava tubes and two other areas of the island are now candidates for World Heritage Inscription.

OK, you can call this cave Dangcheomul for short. It has lots of rooms like this one. Photo courtesy of K.S. Woo.
Of course, many other talks as well as posters were presented during the symposium and anyone interested in caviflavas (formerly known as lava tubes) should check the abstracts at www.saudicaves.com/symp06.
Home of the Devil
After visiting the Sierra Chichinautzin Volcanic Field on Monday, we entered La Cueva del Diablo, a master tube with a complex series of upper-level tributary passages. This cave is still used by local villagers for religious rituals honoring the Devil with the sacrifice of a chicken. This field trip included a wonderful meal at a restaurant which specialized in tacos stuffed with a black fungus called huitlacoche . "Can you believe it?" said the Mexicans, "In other countries they throw away the corn when they see this delicious fungus growing on it!"
| | |
| --- | --- |
| Visitors to the cave who don't exhibit sufficient respect for the Devil sometimes experience mysterious discharges of ectoplasm, as shown in this photo. Here Stephan Kempe wonders, "What the devil is going on?" | |
Sistema Chimalacatepec
This is the deepest lava tube explored in continental America, with a vertical extent of 201 meters. After hiking up a very steep hill and climbing over several fences, we reached a 15-m-deep drop. This was an easy rappel for people with vertical gear or a ladder climb for the others, belayed with a skimpy 9mm rope tied around their waist. This cave features impressive lava levees, benches and linings. Over half a kilometer from the entrance, an important archeological find was made, including over 90 different ceramic and carved rock pieces which are now housed in a museum in the town of San Juan Tlacotenco. On this trip, Ramón found a piece of quartz evidently carried all the way to the very end of the cave as an offering, and Diana Northup discovered bacterial mats of many hues ("Oh, look, there's a yellow one!"). One minor accident occurred when a rung on an ancient wooden ladder snapped just when Kyung Ran Park was stepping on it. Covered with scratches and bruises, she returned to the entrance under her own power. Fortunately, she was fitted with a proper caving harness for her trip up the ladder, which started out as a climb and ended in a piñata-style dangle.
| | |
| --- | --- |
| ...Robin Gary says "Who needs that cable ladder?" in the Paso de Tango... | |



This ancient wooden ladder suffered severe "rung breakdown" by the time we had all gone past it

.
| | |
| --- | --- |
| Diana Northup and Marcus Gary admire bacterial mats on the cave wall… and to think we used to call this wonderful stuff "gunk." | |



Marcus and Robin Gary demonstrate the two-rope tandem ascending system in the Iztaxiatla entrance pitch

.
| | |
| --- | --- |
| What's wrong with a 9mm belay," says Ramon on exiting the cave..."It's great for getting rid of a beer belly!"... | |
Once again the field trip ended in a unique meal: stuffed nopal (cactus) with black beans, rice and guava juice, served in a "restaurant" that appeared to be still under (long-term) construction. We loved it, Ramón!

Jan Paul ponders his cactus and beans before digging in.
Fun out of the sun in Iglesia Cave
This complex tube system is featured on the back of the official Symposium tee shirt (no, that's not a plate of spaghetti!) and showed us what Ramón means by anastomosing passages. This is the second longest surveyed lava tube in continental America and its entire development is under the town of San Juan Tlacotenco.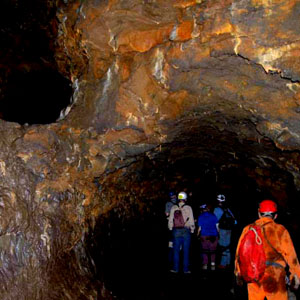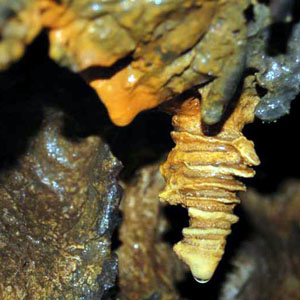 The cave has pristine lava falls, balls, levees, shark-tooth stalactites as well as calcite or opal formations and microgours. More about this truly fascinating cave can be found at www.ranchopint.com (Mexico's Marvelous Lava Tubes).
Photos by Greg Middleton
Jan Paul van der Pas examines some of the modern offerings still being placed in the cave today.

Photo by Greg Middleton.
A slippery trip to the Pyramid of Tepozteco
Visiting Tepoztlán without hiking up to the celebrated monument towering above the town would be like "doing" Athens without setting foot in the Acropolis. The pyramid was constructed 800 years ago and honors Tepoztécatl, the god of pulque. His followers must have been truly dedicated (or serious drinkers) because the two-km path to the top is even more challenging than one of Ramón's field trips. We were told there were stairs all the way to the top, but these are just strategically placed rocks on which we noticed several people slipping and sliding. But don't get me wrong: the long hike is well worth it, as the path is almost a tunnel beneath a near rain-forest canopy where everything is covered with spongy green moss...
| | |
| --- | --- |
| ... Near the top, you enjoy a gorgeous view of rolling hills and rocky pinnacles, all of which gives you a final burst of energy to go up the really steep bit at the very end. This proved somewhat dicey for us as some religious group from the USA was trying to do the climb blindfolded. Most of these were plumpish ladies whose roving arms were groping for handholds while their attentive (and seeing) leaders complimented them on their bravery and determination. As the staircase was now only 50 cm wide and nearly vertical, it was a tricky job squeezing past the blind climbers without being knocked off the stairs by a wildly swinging arm... | |
...

At the top, we found bottled water and soft drinks, but no pulque… all the better as we'd need our wits about us to get back down without breaking a bone.

From the ten-meter-high pyramid we could see a hazy panoramic view of Tepoztlán and surroundings. As a thunderstorm seemed nearly upon us, we did not tarry, but fought our way back through the blind gropers ("Don't fret now, sister, you're almost at the top") and headed down the trail. It took us 65 minutes to go up and 45 to get down—in sandals—but I suspect many of the sweating and panting climbers we saw along the way would need quite a bit more time. If I ever did it again, I'd definitely wear hiking boots.



Symposium 2008
...

During the meeting of the UIS Commission on Volcanic Caves, chaired by Jan Paul van der Pas, In-Seok Son of the Jeju Island Cave Research Institute formally proposed Jeju Island as the venue for the next symposium in 2008. This was unanimously accepted with much cheering. If the caves there look only half as gorgeous as they did in the video, I'm sure we'll all be shouting, "long live Jeju" two years from now, or—as they say in Korean, CHEJU-DO MANSEI!
POST-SYMPOSIUM FIELD TRIPS
By Greg Middleton
Photos ©2006 by Greg Middleton unless otherwise indicated
Ramon Espinasa arranged some interesting trips for the 5 participants who took the opportunity to see some more of the wonders of the Transmexican Volcanic Belt...
...Our first cave, Cueva del Ferrocarril-Mina Inferior, the longest surveyed lava tube in continental America (6538 m; 90 m vertical extent) is a truly bewildering maze of anastomosing passages displaying a great variety of flow features, lava speleothems and cave-life. It is accessed via an old railway cutting, which has bisected the cave (it should be at least 800 m longer)...
LEFT: Crawling through Ferrocarril
RIGHT: tricky climb
...

Despite heavy 'socialising' the night before, Ramon led the party (almost) without hesitation through a bewildering network of varying-sized passages with sewer-outlets, garbage dumps, lava balls, painful crawlways and multi-level passages.

..


But it was worth it, just to gaze upon The Heart, shown here with Jesica Goya
...

Next day's cave, Cueva del Arbol, was in familiar territory, though higher above Tepoztlán than we had been (2575 m asl). The entry puka (hole) was the most impressive we had seen and although access might have been gained via a large moss-covered tree, we opted to descend the 8 m by ladder.

..


Descent into Cueva del Arbol
The cave then went down steeply before we climbed up into a large side-passage where a noted Pommy photographer attempted to slice off his hand while setting up a shot. After being patched up, Ed Waters departed, while the rest descended El Embudo but some piked at the very exposed La Cascada. The rest made it down past El Gran Colapso (love those undecipherable Mexican names!) and the red a'a levees to the Lower Level below Cueva Chimalacatepec.
On 10 July we left Tepoztlan by minibus, failed to see Popocatepetl stratovolcano due to low cloud but did see Malinche stratovolcano...
...We stopped at Alchichica Maar to observe its phreatomagmatic tuff cone, bedded tephra deposits with volcanic bombs and unusual ring of 'white caliche-like deposits' which formed as stromatolites (and may still be growing). The latter were too much for our Germanic compatriots who proceeded, over the next few hours, to measure, sample, document and record every conceivable aspect of the billowing white material, huge samples of which were trucked off to the lab for still further analysis. There being little of the day left, we retired to a hotel at Perote.

..
Ramón and Stephan examining the stromatolites.
Next day we visited the recently excavated and partly-restored archaeological site at Cantona, a bewildering maze of pathways, stairs, walls, platforms, ball-courts and pyramids. At 12 sq. km., it is the largest urban centre yet discovered in Mesoamerica and flourished between 600 and 1000 AD. After a couple of hours we drove on to the small village of Francisco I. Madero and out into fields of broadbeans and maize. From there we walked into the 'scrub' of cactus and pines, soon reaching the upper entrance to Cueva de Chinacamoztoc where Ramón warned us to be quiet and keep low so as not to disturb a bee-hive near the entrance...
...We passed into a comfortable walking tube and went mauka

(Hawaiian term meaning uphill or "towards the mountain" Love those undecipherable Hawaiian names - Editor)

to The Wall (an anthropogenic structure probably put in to prevent the silting up of the lower part of the cave).

A hole in the wall allowed access to a short section of the upper cave (first reported in 1865), since completely silted up...

Laura Rosales peeking through the hole in The Wall.
...Proceeding makai (ed: downhill) we passed through a tube up to 30 m wide and often over 10 m high with frequent breakdown blocks or bare a'a floors. Frequently skylights are passed or the tube is completely collapsed and one crosses a rubble-filled depression, carefully avoiding the ferocious bees and dozing rattlesnakes. In one of the later openings we disturbed 3 large owls which flew in and out, but were difficult to photograph. Under a large dome with a small, high, skylight we noticed a raised mound of rocks with a circular depression and beyond it, a ring of breakdown rubble – surely a religious site of some kind. The Lower Entrance, from which we emerged, required a slightly tricky climb up the side of the pit followed by an easy hike back to the village.
Next morning we drove to the new park at Volcancillo where we were kindly offered a lift to the top in a truck. Unfortunately it didn't quite make it so we had a steep climb up the last part to the rim of a deep, vertical-sided, spectacular caldera. Unusually, a cave opens high on the wall of the caldera and runs steeply down, breaking out on the outer face of the small volcano. In parts of the steep 50 m tube, upper levels were evident and above the lowest exit were stacked three higher openings. Scrambling over breakdown, we descended to the lower, main, part of the Cueva de Volcancillo. We descended this colourful tube for about 350 m to a steep drop below a small skylight before retracing our steps.
As we got back to our vehicle we remembered the Cueva del Arco. Despite the onset of a heavy downpour, Ramon led us part-way back up the peak and across to see this dramatic arch. The structure is about 35 m in total height; about 20 m to the top of the opening – certainly the most spectacular arch in lava the author has seen.
The top of the celebrated arch
We then drove via Xalapa to El Descabezadero where the Actopan River suddenly rises from beneath the bottom end of the Volcancillo lava (about 50 km from its origin). In a nearby village we were accommodated at the headquarters of "Diversión en Río" and on our final day were treated to a white-water rafting trip by this company down about 15 km of the almost continuous rapids of the river right to the village of Actopan (stopping at a riverside bar on the way).
The "Volcanic Rafters" in action - Photo by Cesar.
Our most enjoyable and enlightening excursion ended that evening in the historical heart of Mexico City. Muchas gracias, Ramon; we certainly enjoyed the trip.