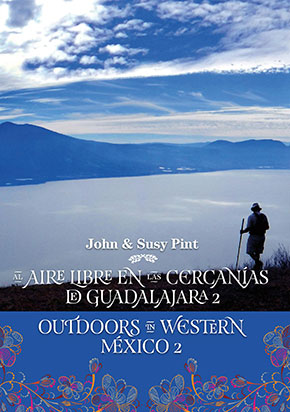 OUTDOORS IN WESTERN MEXICO VOLUME 2
AL AIRE LIBRE EN LAS CERCANÍAS DE GUADALAJARA VOLUMEN 2
by/por John and Susy Pint
Spanish and English in one volume
GPS coordinates and Wikiloc Routes for every location



Volume Two is available for purchase at the following locations. The cost is 200 Mexican pesos.
GUADALAJARA AREA:
Rancho Pint in Pinar de la Venta, Zapopan (TEL 31 51 16 12)


Familia Ibarra, José Manzano 859, entre Sebastián Allende y Aurelio González (cerca de Transito). TEL 38 24 56 09


Deportehábitat, Lerdo de Tejada 2593, Tel (33) 3615 8697


La Perla Records & Books, Pedro Moreno 1530, Tel (33) 1525 3015


Oceanos Expediciones y Buceo · Plaza Exhimoda
Av. Vallarta 3233 Local 1F y 14F · Guadalajara, Jal, México
Tel. (33) 3915 . 8107

LAKE CHAPALA AREA:

Diane Pearl Colecciones, Morelos 1, Ajijic
Sol Mexicano Gallery, Colón 13 (across from Bancomer), Ajijic
(TEL contact: Margo McCutcheon, Ajijic, Tel 766-1298)
PUERTO VALLARTA AREA:
Gringo's Bookstore, Casa Tranquila, Morelos #7A​, Bucerias, Nayarit
Tel: 329-298-1767

For more information, contact us at (33) 31 15 16 12 in Guadalajara; email: ranchopint@hotmail.com.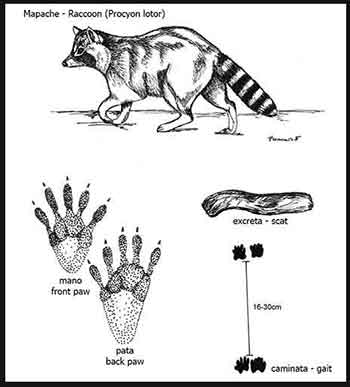 Volume II of Outdoors includes Biologist Karina Aguilar's delightful drawings of wild animals you may spot in the woods, including sketches of their tracks, gait and scat.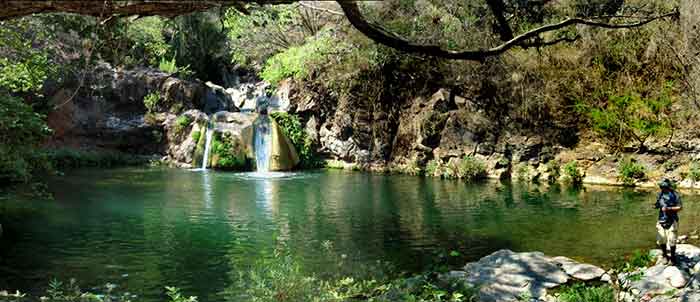 The Comala-Aquetzalli Falls are featured in Chapter two of Outdoors in Western Mexico 2. The first three falls are within a short walk from where you park your car and each cascade has a pool ideal for swimming. You'll reach them after driving only two hoursfrom Guadalajara, near the town of Chiquilistlán.