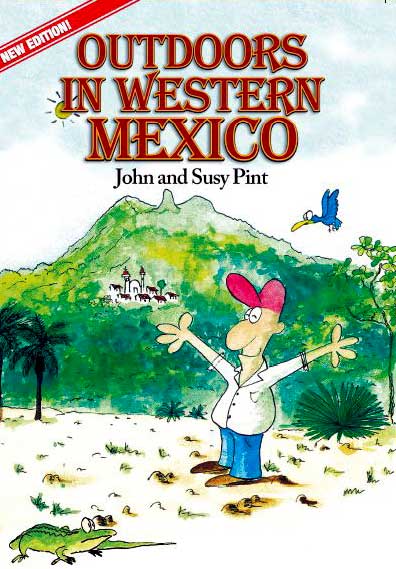 OUTDOORS IN WESTERN MEXICO
by John and Susy Pint
Art and Cartoons by Jesús Moreno
Graphic Design by Jesús García Arámbula
212 pages. 41 maps.14 color photos.
Too many drawings and cartoons to count.
Second edition, May 2011.
Published by Quadrimag, S.A.de C.V. in Guadalajara, Jalisco, Mexico.
Price: 200 Mexican Pesos plus shipping or US $19.99 plus shipping
Order from: RanchoPint@Hotmail.com TEL: 31 51 16 12 in Guadalajara
WE SHIP WORLDWIDE
Also available from: .
La Perla Records & Books, Pedro Moreno 1530, Tel (33) 1525 3015, Guadalajara
Deportehábitat, Lerdo de Tejada 2593, Tel (33) 3615 8697, Guadalajara
Margo McCutcheon, Ajijic, Tel 766-1298
Diane Pearl Colecciones, Morelos 1, Ajijic
Sol Mexicano Gallery, Colón 13 (across from Bancomer), Ajijic
Gringo's Bookstore, Casa Tranquila, Morelos #7A​, Bucerias, Nayarit Tel: 329-298-1767

_______________
"Fortunately, alternatives to mass-produced guidebooks can still be found from smaller presses and independent, self-published authors. Favorites from my own library include "Outdoors In Western Mexico" by John and Susy Pint."
— Carl Franz, author of The People's Guide to Mexico
_______________
This user-friendly book contains details of forty scenic places to camp, hike or picnic within a few hours of Guadalajara and Lake Chapala. Short descriptions include trail landmarks and background information. A very hard to find book!
—Sombrero Books, Canada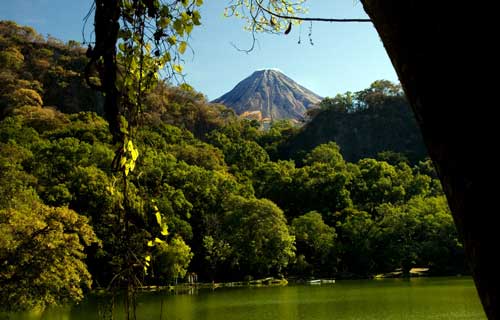 What will you find in the 2011 edition of this book? First of all, many of the chapters and maps have been updated. Secondly, you'll find six new locations replacing sites no longer accessible. And for the very latest on each site, see our Recent Updates page.

One of the new chapters takes you to Laguna La Maria, a delightful little lagoon nestled inside an extinct volcanic crater just 21 kilometers north of the city of Colima. The charming, shady lakeshore is an ideal place for swimming, walking, picnicking or camping. For serious hikers, a steep trail winding among coffee trees takes you up to the crater rim via curious old tunnels and down through a pristine semi-tropical jungle to a hidden lake only reachable on foot.

To top off your day at La Maria, you can stroll up a cobblestone road for a dramatic, close-up view of Colima's fuming Fire Volcano. At night, if you're lucky, you may even be able to see streams of red-hot lava pouring down its sides and on the way back to your cabin or tent at La Maria, you may even bump into one of the poltergeists said to play tricks on visitors to this unusual site.

Other new locations in the updated edition will include: classy Los Cazos Cascade near Mazamitla; impressive Huaxtla Canyon, "the single most beautiful drive in the Guadalajara area;" the bubbling mud pots of Los Negritos at the eastern end of Lake Chapala; the alluring swimming hole of Rancho Viejo (Juchitlán) with its curious outdoor stalactites; and Sierra de Quila Nature Preserve, a magnificent forest 55 kilometers west of Lake Chapala, with mountain peaks, giant rocks and eleven dramatic waterfalls.

Along with these new sites comes a delightful new graphic design plus dozens of new cartoons by naturalist Jesús Moreno. If your copy of the old edition is as "extremely well thumbed" as Kevin Kelly's (see below), now is the time to sign up for a new one!