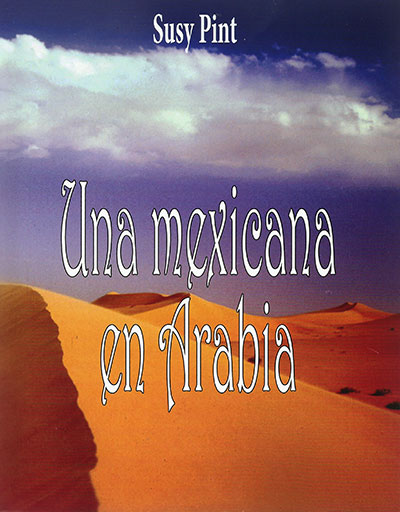 In his Presentation to this book, Alfonso Sahagún says:
"A Mexican Woman in Arabia... but not there as a tourist scribbling a few notes between hotels... She lived there for twelve years!
We know that Saudi Arabia is the world's biggest oil producer, that it is a desert and its people are Muslim. The author takes us deeper into each of these subjects as she crisscrosses the country from the border with Yemen to the edge of Iraq. With her husband she shares an enthusiasm for the exploration of caves, those known--but not explored--by the locals as well as caverns whose very existence had never been suspected. In time, she became an integral--but always unofficial--part of the Saudi Geological Survey Cave Unit.

Susy Pint describes her experiences in the desert where she and her husband camped. Nevertheless, what is most valuable in this book is the understanding she gained of the Arabs' culture. As for its style, Una Mexicana en Arabia is descriptive, joyful, picturesque and poetical.

Una Mexicana en Arabia by Susy Pint
TEXT IN SPANISH
184 pages, 57 photographs in color
Editorial Agata, Guadalajara, Mexico
Price: 14 dollars (250 Mexican pesos)
Available from:
RanchoPint @ Hotmail .com
Telephone (Guadalajara, México) (52) 33 31 51 16 12
We can ship to any point in the world
---
EXCERPT FROM THE BOOK

(Translated from the Spanish)



CHAPTER III
DHARB AL-NAJEM
(THE PLACE WHERE THE STAR FELL)



It was a Wednesday—the last day of the Saudi work week—when we left Dhahran in the middle of a heavy rain that kept the Land Rover's windshield wipers operating at top speed. It was five-thirty in the evening; our destination: Majma'ah, a city located 280 kilometers northwest of Riyadh, the capital of the kingdom. Fortunately for us, through the falling drops we could glimpse, on the far horizon, a limpid blue sky tinged with rose and orange, indicating that this phenomenon, so uncommon in this part of the world, would soon leave us behind.

Inside the Land Rover were the four members of our little expedition, whose goal was to explore Dharb al-Najem, a deep pit not far from Majma'ah, to which the local people had attributed various legends. On top of that, because it had never been explored, some tales insisted that it had no bottom.

"One day I threw a Pepsi can full of stones into that pit and I could hear it clattering and bouncing off the walls for sixteen seconds," a British geologist had told John and, ever since, he had been obsessed with the idea of finding that mysterious abyss.

Curiously, all four members of our group had different nationalities: Ron Kummerfeldt was from Kenya; Abdulaziz Al-Agili from Saudi Arabia; John from the USA and I from Mexico…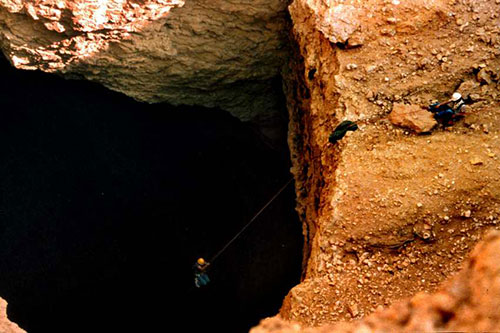 ...A few kilometers ahead of us we could distinguish a dirt rampart forming an enormous circle about 60 meters around. That was our destination. This rampart was a barrier built by the local people to avoid driving into a huge black gaping maw in the desert. Excited, we immediately got down to work. Ron parked the Land Rover just beyond the rampart so we cold attach our ropes to it—the normal method for anchoring a line in the deserts of Arabia. The main rope measured 110 meters and the backup 50.

John and Ron prepared their rappelling and ascending gear. John would go down first and Ron would follow him. It was impossible to see the end of the rope far below, but the two adventurers imagined it could not be more than 100 meters to the bottom. As John began his rappel, several rock doves fluttered out of the black hole in disarray, surely not happy to witness an invasion of their home, which for generations had remained inviolate. I now took the camera and through the telescopic lens I could follow John as he disappeared into the distance, until he seemed transformed into a tiny spider suspended from a delicate thread...

(If you don't know Spanish, you will find an English version of the story of the Dharb al-Najem in Chapter Seven of John Pint's book Underground in Arabia, available from Amazon.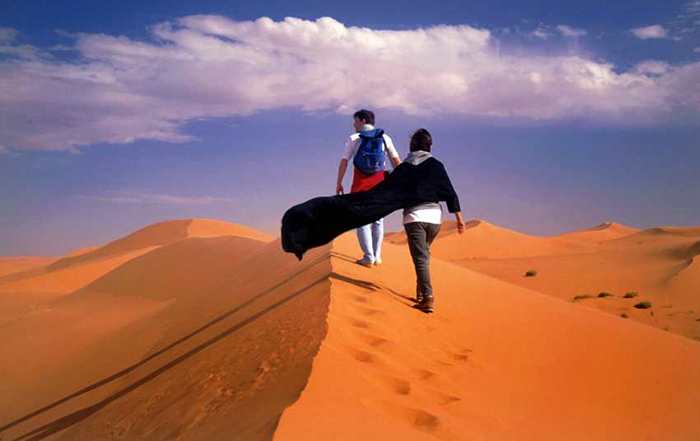 In search of "singing dunes" in the Dahna Desert.